In the following you fill find information about the formation and the usage of the past participle.
Formation of the past participle
There are three different ways to form the past participle of a verb. 
1. Regular weak verbs
A regular weak verb doesn't change its word stem in the past participle. It is formed as follows: ge + stem + -t . The ending -t widens to -et in verbs whose stem ends in -d, -t and -n.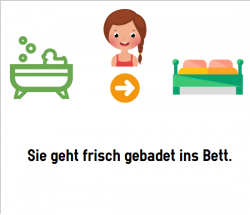 | weak verb | past participle |
| --- | --- |
| prüfen | geprüft |
| arbeiten | gearbeitet |
| baden  | gebadet |
2. Verbs that end in -ieren
The verbs end in -ieren are also weak verbs. They don't have a ge- prefix in their past participle form.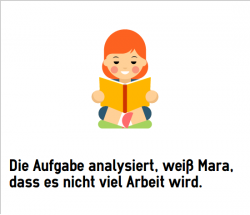 | weak verb | past participle |
| --- | --- |
| analysieren | analysiert |
| reparieren | repariert |
| idealisieren | idealisiert |
3. Inseparable and separable prefix verbs
If you don't remember the meaning of these verbs, please click on separable and inseparable verbs in order to receive more information.
Verb with inseparable prefixes do not have the ge- prefix in their participle form.
Verbs that have a separable prefix add the ge- particle between the separable prefix and the stem.
| verb | past participle |
| --- | --- |
| besuchen | besucht |
| erzählen | erzählt |
| umfahren | umgefahren |
| fehlschlagen | fehlgeschlagen |
Usage of the past participle
You use the past participle for the passive voice, the compound tenses, as attributive adjective or instead of a subset where one action leads the other.
past participle
use of past participle

Die Aufgaben wurden vom Lehrer geprüft.

(Your tasks have been checked by the teacher)

passive voice

Die Geschwister haben sich heute wiedergesehen.

(The siblings saw each other again today)

compound tense

Den Radiobericht gehört, weiß sie, dass Fett dick macht.

(Having heard the radio report, she knows that fat makes one overweight)

one action leads the other

Darum lässt er die geöffnete Tür offen.

(That's why he leaves the open door open)

attributive adjective
Practise with a private teacher on Skype!
Private Skype lessons
Learn any topic
Flexible appointments
German lessons with learning materials
I speak:
Croatian, English, German, Serbo-Croatian
I teach:
German
Hallo!I'm a German language teacher, with a BA and MA degree in German studies and a degree as German court interpreter, who... was born and lived in Switzerland; so I can teach you also Swiss-German :)I offer lessons for:A1 + A2 (grammar + vocabulary)B1 - B2 (grammar + vocabulary)C1 - C2 (only vocabulary) - for people who want to improve their language and communication skills through conversations and speaking exercises.I can prepare you also for a new job and life in German speaking countries or expand your business vocabulary. My teaching methods vary according to the learner's language level and needs!First lesson is free!All learning materials will be provided!One lesson takes usually: 60 minutes. Please also take a look at my availability, I´m only available as indicated! Read more
Free trial lesson!
Response time:
less than a few hours
German and English lessons
I speak:
English, German
I teach:
English, German
Hello, my name is Allison! I have two years' teaching experience in German and one year experience in English. I work to fit my lessons my... students' needs as well as trying to make them enjoyable.In terms of specialized lessons, I have experience giving lessons in German pronunciation. Also, in addition to my BA in German Studies, I also have an undergraduate degree in music.Thank you for your time. I look forward to meeting you! Read more
Great choice! Students book in average more than 10 lessons!
Free trial lesson!
Response time:
less than a few hours
German lessons and learning materials included
I speak:
German, English, French
I teach:
German, English, French
My name is Christina and I provide fun German and French language lesson for children and adult beginners or intermediate who want to... strengthen their language skills, improve the grammar knowledge, enrich the vocabulary and get into the German culture! I can teach in English or French!I had experince in teaching German, English and French to foreign people so I do have a lot of useful learning material I can provide you to make it easier! Read more
Students do not book more than 3 lessons with this teacher.
No free trial lesson!
Response time:
less than a few hours