Exercise for using the German accusative with prepositions
Can you apply your knowledge in real sentences?
Practise with a private teacher on Skype!
Private Skype lessons
Learn any topic
Flexible appointments
Online
I speak:
Arabic, Chinese, Simplified, English, French, German
I teach:
German
I am a German native speaker who loves languages and am passionate about teaching others. I work as language teacher in a school, teach adults... at the German Culture Center and prepare my students for all types of official language exams. I love my job and always seek to make it as much fun as possible. Read more
Availability:Monday (16-21h), Tuesday (15-21h), Wednesday (15-21h), Thursday (15-21h), Friday (10-10h), Friday (15-21h), Saturday (7-9h), Saturday (15-21h). Timezone: Asia/Beirut (GMT+3) See in your timezone.
Great choice! Students book in average more than 10 lessons!
Free trial lesson!
Group lessons!
Response time:
less than 2 hours
Online
I speak:
German, English
I teach:
German
ABOUT ME: ⭐ Bachelor of Education ⭐ ⭐ Certified Trainer for German as Foreign Language⭐ ⭐ German Native Speaker⭐ ⭐ Austrian... German & Germany German⭐ ⭐ International teaching experience live and online⭐ TEACHING STYLE & LESSONS: Research says the best way to learn a language is by using as many different methods as possible - so that's exactly what we'll do! My lessons are very interactive and I like using a lot of different resources, which includes writing, listening, creative assignments, etc. I have a lot of experience in learning and teaching a foreign language, therefore I understand the struggles of my students and will make sure that you feel comfortable. It's absolutely okay to make mistakes, because that's the way we learn. I'm very patient, flexible and adapt to the student's style of learning. We will find the perfect learning style for you, including the right - materials (texts/videos/audios/games/grammar/articles) - language level (A1-C1) - focus (pronunciation/writing/listening/speaking) - lesson frequency & length In my classes we focus on casual conversation and increasing your confidence to speak German. You can expect a personalized class with a lot of fun and you will have the chance to talk a lot. What we can do during a lesson: - read and discuss texts, newspapers and professional articles - improve your vocabulary - improve your grammar - conversation and pronunciation training - prepare for a job interview - practice for an oral exam - assist you with your homework and proofread your texts Let me know your goals and interests and together we will achieve them. If you wish I can give you homework in order to practise what you've learned during the lesson. In order to make the sessions as interactive as possible, I'm using ZOOM for my online classes. TEACHING MATERIAL: - PDF-files - Quizzes/Tests - Reading Exercises - Writing Exercises - Audio files - Video files - Articles and news - Homework FREE TRIAL LESSON: Give me the possibility to show you my teaching-style. The trial lesson is for free so that you have nothing to lose. Worst case scenario: You talked 30 Min German for free :) If you'd like to book, please make sure to include your: - language level - learning goals - wishes for the lesson - skype username thanks! Read more
Availability:Monday (10-17h), Monday (20-20h), Monday (22-23h), Tuesday (10-23h), Wednesday (10-10h), Wednesday (12-13h), Wednesday (16-17h), Wednesday (21-23h), Thursday (10-10h), Thursday (12-13h), Thursday (15-23h), Friday (11-11h), Friday (13-23h). Timezone: Europe/Vienna (GMT+2) See in your timezone.
Great choice! Students book in average more than 10 lessons!
Free trial lesson!
Group lessons!
Response time:
less than a few hours
Online
I speak:
German, English
I teach:
German
Hello, my name is Claus !For many years I teach students from all over the world as a professional teacher of the German language. With a lot of... experience and patience I lead my students to their to teach successfully and with fun. I offer you general language courses of B1- C2 with test preparations, as well as courses in Business German (prerequisites are language proficiency in German from level B1 +!). Read more
Availability:Monday (9-9h), Monday (11-11h), Monday (13-13h), Monday (15-15h), Monday (17-17h), Monday (19-21h), Tuesday (9-9h), Tuesday (11-11h), Tuesday (13-13h), Tuesday (15-15h), Tuesday (17-17h), Tuesday (19-21h), Wednesday (9-9h), Wednesday (11-11h), Wednesday (13-13h), Wednesday (15-15h), Wednesday (17-17h), Wednesday (19-21h), Thursday (9-9h), Thursday (11-11h), Thursday (13-13h), Thursday (15-15h), Thursday (17-17h), Thursday (19-21h), Friday (9-9h), Friday (11-11h), Friday (13-13h), Friday (15-15h), Friday (20-21h), Saturday (9-9h), Saturday (11-11h). Timezone: Europe/Berlin (GMT+2) See in your timezone.
Great choice! Students book in average more than 10 lessons!
Very experienced teacher!
No free trial lesson!
No group lessons.
Response time:
less than a few hours
What our students say
Unlike in other platforms, all our teachers are manually verified by our professional team. Trust in the experiences of our students.
Hello =)
My name is Karolin and I have been living in Chile for more than 2 years now. I've been teaching via Skype for quite some time and I've found that this kind of work is fun. That's why I would like to expand my circle of students.
Both in English and in German, I teach classes for beginners and advanced students. I speak Spanish fluently, but I do not want to cheat anyone, so I note here that I speak the spanish from Chile. I learned and teach the spanish from Spain and I can explain the differences if you're interested, but that is why I only teach spanish for beginners.
If you'd like to get to know me and my teaching methods, just contact me and we will do a free trial lesson.
See you soon!
Giuseppina M.
Karolin is a fantastic teacher! She is very well organized, precise and punctual. She always knows how to explain the German grammar rules to make them clear and easier to remember. The lessons time with her is flying and I always look forward to the next one. Highly recommended.
Karolin G.
Hi! I am Maaike, a Dutch primary school teacher. Every day I'm doing by best to teach the Dutch language well to the childeren, but also other languages ​​such as English and Spanish.
I have more than 12 years of experience as a teacher, in the Netherlands and abroad, to young and old!
In the Netherlands I have experience in each grade, so I know exactly how the Dutch language is given in primary education. This can certainly help children, but also adults who want to learn the Dutch language in a correct way, having a good basic knowledge is the most important part of learning a new language.
I lived in Spain for 3 years where I taught English to Spanish children and adults. During that period I also followed an intensive language course to learn the Spanish language. Currently I am learning Nepali through Skype. I know what it is like to learn a new language, what it involves and how the learning process works.
I will first discuss with you what you would like to achieve by following the language lessons and what your needs are. Maybe it's just speaking skills, or grammar or listening skills, or a combination. In addition, I want to use my creativity to apply methods that work best for you, personalized language classes. :)
My goal is to give you the feeling after each class that you've come one step closer to your personal goal!
Feel free to request a trial class, so we can see what I can do for you and if my way of teaching suits you. See you soon! :)
Mary-jo R.
The best language teacher my daughter has had! She is a kind and friendly teacher. I feel like she keeps the lesson pace going and focused. Highly recommend Maaike. :-)
Maaike R.
Hi, I am Christin!
After training as a pastry chef and studying business administration, I traveled a lot and discovered my interest in languages. To find out more about teaching languages, I decided on further training at the Goethe Institute and completed it. During the Goethe Institute "Learn to teach German" course I was able to give individual language lessons and actively support the examination preparation for the Goethe certificate.
My lessons are needs-oriented. That means that learning goals are discussed with you and based on your level of knowledge. Whether grammar, sentence structure, pronunciation, expression or the practice of communication situations: German as a foreign and second language classes are flexible and take place in a group or one-to-one lessons with individual support and are based on your wishes and requirements. The teaching of content and topics takes place according to the respective language level. Building vocabulary, grammar and means of speaking are structured and conveyed logically building on each other. Let's get to know each other in a free trial class. I am looking forward to meeting you!
Kata B.
Christin is a great teacher. She is very helpful and flexible, and her lessons are always varied and interesting. I'd recommend her to everyone who'd like to learn German!
Christin E.
So with me you can learn all the tipps to improve or learn German. I also worked as an Engineer for several years so we can as well work on your vocabulary in a technical level.
I am a great fan of new cultures and languages.
Feel free to contact me for a class :)
Eric L.
Olivia has been amazing in helping learn German in a crash course fashion. She has materials for exactly the things I needed to know and helped me understand the bare minimum (which is what I was going for) to help me get my ideas across and understand the structure of what people are saying. She is a fantastic teacher.
Olivia P.
I am an enthusiastic and devoted Native English speaker with excellent communication skills and I would love to help you improve your conversational English
I have a Bachelors degree in Information Design and Marketing. I am also a certified TEFL teacher. I have 15 years experience teaching students at University level and more recently I started teaching English on-line to all age groups. As part of my community service, I do volunteer English teaching to underprivileged students in Myanmar which I find hugely rewarding.
My classes focus on conversational English, in other words - we talk and read a lot, we make mistakes and correct them, we focus on pronunciation and correct sentence construction and have fun while learning and practising your English. My number one priority is always to focus on addressing your specific needs and problem areas.
Learning to speak a new language is more than just acquiring new words and the sentences, it is also about getting the confidence to use it. This confidence will come from using the language in a friendly, safe and non-judgemental environment - and that is what I offer you.
I believe I am very friendly, easy to get along with, and extremely patient.
Teaching English to me is a passion and not a job. I am super excited to share this learning journey with you.
Ana S.
Pieter is a South African English teacher with loads of experience. He has taught different age groups and even teaches English to people who cannot afford it on his free time. He counts with different learning materials for different ages and purposes and seems eager to accommodate courses according to the student's needs.
This review was written by a coLanguage team member during a screening interview.
Pieter V.
My name is Christina and I provide fun German and French language lesson for children and adult beginners or intermediate who want to strengthen their language skills, improve the grammar knowledge, enrich the vocabulary and get into the German culture! I can teach in English or French!
I had experince in teaching German, English and French to foreign people so I do have a lot of useful learning material I can provide you to make it easier!
ALEXANDRA K.
Today, I had a vocabulary boost. It's my third class and I'm happy with the teacher and the teaching method.
Christina F.
I am a 29 year old female, native English speaker from Cape Town, South Africa.
I am a fun, enthusiastic and creative individual who has over 10 years of experience in teaching .I have taught in various parts of the world, South Africa, Thailand, Columbia, Peru, Europe and UK just to name a few. I have taught both children and adults. I am passionate about teaching and find inspiration in witnessing the growth students experience within my online classes.
I feel that my experience as an au-pair, home school teacher as well as home-room teacher at various schools and online has taught me the value of improvising, taking initiative and empowering young individuals to enable each child within my care to feel inspired and to know their own unique and individual strengths. I feel that my training in psychology is truly something that has helped with every individual I have worked with. My biggest commitment as a teacher is to teach children and adults to know their worth and to instill confidence within each individual, so that they are able to realize their potential and feel encouraged to learn more.
I have found myself wishing to broaden my experience in teaching and I am currently in the position where I'm looking for new challenges in the field, and ultimately self-development. I feel that teaching online is the perfect position that will allow me to contribute to the lives of students I teach and something that will bring a great amount of reward in my life as well as that of the individuals I teach.
I am patient and make sure each student understands the concepts before moving forward.My lessons are fun and engaging and allow students opportunity to practice what they have learnt. Zoom or Skype is used and customized lessons can be planned based on the individuals level and needs. I am passionate about educating and ensuring students reach their full potential. I look forward to meeting you soon.
Ana S.
Sherri is a South African English teacher who is ready to meet your objectives. She has a fun set up with a lot of learning materials especially fun ones for kids! She's had experience with different age groups so she can really adapt to different students.
This review was written by a coLanguage team member during a screening interview.
Sheralea R.
Hello, my name is Katerina und I'm a qualified German teacher with 8 years teaching experience.
I would like to help you to master the German language. You will get your personal online lesson via Skype.
If you are interested in learning this world language, just contact me –
I'm looking forward to getting to know you!
Silvia L.
Very expert and nice teacher. Organized, professional, she made my German lessons a pleasant experience. Customized learning materials according to you needs and interests. Highly recommended!
Italian teacher. 32 years of experience in face-to-face classes with adults and adolescents. Bachelor's degree in linguistics. The classes are adapted to the needs of the student. We do the program together when we walk, we have fun and you learn well. I am very didactic and clear when explaining. I have experience in different branches of pedagogy and glutodidactics.
Ana S.
Marta is an Argentinean teacher who has had experience teaching Italian to adult audiences. She has a great variety of high-quality learning materials and various teaching methods.
This review was written by a coLanguage team member during a screening interview.
Marta T.
I'm a German language teacher with a Master's degree in German. Since I was born and lived over 12 years in Switzerland and grew up in a bilingual family, I speak also Swiss German and Croatian on a native level :)
I started to teach German in 2016, but since I love languages I work also as professional translator and became also sworn translator for the German language.
– ABOUT THE CLASS –
I offer standard German language lessons for A1, A2, B1, B2 level.
This is ideal for students who want to improve their fluency and communication skills through conversations by actively participating in the class and to learn new words, to improve their vocabulary by reading texts on various topics.
All learning materials and exercises are FREE and will be provided before or during the lesson.
The topics and exercises are following the Common European Framework of Reference for Languages (CEFR), because of that they include grammar, speaking and reading exercises.
If you wish to have only conversational lessons, I can arrange this also for you :)
My teaching method is to adapt to every student differently depending on their needs and language level. You can always feel free to express your wishes :)
* INFO: coLanguage shows only my general availability :)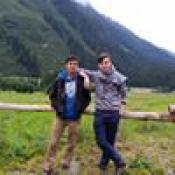 Abubakr A.
she is very flexible about rescheduling the classes. she gives a lot of exercises that fit my level and make sure to correct me if I miss pronouncing some words or have difficulty to read them.
Mihaela S.
I'm a Italian/German bilingual teacher form Florence!
I offer lessons for beginners as well as for advanced speakers. I carry out different kinds of lessons: I could help you for example to prepare for a test, for your trip to Italy or for more advanced needs.​
The lessons are focused on improving listening/comprehension skills as well as reading, writing, speaking and grammar.
If you want to know more about my methods, just book a trial lesson! It's free! I hope to see you soon!
Marion V.
The lesson was perfectly geared to my needs. As my requirement for learning does not fit easily in any 'set course' or classroom situation, this individual approach, looking at what I need and then providing it, suits me very well indeed. I am very happy with the way in which the teaching / learning experience is going so far and would certainly recommend Niccoló.
Niccolò C.
I'm from France but I'm living in Brazil for 3 years.
I love my job which is to teach french as a professional language for people to use in business, at university or for an immigration project.
I can also prepare you for french certifications ( DELF, DALF, TCF , TEF etc. ).
Please, enter in contact for any questions :)
Mary-jo R.
Marine is an amazing teacher, she is direct and focused at all times. She has a strong teaching background and it shows. I have been taking lessons for half a year with her and can't recommend her highly enough.
Marine P.
Hello everyone and a big warm welcome to all the fellow language learners,
My name is Katerina, I'm a native Russian speaker and a foreign language teacher from St Petersburg, Russia. I've always been addicted to learning foreign languages, be it English, German, Spanish, Turkish or Arabic, so turning my passion into my job was just a matter of time. I have a Master's degree in linguistics which taught me to understand the way the mechanism of a language works and thus to help my students see the logics behind the grammar rules. Being a constant language learner enables me to see the process from both sides and to predict the difficulties my students might face. The fact that I'm not a native speaker of English or German means I've been through exactly the same language-learning journey you're about to take, and thanks to my personal experience as a student, I can make this road smooth for you.
I've had students of all ages, from pre-school kids to senior generation, and I feel comfortable working with both beginners and those who are eager to take their learning process to a new level. In my classes I encourage you to talk in the language we're studying as much as possible, putting every single bit of knowledge into practice right away. If you're a Russian-learner, I'd be glad to prove it to you that you can absolutely nail my mother-tongue - and yes, you'll be able to make a small talk in Russian by the end of the first class even if you're an absolute beginner! We'll be focusing on the topics that are most relevant to your goals, while discovering the language and getting to know more about the culture of people who speak it.
I offer a short free trial class, for us to give each other a smile and discuss our teaching pattern, in order to ajust it to your goals and make our lessons the bee's knees :) See you soon!
Morgan G.
Katja is a great teacher! She really pushes her students to speak in as much German as they can and the materials she provides are perfectly suited for her students learning goals! I enjoy working with her very much and look forward to our weekly lessons! She has helped me learn many German phrases and vocabulary that I can use immediately.
Ekaterina V.
Hello !
I am a teacher of French as a Foreign Language (FLE), with a Master's degree in Training Engineering, specialising in FLE, Professional French and International Cooperation. Your needs are individual: we evaluate them together and I propose you an adapted learning based on my experience as a student as well as in a professional situation. No traditional pedagogy, we will use IT tools (TICE) to live a playful experience, inscribed in the action pedagogy, communicative method. I will accompany you whatever your level, including in the preparation for the exams for which I am qualified (France Education International, ex CIEP, DELF/DALF).
It is the exchange that is important, we move forward together.
Passionate about this profession, it is the diversity of intercultural exchanges that enriches my practice, a necessary complement to my activity in training engineering. I need to keep in touch with learners, so see you soon!
Ana S.
Isabel is a french teacher who is qualified and has a great deal of experience. She has taught in different countries including the USA and Japan, and counts with different learning materials to help achieve different objectives.
This review was written by a coLanguage team member during a screening interview.
Isabel C.