Exercise: Build the subjunctive 1
Train your skills of building the German subjunctive 1
Practise with a private teacher on Skype!
Private Skype lessons
Learn any topic
Flexible appointments
Online
I speak:
Arabic, Chinese, Simplified, English, French, German
I teach:
German
I am a German native speaker who loves languages and am passionate about teaching others. I work as language teacher in a school, teach adults... at the German Culture Center and prepare my students for all types of official language exams. I love my job and always seek to make it as much fun as possible. Read more
Availability:Monday (16-21h), Tuesday (15-21h), Wednesday (15-21h), Thursday (15-21h), Friday (10-10h), Friday (15-21h), Saturday (7-9h), Saturday (15-21h). Timezone: Asia/Beirut (GMT+3) See in your timezone.
Great choice! Students book in average more than 10 lessons!
Free trial lesson!
Group lessons!
Response time:
less than 2 hours
Online
I speak:
German, English
I teach:
German
ABOUT ME: ⭐ Bachelor of Education ⭐ ⭐ Certified Trainer for German as Foreign Language⭐ ⭐ German Native Speaker⭐ ⭐ Austrian... German & Germany German⭐ ⭐ International teaching experience live and online⭐ TEACHING STYLE & LESSONS: Research says the best way to learn a language is by using as many different methods as possible - so that's exactly what we'll do! My lessons are very interactive and I like using a lot of different resources, which includes writing, listening, creative assignments, etc. I have a lot of experience in learning and teaching a foreign language, therefore I understand the struggles of my students and will make sure that you feel comfortable. It's absolutely okay to make mistakes, because that's the way we learn. I'm very patient, flexible and adapt to the student's style of learning. We will find the perfect learning style for you, including the right - materials (texts/videos/audios/games/grammar/articles) - language level (A1-C1) - focus (pronunciation/writing/listening/speaking) - lesson frequency & length In my classes we focus on casual conversation and increasing your confidence to speak German. You can expect a personalized class with a lot of fun and you will have the chance to talk a lot. What we can do during a lesson: - read and discuss texts, newspapers and professional articles - improve your vocabulary - improve your grammar - conversation and pronunciation training - prepare for a job interview - practice for an oral exam - assist you with your homework and proofread your texts Let me know your goals and interests and together we will achieve them. If you wish I can give you homework in order to practise what you've learned during the lesson. In order to make the sessions as interactive as possible, I'm using ZOOM for my online classes. TEACHING MATERIAL: - PDF-files - Quizzes/Tests - Reading Exercises - Writing Exercises - Audio files - Video files - Articles and news - Homework FREE TRIAL LESSON: Give me the possibility to show you my teaching-style. The trial lesson is for free so that you have nothing to lose. Worst case scenario: You talked 30 Min German for free :) If you'd like to book, please make sure to include your: - language level - learning goals - wishes for the lesson - skype username thanks! Read more
Availability:Monday (10-17h), Monday (20-20h), Monday (22-23h), Tuesday (10-23h), Wednesday (10-10h), Wednesday (12-13h), Wednesday (16-17h), Wednesday (21-23h), Thursday (10-10h), Thursday (12-13h), Thursday (15-23h), Friday (11-11h), Friday (13-23h). Timezone: Europe/Vienna (GMT+2) See in your timezone.
Great choice! Students book in average more than 10 lessons!
Free trial lesson!
Group lessons!
Response time:
less than a few hours
Online
I speak:
German, English
I teach:
German
Hello, my name is Claus !For many years I teach students from all over the world as a professional teacher of the German language. With a lot of... experience and patience I lead my students to their to teach successfully and with fun. I offer you general language courses of B1- C2 with test preparations, as well as courses in Business German (prerequisites are language proficiency in German from level B1 +!). Read more
Availability:Monday (9-9h), Monday (11-11h), Monday (13-13h), Monday (15-15h), Monday (17-17h), Monday (19-21h), Tuesday (9-9h), Tuesday (11-11h), Tuesday (13-13h), Tuesday (15-15h), Tuesday (17-17h), Tuesday (19-21h), Wednesday (9-9h), Wednesday (11-11h), Wednesday (13-13h), Wednesday (15-15h), Wednesday (17-17h), Wednesday (19-21h), Thursday (9-9h), Thursday (11-11h), Thursday (13-13h), Thursday (15-15h), Thursday (17-17h), Thursday (19-21h), Friday (9-9h), Friday (11-11h), Friday (13-13h), Friday (15-15h), Friday (20-21h), Saturday (9-9h), Saturday (11-11h). Timezone: Europe/Berlin (GMT+2) See in your timezone.
Great choice! Students book in average more than 10 lessons!
Very experienced teacher!
No free trial lesson!
No group lessons.
Response time:
less than a few hours
What our students say
Unlike in other platforms, all our teachers are manually verified by our professional team. Trust in the experiences of our students.
I'm a German language teacher with a Master's degree in German. Since I was born and lived over 12 years in Switzerland and grew up in a bilingual family, I speak also Swiss German and Croatian on a native level :)
I started to teach German in 2016, but since I love languages I work also as professional translator and became also sworn translator for the German language.
– ABOUT THE CLASS –
I offer standard German language lessons for A1, A2, B1, B2 level.
This is ideal for students who want to improve their fluency and communication skills through conversations by actively participating in the class and to learn new words, to improve their vocabulary by reading texts on various topics.
All learning materials and exercises are FREE and will be provided before or during the lesson.
The topics and exercises are following the Common European Framework of Reference for Languages (CEFR), because of that they include grammar, speaking and reading exercises.
If you wish to have only conversational lessons, I can arrange this also for you :)
My teaching method is to adapt to every student differently depending on their needs and language level. You can always feel free to express your wishes :)
* INFO: coLanguage shows only my general availability :)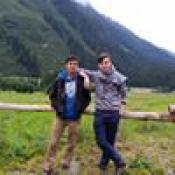 Abubakr A.
she is very flexible about rescheduling the classes. she gives a lot of exercises that fit my level and make sure to correct me if I miss pronouncing some words or have difficulty to read them.
Mihaela S.
I am a native German speaker and am teaching English and German as foreign languages. I have got a teaching degree and have been teaching English and German for more than two years to all levels and age groups.
I personally prefer to speak in the learning language as much as possible and to focus on all four skills: speaking, listening, reading, and writing. Moreover, I like to cover practical topics that can be used in your everyday life and make classes as diverse and dynamic as possible. Nevertheless, I am always open-minded to suggestions coming from students.
Concerning materials I like to use a course book and in addition worksheets, audios, videos, etc.
In case you have got any further questions, don't hesitate to contact me :)
Orsolya I.
Anna is a very well prepared and good teacher. She is a good teacher, dedicated to teach you. Would recommend her for everyone who would like to learn German.
Anna A.
Hello everyone and a big warm welcome to all the fellow language learners,
My name is Katerina, I'm a native Russian speaker and a foreign language teacher from St Petersburg, Russia. I've always been addicted to learning foreign languages, be it English, German, Spanish, Turkish or Arabic, so turning my passion into my job was just a matter of time. I have a Master's degree in linguistics which taught me to understand the way the mechanism of a language works and thus to help my students see the logics behind the grammar rules. Being a constant language learner enables me to see the process from both sides and to predict the difficulties my students might face. The fact that I'm not a native speaker of English or German means I've been through exactly the same language-learning journey you're about to take, and thanks to my personal experience as a student, I can make this road smooth for you.
I've had students of all ages, from pre-school kids to senior generation, and I feel comfortable working with both beginners and those who are eager to take their learning process to a new level. In my classes I encourage you to talk in the language we're studying as much as possible, putting every single bit of knowledge into practice right away. If you're a Russian-learner, I'd be glad to prove it to you that you can absolutely nail my mother-tongue - and yes, you'll be able to make a small talk in Russian by the end of the first class even if you're an absolute beginner! We'll be focusing on the topics that are most relevant to your goals, while discovering the language and getting to know more about the culture of people who speak it.
I offer a short free trial class, for us to give each other a smile and discuss our teaching pattern, in order to ajust it to your goals and make our lessons the bee's knees :) See you soon!
Silvia B.
Ekaterina writes new words and sentences learnt during the lesson. She has got a very nice attitude and great accent! A pleasure to work with... yes, even in German!!!!!
Ekaterina V.

Dear Silvia, thank you very much for your feedback! It's a real pleasure to have classes with you, and I hope you find them useful!
Hi, everyone! I'm Marissa. I'm a native speaker of English from the United States. I'm currently living in Istanbul, Turkey and I can speak Turkish. I can also understand basic Spanish. I received my teaching certification in 2011 and I've been teaching ever since. I have experience working with students from all over the world, in language schools, kindergarten, exam preparation centers, and online, not only as a teacher but also as an education coordinator.
I offer my students a very structured program to help them improve their overall English level. In our trial lesson, I will evaluate your level and we will discuss your goals. I will then provide you with a coursebook and supplementary materials suitable for your level and needs. We will use these both together in class and outside of class for homework. We will cover all necessary skills (speaking, listening, reading, writing, grammar, vocabulary, and pronunciation) but we will give special attention to whatever your weaknesses may be.
Alternatively, if you are not looking for such an intensive program, I also offer guided conversation practice. I am flexible! Just write me and we can start working on a plan for you. I'm looking forward to meeting you soon. :)
Vittoria F.
Marissa is a very friendly teacher. She adapts her lessons to her students and helps them reach their goals.
This review was written by a coLanguage team member during a screening interview.
Marissa M.
Brazilian Portuguese for beginners and intermediates
Ana S.
Patrick is a Portuguese teacher who has experience with different groups. It has several learning materials that will help you meet different goals and practice speaking!
This review was written by a coLanguage team member during a screening interview.
Patrick D.
Italian teacher. 32 years of experience in face-to-face classes with adults and adolescents. Bachelor's degree in linguistics. The classes are adapted to the needs of the student. We do the program together when we walk, we have fun and you learn well. I am very didactic and clear when explaining. I have experience in different branches of pedagogy and glutodidactics.
Ana S.
Marta is an Argentinean teacher who has had experience teaching Italian to adult audiences. She has a great variety of high-quality learning materials and various teaching methods.
This review was written by a coLanguage team member during a screening interview.
Marta T.
Silvia B.
Always a sheer pleasure to learn from Fiorina: full of positive energy, well prepared, full of resources... and with a smile!
Fiorina D.
German individually for each level
Milena I.
I am thrilled by my teacher Dani. She is nice, positive and does a great job.
Dani K.
Spanish Lessons For Native German Speakers, Learn GERMAN Easily
Nasser A.
For me, learning German was a nightmare and I was certain that I will never learn the language. Sara sure did prove me wrong. With her, learning German became fun. I always wait with excitement for our next session. She drastically imporved my skills in a few months and most importantly, I made a good friend along the way. Ich kann mit Sicherheit sagen, dass Sara die Beste ist
Sara K.
My interest in learning foreign languages has arisen since I was a young girl. At 13 I made up my mind to attend the foreign language high school where I graduaded with proficiency. After a few years I got my University degree.
I have been teaching for a few years privately via Skype Italian mainly to German adult students. My method is based to consolidate the grammar knowledge if previuosly done or to base it by catching their attention on interesting topics. I provide my students all material needed to plan a valuable lesson and for this reason I have gathered fulfilling reviews on other teaching platforms
About Italian students studying German with me, most of them are interested in deeping topics dealt at school or being prepared to get a certification.
I look forward to hearing from you
Maria Grazia
ASIA M.
Very interesting and useful lessons. Maria Grazia always punctual and precise, we worked very well and she was always very kind
Maria Grazia L.
Hello, my name is Katerina und I'm a qualified German teacher with 8 years teaching experience.
I would like to help you to master the German language. You will get your personal online lesson via Skype.
If you are interested in learning this world language, just contact me –
I'm looking forward to getting to know you!
Silvia L.
Very expert and nice teacher. Organized, professional, she made my German lessons a pleasant experience. Customized learning materials according to you needs and interests. Highly recommended!
I have a degree in English and I have been teaching English for 6 consecutive years.
I find teaching English gratifying and thoroughly enjoyable, and it gives me immense joy to see people I teach improve in their written and spoken English.
My specialties are phonics, grammar, vocabulary, public speaking, conversational English and writing. But I can teach other aspects of English too.
Ana S.
This teacher had learning materials and experience, however there were a few problems with the connection.
This review was written by a coLanguage team member during a screening interview.
Darius A.
I am an enthusiastic and devoted Native English speaker with excellent communication skills and I would love to help you improve your conversational English
I have a Bachelors degree in Information Design and Marketing. I am also a certified TEFL teacher. I have 15 years experience teaching students at University level and more recently I started teaching English on-line to all age groups. As part of my community service, I do volunteer English teaching to underprivileged students in Myanmar which I find hugely rewarding.
My classes focus on conversational English, in other words - we talk and read a lot, we make mistakes and correct them, we focus on pronunciation and correct sentence construction and have fun while learning and practising your English. My number one priority is always to focus on addressing your specific needs and problem areas.
Learning to speak a new language is more than just acquiring new words and the sentences, it is also about getting the confidence to use it. This confidence will come from using the language in a friendly, safe and non-judgemental environment - and that is what I offer you.
I believe I am very friendly, easy to get along with, and extremely patient.
Teaching English to me is a passion and not a job. I am super excited to share this learning journey with you.
Ana S.
Pieter is a South African English teacher with loads of experience. He has taught different age groups and even teaches English to people who cannot afford it on his free time. He counts with different learning materials for different ages and purposes and seems eager to accommodate courses according to the student's needs.
This review was written by a coLanguage team member during a screening interview.
Pieter V.
Hello!
My name is Tahereh and I'm a resident of Spain. I have a degree in Hispanic Philology and I am also accredited in DELE C2. I have a Master's degree in Latin American Studies and I am currently finishing a PhD in Cultural Studies at the University of Santiago de Compostela.
I am an accredited DELE examiner at levels A1 and A2; B1 and B2; C1 and C2 by the Instituto Cervantes. I have taken teacher training courses in ELE (Teaching Spanish as a Foreign Language) given by the Instituto Cervantes and other Spanish academic institutions and I hold the title of certified teacher of Spanish as a Foreign Language.
I specialise in EFE (Teaching Spanish for Specific Purposes) and I am a certified teacher by the Instituto Cervantes as well as other Spanish universities.
I have more than 7 years of experience as a Spanish teacher both at university and in language schools.
I use modern learning methodologies based on a previous analysis of my students' needs. I make use of all kinds of interactive, didactic materials with a cultural component, making the class dynamic as well as fun and above all adapted to the interests and needs of the student.
My mother tongue is Persian (Farsi) and I also speak English (B2), Portuguese (A2), Galician (B1) and Arabic (A1).
I invite you to a free 30-minute trial lesson.
I hope to meet you soon and to help you improve your language skills.
Ana S.
Tahereh is a Spanish teacher who is ready to take you to the next level. She has good quality learning materials, great certifications and lots of experience with all kinds of audiences.
This review was written by a coLanguage team member during a screening interview.
Tahereh A.
I happen to be a safety and security specialist for a major oil and gas exploration company and have also done my one year TEFL Diploma. I have been teaching English to students online as well as in classrooms primarily out of passion and love for teaching English and helping the students overcome their difficulties and lack of confidence/ motivation towards using English in their every day lives. My average rating happens to be 4.99/5 with 5 star reviews on English teaching websites such as www.engoo.com and https://eikaiwa.dmm.com/.
Despite being a non native English speaker; I happen to have native level proficiency in aspects of English language and am very passionate about helping students achieve their goals and aspirations in life via use of exclusive and result orientated lesson that have allowed me to achieve my level of skills in English Language. Lastly, owing to my diversified professional back ground, I also provide consultation services with regards to motivation and self improvement and help individuals gain self confidence and to think objectively.
Ana S.
Shahbaz is an English teacher from Pakistan who has had a lot of experience with adult audiences mainly and with beginners. He has learning materials to work both your comprehension and English verbal skills. He is a very concise and well-recommended teacher.
This review was written by a coLanguage team member during a screening interview.
Shahbaz J.