Exercise on the conjugation of the verb 'sehen'
Fill the boxes using the right form of the verb
Practise with a private teacher on Skype!
Private Skype lessons
Learn any topic
Flexible appointments
Online
I speak:
Arabic, Chinese, Simplified, English, French, German
I teach:
German
I am a German native speaker who loves languages and am passionate about teaching others. I work as language teacher in a school, teach adults... at the German Culture Center and prepare my students for all types of official language exams. I love my job and always seek to make it as much fun as possible. Read more
Availability:Monday (16-21h), Tuesday (15-21h), Wednesday (15-21h), Thursday (15-21h), Friday (10-10h), Friday (15-21h), Saturday (7-9h), Saturday (15-21h). Timezone: Asia/Beirut (GMT+3) See in your timezone.
Great choice! Students book in average more than 10 lessons!
Free trial lesson!
Group lessons!
Response time:
less than 2 hours
Online
I speak:
German, English
I teach:
German
ABOUT ME: ⭐ Bachelor of Education ⭐ ⭐ Certified Trainer for German as Foreign Language⭐ ⭐ German Native Speaker⭐ ⭐ Austrian... German & Germany German⭐ ⭐ International teaching experience live and online⭐ TEACHING STYLE & LESSONS: Research says the best way to learn a language is by using as many different methods as possible - so that's exactly what we'll do! My lessons are very interactive and I like using a lot of different resources, which includes writing, listening, creative assignments, etc. I have a lot of experience in learning and teaching a foreign language, therefore I understand the struggles of my students and will make sure that you feel comfortable. It's absolutely okay to make mistakes, because that's the way we learn. I'm very patient, flexible and adapt to the student's style of learning. We will find the perfect learning style for you, including the right - materials (texts/videos/audios/games/grammar/articles) - language level (A1-C1) - focus (pronunciation/writing/listening/speaking) - lesson frequency & length In my classes we focus on casual conversation and increasing your confidence to speak German. You can expect a personalized class with a lot of fun and you will have the chance to talk a lot. What we can do during a lesson: - read and discuss texts, newspapers and professional articles - improve your vocabulary - improve your grammar - conversation and pronunciation training - prepare for a job interview - practice for an oral exam - assist you with your homework and proofread your texts Let me know your goals and interests and together we will achieve them. If you wish I can give you homework in order to practise what you've learned during the lesson. In order to make the sessions as interactive as possible, I'm using ZOOM for my online classes. TEACHING MATERIAL: - PDF-files - Quizzes/Tests - Reading Exercises - Writing Exercises - Audio files - Video files - Articles and news - Homework FREE TRIAL LESSON: Give me the possibility to show you my teaching-style. The trial lesson is for free so that you have nothing to lose. Worst case scenario: You talked 30 Min German for free :) If you'd like to book, please make sure to include your: - language level - learning goals - wishes for the lesson - skype username thanks! Read more
Availability:Monday (10-17h), Monday (20-20h), Monday (22-23h), Tuesday (10-23h), Wednesday (10-10h), Wednesday (12-13h), Wednesday (16-17h), Wednesday (21-23h), Thursday (10-10h), Thursday (12-13h), Thursday (15-23h), Friday (11-11h), Friday (13-23h). Timezone: Europe/Vienna (GMT+2) See in your timezone.
Great choice! Students book in average more than 10 lessons!
Free trial lesson!
Group lessons!
Response time:
less than a few hours
Online
I speak:
German, English
I teach:
German
Hello, my name is Claus !For many years I teach students from all over the world as a professional teacher of the German language. With a lot of... experience and patience I lead my students to their to teach successfully and with fun. I offer you general language courses of B1- C2 with test preparations, as well as courses in Business German (prerequisites are language proficiency in German from level B1 +!). Read more
Availability:Monday (9-9h), Monday (11-11h), Monday (13-13h), Monday (15-15h), Monday (17-17h), Monday (19-21h), Tuesday (9-9h), Tuesday (11-11h), Tuesday (13-13h), Tuesday (15-15h), Tuesday (17-17h), Tuesday (19-21h), Wednesday (9-9h), Wednesday (11-11h), Wednesday (13-13h), Wednesday (15-15h), Wednesday (17-17h), Wednesday (19-21h), Thursday (9-9h), Thursday (11-11h), Thursday (13-13h), Thursday (15-15h), Thursday (17-17h), Thursday (19-21h), Friday (9-9h), Friday (11-11h), Friday (13-13h), Friday (15-15h), Friday (20-21h), Saturday (9-9h), Saturday (11-11h). Timezone: Europe/Berlin (GMT+2) See in your timezone.
Great choice! Students book in average more than 10 lessons!
Very experienced teacher!
No free trial lesson!
No group lessons.
Response time:
less than a few hours
What our students say
Unlike in other platforms, all our teachers are manually verified by our professional team. Trust in the experiences of our students.
Hello!
My name's Eleonora. I am from Ukraine. I am a qualified teacher and a Russian native speaker.
In 2007 I graduated from pedagogical university and since that time I work as a teacher. I love my job and always ready to share my knowledge with everyone.
If you want to improve your Russian, English or German or start learning them you will definitely like my lessons. My classes are developed for each student according to their level, interests and needs.
I try to make lessons various and use different kinds of teaching methods, exercises and technologies. My lessons include:
vocabulary enlargement and usage;
wide grammar practice
reading activities (from texbooks, at higher levels original texts);
practicing oral speech.
My schedule is quite flexible so contact me and we'll arrange the time for lessons.
See you!
Arnis .
Eleonora is very friendly and methodological teacher, perfectly adapting to students needs. I have enjoyed my every class learning.
Eleonora K.
I am a German native speaker who loves languages and am passionate about teaching others. I work as language teacher in a school, teach adults at the German Culture Center and prepare my students for all types of official language exams. I love my job and always seek to make it as much fun as possible.
Priscila M.
My experience with Melanie has been very positive, Melanie is a very qualified teacher and you can tell that from the beginning: very professional, very good methodology, diversity in material, etc. A real one on one experience as she focused together with learning of language in identification and correction of student weaknesses. My kid is engaged with her classes as he says are useful and fun, his progress in learning German has been noticed by all. I also like her flexibility to have classes during the weekends, that is a great emergency door. I am happy !! Highly recommended!!!
Melanie A.
Basic rate 14€/hour
Children under 16: 18€/hour
Cancellation :
- If you cancel / postpone more than 24 hours before the lesson, it will not be charged.
- In case of cancellation / postponing less than 24 hours before the lesson, it will be charged at half price.
---------------------
My mother tongue is French. I have always loved literature, culture, and languages. I studied in Flanders for 10 years, lived in France and Switzerland for 4 years, and have been living in Valencia, Spain, for 3 years now.
I followed the DAEFLE training (teaching French as a foreign language) in 2017.
My practice: - online conversation / support for self-taught people
- coaching / correction of speeches, lectures and documents
Method: - interests and culture
- videos, images, music, reports, poems
- asking questions and seeking answers online (with guidance)
- I encourage the use of applications such as Duolingo outside of class for vocabulary and repetition
Artem .
Lessons with Elodie are less like traditional teacher-student lessons, and more like having a conversation with your French-speaking friend. Having no practical necessity to improve my French now, but wishing to do so nevertheless (and not to forget what I already knew), this is exactly the format I was looking for. Elodie usually defines a topic for the lesson (according to my preferences) and sends some materials in advance to prepare (e.g. a YouTube video to watch), which will be discussed then. She corrects persistent mistakes and explains new words but makes sure it does not interrupt the flow of conversation. It is a good language practice, but also a great way to learn new things about francophone culture (and not only!), so I definitely recommend!
Elodie O.
Silvia B.
Always a sheer pleasure to learn from Fiorina: full of positive energy, well prepared, full of resources... and with a smile!
Fiorina D.
Cesare M.
Montse is always energetic and interesting, she always tailor the lections on the attendants level, always keeping an eye on trying to be original and fun. Easily a 5 Star Teacher.
Montse F.
German individually for each level
Milena I.
I am thrilled by my teacher Dani. She is nice, positive and does a great job.
Dani K.
I'm a German language teacher with a Master's degree in German. Since I was born and lived over 12 years in Switzerland and grew up in a bilingual family, I speak also Swiss German and Croatian on a native level :)
I started to teach German in 2016, but since I love languages I work also as professional translator and became also sworn translator for the German language.
– ABOUT THE CLASS –
I offer standard German language lessons for A1, A2, B1, B2 level.
This is ideal for students who want to improve their fluency and communication skills through conversations by actively participating in the class and to learn new words, to improve their vocabulary by reading texts on various topics.
All learning materials and exercises are FREE and will be provided before or during the lesson.
The topics and exercises are following the Common European Framework of Reference for Languages (CEFR), because of that they include grammar, speaking and reading exercises.
If you wish to have only conversational lessons, I can arrange this also for you :)
My teaching method is to adapt to every student differently depending on their needs and language level. You can always feel free to express your wishes :)
* INFO: coLanguage shows only my general availability :)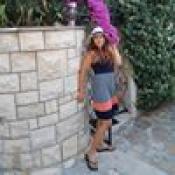 Veronika E.
As always, her lessons are great! She takes time to prepare in advance the lesson and pesonalised material for your needs.
Mihaela S.
My name is Christina and I provide fun German and French language lesson for children and adult beginners or intermediate who want to strengthen their language skills, improve the grammar knowledge, enrich the vocabulary and get into the German culture! I can teach in English or French!
I had experince in teaching German, English and French to foreign people so I do have a lot of useful learning material I can provide you to make it easier!
ALEXANDRA K.
Today, I had a vocabulary boost. It's my third class and I'm happy with the teacher and the teaching method.
Christina F.
Hi! Welcome to my page! I'm Milton a certified English teacher with experience as an instructor in different fields.
I'm passionate about language learning and as a multilingual speaker I'm aware of the challenges related to learning a second language.
My teaching method is based on the Communicative language teaching approach, which is student centered and focused on the functional aspects of the language. In this approach the student is encouraged to use English since day one, no matter what his level is!
I'm able to help the student to improve his vocabulary, his grammar knowledge and pronunciation.Given my work experience in different fields, I'm confident that I can help the student with business English and preparing fo job interviews as well.
I will use both original and published materials and I will adapt them to the student's level, goals and interests. The lessons will be prepared ahead and I'll give the student some homework to do between the sessions if he wishes.
Vittoria F.
Milton is a very friendly teacher. He makes his lesson interesting for his students and helps them learn the language with customized lesson materials.
This review was written by a coLanguage team member during a screening interview.
Milton T.
Since I learn languages ​​myself and lived in Ireland for eight years I know about the difficulties that can arise when learning a foreign language.
Especially at the beginning it is difficult to structure the many pieces of the puzzle that are floating around in the head. I will help you to put these pieces of the puzzle together and to learn German step by step, so that you feel confident in using the language. Because only when you feel comfortable with it you start to speak a language and at some point live it!
I adapt my teaching style to your needs and use a wide variety of didactics because learning languages ​​should be fun!
Since I love to explore foreign countries I have learned to be flexible and to adapt to different lifestyles. This is also reflected in my classes, so that you learn at your own pace and exactly what is important to you right now.
I also offer lessons before 07:00 (CEST), however, the calendar only allows availability from 07:00 . Contact me if you are interested!
Don't be shy and book a free trial lesson with me!
You can also watch my introduction video: https://youtu.be/hcB8xlZF-kk
Simone .
Larissa is a wonderful teacher! I have been taking classes with Larissa for the past three months and she has really helped me improve my German. Besides being very kind and funny, she is also incredibly dedicated and always go that extra mile to prepare relevant and interesting classes. She also helped me prepare for a job interview in German, which was a great help for me. I can only recommend Larissa!
Larissa L.
Hi, I am Christin!
After training as a pastry chef and studying business administration, I traveled a lot and discovered my interest in languages. To find out more about teaching languages, I decided on further training at the Goethe Institute and completed it. During the Goethe Institute "Learn to teach German" course I was able to give individual language lessons and actively support the examination preparation for the Goethe certificate.
My lessons are needs-oriented. That means that learning goals are discussed with you and based on your level of knowledge. Whether grammar, sentence structure, pronunciation, expression or the practice of communication situations: German as a foreign and second language classes are flexible and take place in a group or one-to-one lessons with individual support and are based on your wishes and requirements. The teaching of content and topics takes place according to the respective language level. Building vocabulary, grammar and means of speaking are structured and conveyed logically building on each other. Let's get to know each other in a free trial class. I am looking forward to meeting you!
Kata B.
Christin is a great teacher. She is very helpful and flexible, and her lessons are always varied and interesting. I'd recommend her to everyone who'd like to learn German!
Christin E.
Learning a foreign language is a beautiful and awe-inspiring journey which is not strange to me.
Growing in Europe and living in Canada has shaped my thinking abilities to see beyond the surface of individual's potential to study. It remodeled my senses in a special way to be able to respond with tact and compassion to the needs of my students. In the same time it taught me the value of persistence and creativity. These abilities have helped me to master the art of teaching. Every student makes me a better friend, family member and a person.
So far, I've helped different age groups to converse freely, to read, understand and love both English and Bulgarian. Beside that, my students not just improve their grades at school. Some of them became English teachers themselves.
No two students are exactly alike. That's why I mostly use personalized learning method. It builds a learning experience that addresses the unique abilities of each student.
Another method of teaching that I use is Learning by experiment. In that way students learn by doing. I create experiences for them to see the concepts in action. I found out that students tend to remember better when they see and then discuss what they learn from what they saw.
Beside these methods you will enjoy Modeling, Mistakes, Feedback and one of my top methods: Lesson Objective Transparency. When I clearly state my lesson goals and write it on the board, then you will feel relax because you will know what you are working towards.
Please, be assured you won't regret giving me the opportunity to help you!
Vittoria F.
Didi is a very friendly and experienced teacher. She makes her lesson very interesting and easy to follow. She loves teaching and supports her students during their learning path.
This review was written by a coLanguage team member during a screening interview.
Didi B.
Hello =)
My name is Karolin and I have been living in Chile for more than 2 years now. I've been teaching via Skype for quite some time and I've found that this kind of work is fun. That's why I would like to expand my circle of students.
Both in English and in German, I teach classes for beginners and advanced students. I speak Spanish fluently, but I do not want to cheat anyone, so I note here that I speak the spanish from Chile. I learned and teach the spanish from Spain and I can explain the differences if you're interested, but that is why I only teach spanish for beginners.
If you'd like to get to know me and my teaching methods, just contact me and we will do a free trial lesson.
See you soon!
Martyn H.
Very well prepared, excellent explanation of all of the key grammatical points and very nice and supportive manner made it a pleasure to learn through this lesson.
Karolin G.
Thanks to many years of experience, I offer you professional language instruction via Skype.
I am a native speaker (bilingual German and English) and have been working with Skype for over 9 years. The courses are optimally tailored to your language level and job description. Arrange a trial lesson.
Proficient handling of everyday German, leading to various certificates (Goethe Certificates, DaF etc.), specific courses for the professional field (hotel, tourism, law, medicine - FACHSPRACHENPRÜFUNG MEDIZIN, technology, business.....).

Sergey B.
I'm learning German with Belinda (currently B1) and I am trying to do a final push, so i can finally start speaking. Classes are very well prepared and structured. The book/ books used in the class have exercises that actually make your brain work and are not always easy to do ( this is for people who had experience with easy and boring grammar materials). We play dialogues, we have conversations through which the teacher understands where I am with my level and is trying to make adjustments to the program. And there's a lot of homework (when you ask for it) !!! : )
Belinda W.
Corinne T.
Micaela is an excellent teacher, prepared and above all organized and awake. My lerning experience has been more than positive!
Micaela C.