In this lesson you will learn the names of the basic colours in Estonian. In addition, you will find out how you can use them to describe items and people. 
List of colours in Estonian
Colours don't have a gender in Estonian and they can be used the same way for both males and females. However, when the noun is plural then the colour also has to be in the plural form.
| Colour | Estonian (singular, plural) |
| --- | --- |
|  Black | Must, mustad |
|  Grey | Hall, hallid |
|  White | Valge, valged |
|  Blue | Sinine, sinised |
|  Turquoise | Türkiis, türkiisid |
|  Green | Roheline, rohelised |
|  Yellow | Kollane, kollased |
|  Orange | Oranž, oranžid |
|  Red | Punane, punased |
|  Pink | Roosa, roosad |
|  Purple | Lilla, lillad |
|  Brown | Pruun, pruunid |
|  Silver | Hõbedane, hõbedased |
|  Golden | Kuldne, kuldsed |
|  Beige | Beež, beežid |
Examples
See maja on hall

--- This house is grey.

Mu särk on roosa

--- My shirt is pink.
Apelsinid on oranžid --- Oranges are orange.
Viinamarjad on lillad --- Grapes are purple.
Shades of colours: light and dark
Notice that in Estonian, 'hele' and 'tume' are written together with the name of the colour.
| Colour | Estonian |
| --- | --- |
|  Light red | Helepunane |
|  Dark red | Tumepunane |
|  Light blue | Helesinine |
|  Dark blue | Tumesinine |
Hair colours in Estonian
Blonde = Blond 
She has blonde hair = Tal on blondid juuksed
She is blonde = Ta on blond
Redhead = Punapea
She has red hair = Tal on punased juuksed
She is a redhead = Ta on punapea
Brown hair = Pruunid juuksed
She has brown hair = Tal on pruunid juuksed
She is a brunette = Ta on brünett
Black hair = Mustad juuksed
She has black hair = Tal on mustad juuksed
She is dark-haired = Ta on tumedapäine
Grey hair = Hallid juuksed
She has grey hair = Tal on hallid juuksed
She is grey-haired = Ta on hallipäine
The colours of the Estonian flag
The Estonian flag has 3 colours: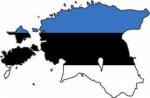 Blue = Sinine
 Black = Must
 White = Valge
Estonian flag is blue-black-white = Eesti lipp on sini-must-valge
How to ask what colour is this in Estonian?
| English | Estonian |
| --- | --- |
| What colour is this? | Mis värvi see on? |
| This is ... | See on ... |
| Do you have this in another colour? | Kas seda on teist värvi? |
Example dialogue
Karmen: Mis värvi see pluus on? --- What colour is this shirt?
Sten: See pluus on kollane. --- This shirt is yellow.
Karmen: Kas seda on teist värvi ka? --- Do you also have this in another colour?
Sten: Jah, meil on ka punast, sinist ja musta. --- Yes, we also have it in red, blue and black.
Karmen: Kas sinine on hele või tume? --- Is the blue light or dark?
Sten: See on helesinine. --- This is light blue.
 Now continue to the exercises to practice the colours in Estonian!
Practise with a private teacher on Skype!
Private Skype lessons
Learn any topic
Flexible appointments
Estonian, English or Russian private lessons
I speak:
English, Estonian, German, Russian, Turkish
I teach:
English, Estonian, Russian
Hi,First of all, I would like to congratulate you on the decision to learn or improve a new language. Whether it is Estonian, English or... Russian, beginner, advanced or Business language - you are in the right place.My name is Martin and I am coming from a tiny country in the Northern Europe called Estonia. One of my biggest hobbies is teaching and educating others, that is why for the past 3 years I have been living and working in Istanbul while teaching English to different age groups: kindergarten, school, university as well as adults. I have had students from Beginners to Advanced as well as several businessmen and CEOs of international companies located in Istanbul. What is more, for the last 2 years I have been teaching Estonian, English and Russian online through Skype that gave me chance to meet people from all over the world and help them on their journey of learning foreign languages in a comfortable and enjoyable environment.We are going to have a 20-30-minute trial lesson during which we can get to know each other, set expectations towards the lessons and schedule the timetable. The next step is simple - we start learning the language of your choice! As simple as it is :)During the lessons we will focus on making you speak even with the limited vocabulary because speaking is the key to learning a new language quickly and in a fun way!Cannot wait to receive your in-mail and help you on your journey to learn and speak a foreign language.Martin Read more
Great choice! Students book in average more than 10 lessons!
Very experienced teacher!
Free trial lesson!
Group lessons possible
Response time:
less than a few hours