Telling the time is important for appointments, travelling, getting to work and many more things. If you already know the numbers than you already know the half of the vocabulary used for this topic.
Talking about the time in French
For the start, you need to know that the word "time" has three different meanings in French; l'heure, le temps, la fois. Only l'heure is used in this case. The French "time" is equivalent to "o'clock" in English. In the table bellow you will find the essential vocabulary:
| English  | French |
| --- | --- |
| second | la seconde |
| minut | la minute |
| hour | l'heure |
| quarter of an hour | le quart d'heure |
| half an hour | la demi-heure |
| noon | le midi |
| midnight | le minuit |
| night | la nuit |
| afternoon | l'après-midi |
| evening | la soirée |
| morning | le matin |

Attention!
Unlike in English "heure" is always required. For example in English you can say "It's almost five" or "She is going there at seven thirty." In French you must say "Il est presque cinq heures." and "Elle y arrivera à sept heures trente." Keep in mind that "heure" is noun and it's singular with "une" and plural with all other numbers.
How to ask for the time ?
You can ask for the time in French "demander l'heure" in a few ways:
Quelle + heure + verbe être + il?
Quelle heure est-il ? Il est 17 heures 30.

= What time is it ? It is 5.30
Others possible questions 
Il + verbe être + quelle + heure?
Quand + nom + verb + pronom il / elle?
pronom ce + être + quelle + heure (familier)?
preposition A + quelle + heure?
Examples
A quelle heure commence la pièce de théâtre? = At what time does the play begin?  
Quand le magasin ouvre-t-il? = When does the store open? 
Il est 7 heures vingt. =  It's 7:20           

 Attention!
The only correct phrase for telling the time is "Il est" which is also impersonal, what means that "elle est 4 heures et demie" is incorrect.
Learn the clock in French
In French time is based on the 24-hour clock, and the abbreviations p.m. or a.m are not used. Instead you can use the phrase "du matin" to mean a.m., l'après-midi from noon until 6 p.m., followed by "du soir" until midnight. 
Hours
To tell a time on the hour in French, use "il e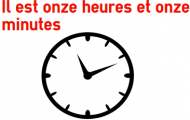 st + [number] + heure(s)". 
| | |
| --- | --- |
| 3:00 | il est trois heures |
| 9:00 | il est neuf heures |
| 6:00 | il est six heures |
Half an hour
For 30 minutes past the hour, it's used "et demie" (and a half) or "trente minutes" (and thirty minutes).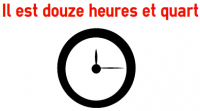 | | |
| --- | --- |
| 1:30 | il est une heure et demie |
| 8:30 | il est huit heures et demie |
| 9:30 | il est neuf heures et trente minutes |
The quarter hour
For 15 minutes past the hour in French is said "et quart" (and a quarter). If the clock shows the 45th minute you can use the word past = moins + le quart, instead of 45 minutes.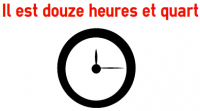 4:45

il est cinq heures moins le quart

4:15

il est quatre heures et quinze minutes

1:45
il est deux heures moins le quart
1:15

il est une heure et quart

il est une heure et quinze minutes
Minutes
To say 1 to 30 minutes past the hour, simply you say the number of minutes after the hour. The only difference can be for 31 to 59 minutes past the hour, where you can say the next hour "moins" (minus) the number of minutes left. See the examples below!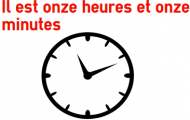 4:09

il est quatre heures et neuf minutes

14:20

il est quatorze heures et vingt minutes

19:40

il est vingt heures moins vingts

il est dix-neuf heures et quarante minutes
Practise with a private teacher on Skype!
Private Skype lessons
Learn any topic
Flexible appointments
Italian Teacher
I speak:
English, French, Italian
I teach:
English, French, Italian
Italian is my mother tongue.I carry out different kind of lessons, aimed at those who want to live in Italy or travel; but also for... students (or PhD or Teachers) who need to learn italian to read and speak fluently (to read original manuscript, to speak at conferences, seminars etc). Read more
German lessons and learning materials included
I speak:
English, French, German
I teach:
English, French, German
My name is Christina and I provide fun German and French language lesson for children and adult beginners or intermediate who want to... strengthen their language skills, improve the grammar knowledge, enrich the vocabulary and get into the German culture! I can teach in English or French!I had experince in teaching German, English and French to foreign people so I do have a lot of useful learning material I can provide you to make it easier! Read more
French lessons for all
I speak:
English, Spanish, French, Italian
I teach:
Spanish, French
I'm French, currently living in the Netherlands. I lived in Paris for almost twenty years, and I know very well my country (and of course... my language, French, my mother tongue). I taught French for two years in Spain, conversation class about culture essentially.I have a French for foreigners Master.I enjoy sharing what I know. I'm a very eclectic person and curious about everything. To give you an idea, my interest (and sometimes hobbies) are: philosophy, spirituality and religions in general, meditation, psychology and psychoanalysis, history, geography, literature, writing (in particular creative writing, and I'm used to write everyday), art (painting, photography), sciences (vulgarisation level) and cultural matters in general. I travel a lot (as a backpacker), sometimes by foot, and the places I know well are France, the Netherlands, Italy and Serbia.One of my qualities is my capacity of adaptation, I enjoy preparing documents to help the student to acquire autonomy, but I love speaking too, and it's the best way to learn a language.I'm waiting for your message, please when contact me, explain quickly who you are, why you want to study French and what you are looking for exactly.See you soon. Read more
Free trial lesson!
Response time:
less than a few hours