The weather is the main topic of most conversations. Knowing the basic words and how to formulate a few sentences about the weather usually 'beaks the ice' at the beginning of conversation. Here you can find extensive vocabulary which you can use in everyday life.
The vocabulary of the weather forecast in French
First you need to know that the word 'weather' is translated with le temps, and that 'weather forecast' we translate as le bulletin météo, la prevision météorologique or simply la météo. French vocabulary used to describe the weather conditions, 'les conditions météo is really rich, and in the table bellow you will find some examples.
| English | French |
| --- | --- |
| wind | le vent |
| sun | le soleil |
| snow | la neige |
| rain | la pluie |
| cloud | le nuage |
| fog | le brouillard |
| storm | l'orage |
| hail | la grêle |
| ice | le verglas |
| rainbow | l'arc-en-ciel |
These nouns you can find in simple expressions such as: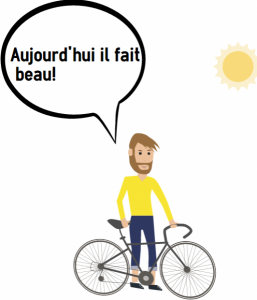 Examples:
Un brouillard épais.

 = A thicky fog.

La neige fond au soleil.

 = The snow melts in the sun.

Il y a du vent, du tonnerre et des éclairs; c'est un orage.

 = There is a wind, thunder and lightning; It is a storm.
How to describe the weather in French
To describe the weather in French you will mostly use expressions made of verb 'faire', which means 'it takes', you use it for basic weather expressions.
il + the 3rd person singular of the verb 'faire' + adjective
il y a + preposition + article + noun
c'est + adjective
Il + verb
In the table below you can find the most common verbs and adjectives used in these constructions to describe the weather.
English (verbs + adjectives)

French 

to rain

Pleuvoir

to snow

Neiger

shine

Briller

be misty

Brumer

hail down

Grêler

be windy

Venter

freeze

Geler

bad

Mauvais

beautiful

Beau

mild

Doux

hot, warm

Chaud

cold

Froid

fresh

Frais

stormy

Avoir de l'orage

De la têmpete
Examples:
Il va grêler

. = It's going to hail.

Il fait beau

/

mauvais

. = It's a beautiful / ugly day.

ll fait 20 degrés

. = It's 20 degrees.

Il y a beaucoup de vent.

 = It's very windy.

C'est brumeux.

 = It's foggy.
What is the weather like in French?
To ask What is the weather like?, the francophones usually say Quel temps fait-il?, and you answer with Il fait, but if you want to talk about the temperature you say 'La temperature est de vingt cinq degrés.
quel temps + 3rd person of verb faire + il
the 3rd person of verb aller + t +il+ verbe
the 3rd person of verb faire + il + adjective
Examples:
Quel temps fait-il aujourd'hui? 

= What is the weather like today?

Va-t-il neiger?

 = Is it going to snow?

Fait-il nuageux? 

= Is it cloudy?
Practise with a private teacher on Skype!
Private Skype lessons
Learn any topic
Flexible appointments
Italian Teacher
I speak:
English, French, Italian
I teach:
English, French, Italian
Italian is my mother tongue.I carry out different kind of lessons, aimed at those who want to live in Italy or travel; but also for... students (or PhD or Teachers) who need to learn italian to read and speak fluently (to read original manuscript, to speak at conferences, seminars etc). Read more
Free trial lesson!
Response time:
less than 2 days
German lessons and learning materials included
I speak:
English, French, German
I teach:
English, French, German
My name is Christina and I provide fun German and French language lesson for children and adult beginners or intermediate who want to... strengthen their language skills, improve the grammar knowledge, enrich the vocabulary and get into the German culture! I can teach in English or French!I had experince in teaching German, English and French to foreign people so I do have a lot of useful learning material I can provide you to make it easier! Read more
Free trial lesson!
Response time:
less than a few hours
French lessons for all
I speak:
English, Spanish, French, Italian
I teach:
Spanish, French
I'm French, currently living in the Netherlands. I lived in Paris for almost twenty years, and I know very well my country (and of course... my language, French, my mother tongue). I taught French for two years in Spain, conversation class about culture essentially.I have a French for foreigners Master.I enjoy sharing what I know. I'm a very eclectic person and curious about everything. To give you an idea, my interest (and sometimes hobbies) are: philosophy, spirituality and religions in general, meditation, psychology and psychoanalysis, history, geography, literature, writing (in particular creative writing, and I'm used to write everyday), art (painting, photography), sciences (vulgarisation level) and cultural matters in general. I travel a lot (as a backpacker), sometimes by foot, and the places I know well are France, the Netherlands, Italy and Serbia.One of my qualities is my capacity of adaptation, I enjoy preparing documents to help the student to acquire autonomy, but I love speaking too, and it's the best way to learn a language.I'm waiting for your message, please when contact me, explain quickly who you are, why you want to study French and what you are looking for exactly.See you soon. Read more
Free trial lesson!
Response time:
less than a few hours