The weather is the main topic of most conversations. Knowing the basic words and how to formulate a few sentences about the weather usually 'breaks the ice' at the beginning of conversation. Here you can find extensive vocabulary which you can use in everyday life.
The vocabulary of the weather forecast in French
First you need to know that the word 'weather' is translated with le temps, and that 'weather forecast' we translate as le bulletin météo, la prevision météorologique or simply la météo. French vocabulary used to describe the weather conditions, 'les conditions météo is really rich, and in the table bellow you will find some examples.
| English | French |
| --- | --- |
| wind | le vent |
| sun | le soleil |
| snow | la neige |
| rain | la pluie |
| cloud | le nuage |
| fog | le brouillard |
| storm | l'orage |
| hail | la grêle |
| ice | le verglas |
| rainbow | l'arc-en-ciel |
These nouns you can find in simple expressions such as: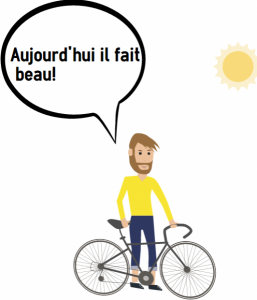 Examples:
Un brouillard épais.

 = A thick fog.

La neige fond au soleil.

 = The snow melts in the sun.

Il y a du vent, du tonnerre et des éclairs; c'est un orage.

 = There is a wind, thunder and lightning; It is a storm.
How to describe the weather in French
To describe the weather in French you will mostly use expressions made of verb 'faire', which means 'it takes', you use it for basic weather expressions.
il + the 3rd person singular of the verb 'faire' + adjective
il y a + preposition + article + noun
c'est + adjective
Il + verb
In the table below you can find the most common verbs and adjectives used in these constructions to describe the weather.
English (verbs + adjectives)

French 

to rain

Pleuvoir

to snow

Neiger

shine

Briller

be misty

Brumer

hail down

Grêler

be windy

Venter

freeze

Geler

bad

Mauvais

beautiful

Beau

mild

Doux

hot, warm

Chaud

cold

Froid

fresh

Frais

stormy

Avoir de l'orage

De la têmpete
Examples:
Il va grêler

. = It's going to hail.

Il fait beau

/

mauvais

. = It's a beautiful / ugly day.

ll fait 20 degrés

. = It's 20 degrees.

Il y a beaucoup de vent.

 = It's very windy.

C'est brumeux.

 = It's foggy.
What is the weather like in French?
To ask What is the weather like?, the francophones usually say Quel temps fait-il?, and you answer with Il fait, but if you want to talk about the temperature you say 'La temperature est de vingt cinq degrés.
quel temps + 3rd person of verb faire + il
the 3rd person of verb aller + t +il+ verbe
the 3rd person of verb faire + il + adjective
Examples:
Quel temps fait-il aujourd'hui? 

= What is the weather like today?

Va-t-il neiger?

 = Is it going to snow?

Fait-il nuageux? 

= Is it cloudy?
Practise with a private teacher on Skype!
Private Skype lessons
Learn any topic
Flexible appointments
German lessons and learning materials included
I speak:
English, French, German, Italian
I teach:
English, French, German
My name is Christina and I provide fun German and French language lesson for children and adult beginners or intermediate who want to... strengthen their language skills, improve the grammar knowledge, enrich the vocabulary and get into the German culture! I can teach in English or French!I had experince in teaching German, English and French to foreign people so I do have a lot of useful learning material I can provide you to make it easier! Read more
Great choice! Students book in average more than 10 lessons!
Very experienced teacher!
This teacher is one of our premium members. A premium teacher is very motivated to provide an excellent learning experience.
Free trial lesson!
Group lessons possible
Response time:
less than a few hours
Ready to take on the challenge to learn Bulgarian?
I speak:
Bulgarian, English, French
I teach:
Bulgarian, English, French
Hello, My name is Zlatko. I believe that learning Bulgarian online with me gives you the best of both worlds: fast progress and enjoyment.Taking... on the challenge to learn a new language is impressive. The reasons might be different. Some people give it a go because they just like new things. Others need to learn a new language because they are moving to a country where the language is spoken. Remember that whatever your reason is, it is your motivation that is the key to successful learning. Who am I and why to pick me out: - online and face-to-face teaching experience: over 15 years helping hundreds of students achieve their language goals - flexibility: willing to tailor my techniques to both your interests and specific needs - patience and excellent listening skills - honesty and collaboration: let's build trust and consider our work as a partnership - native Bulgarian speaker with oustanding educational background - sence of humour In general, my teaching style includes, but is not limited to: - speaking practice through role-play activities - stotytelling and discussions - gap filling excercises - listening comprehension - vocabulary development - accent reduction How does that grab you? If interested, drop me a line and we will discuss your language goals and expectations. Hope to see you soon. Here are a few tips on how to get the most out of every lesson: 1. Review what you covered in your previous lesson. 2. Focus on things you had difficulty with. I will definitely go over them. 3. It is always a great idea to take notes during your lessons. It helps you stay more focused on what you are learning. 4. Feel free to ask me if anything has come up since your last lesson that you want clarification on. Your questions do not have to be prior lesson related, maybe you are just curious about how to say something. 5. Be sure you have completed your homework assignments. If you were not able to complete them, make notes about what stumped you. Were the instructions not clear enough, was the vocabulary beyond your level of comprehension, were the grammar rules too overwhelming, was there too much homework for the time you had planned to spend on it, and so on. 6. Contact me prior to your next lesson if there are any issues or changes you would like to make me aware of so I can have a chance to make changes to your learning plan. Hope this helps. Read more
Great choice! Students book in average more than 10 lessons!
Free trial lesson!
Group lessons possible
Response time:
less than a few hours
Professionnal French courses with a French native and certified teacher
I speak:
English, French, Spanish
I teach:
French
Hello,Are you looking to learn or improve your French in a Fun and relaxed atmosphere?Look no further !My name is Anissa and I'm a French... native and certified teacher.Focusing on each student's individual level, interests, and goals, my online classes are effective to achieve impressive learning results in a shorter period of time. The courses will be based on your personal needs and during the class you will receive direct explanations, correction and feedback in order to instantly improve your language skills.Whether you want to learn French for your own pleasure or preparing for an exam, an upcoming interview or a presentation at work, I will be happy to assist you in reaching your goals.My online classes are available at any time! Choose a subject from my curriculum or request your own topic, date, time and start master your French!I look forward to meeting you,Anissa, your French (and nice) teacher :)*Please note that I'm not offering a free trial anymore* Read more
Great choice! Students book in average more than 10 lessons!
No free trial lesson!
Group lessons possible
Response time:
less than a few hours