Food and drinks in French
Imagine going to the restaurant in France and not being able to understand the waiter or the menu. To avoid any misunderstanding we have prepared a list of vocabulary that includes meals, drinks and examples of dialogues in a restaurant. 
A complete vocabulary list of all kind of food in French language
In order to be able to understand a menu in French, here you have a list with most common types of food. The menu in general consists of the starter (l´entrée), the main dish (le plat de résistance or le plat principal), the side dish (l´accompagnement) and the dessert (le dessert). 
Eating times
In general the French people always do three meals a day. The main meal of the day is a lunch, with dinner sometimes just reduced to an afterthought. Children usually have a small snack or goûter after school - a piece of fruit or a cake - but this is limited to a specific time. Before you begin with the list of dishes, please first check some basic words.
| English | French |
| --- | --- |
| meal | le repas |
| breakfast | le petit-déjeuner |
| lunch | le déjeuner |
| dinner | le dîner |
| snack | le goûter |
How to say fruits in French?
Traditional French cuisine relies on lot of fruit and vegetables. 
| English | French |
| --- | --- |
| fruit | les fruits |
| apple  | la pomme |
| orange | l'orange |
| banana | la banane |
| lemon | le citron |
| peach | la pêche |
| pear | la poire |
| strawberry | la fraise |
| melon | le melon |
| pineapple | l'ananas |
| grape | le raisin |
| grapefruit | le pamplemousse |
Vegetables in French
In France, vegetables do not play a starring role in a meal; they are usually featured in a side dish or as a part of the main course. Popular French vegetables include mushrooms , leeks, string beans, tomatoes, onions, and a variety of lettuces and leafy greens. The most renown French vegetable dish is ratatouille, a Provençal main dish made of eggplant, zucchini, tomatoes, onions and a range of herbs.
| English | French |
| --- | --- |
| vegetables | les légumes |
| salad | la salade |
| potato | une pomme de terre |
| carrot | une carrotte |
| peas | les petits pois |
| garlis | l'ail |
| green beans | les haricots verts |
| onion | un oignon |
| tomato | le tomate |
| cucumber | un concombre |
| mushroom | un champignon |
| leek | un poireau |
| lettuce | la laitue |
| zucchini | la courgette |
| herb | l'herbe |
Different type of meat
A typical French lunch or dinner centers around some form of meat, whether beef, pork or poultry. Classic French meat dishes include Coq au Vin (cockerel in red wine), Cassoulet (beans stewed with pork, duck or mutton), Confit de Canard ("preserved" duck) and Steak Tartar (raw ground beef). The French also have a great fondness for sausage and often eat charcuterie (sausage, ham and cold cuts) as a prelude to a main meal.
| English | French |
| --- | --- |
| meat | la viande |
| ham | le jambon |
| pate | le pâté |
| rabbit | le lapin |
| fish | le poisson |
| lamb | l´agneau |
| veal | le veau |
| chicken | le poulet |
| duck | le canard |
| salmon | le saumon |
| poultry | la volaille |
Other kind of food
One of the main courses is a dessert, to which traditionally French people add some cheese or they chose something from the patisseries, treats like eclairs or sugary cakes.
| English | French |
| --- | --- |
| fries | des frites |
| ice cream | une glace |
| pancake | une crêpe |
| yoghurt | le yaourt |
| croissant | le croissant |
| cake | le gâteau |
| chocolate | le chocolat |
| cheese | le fromage |
| sausage | la saucisse |
List of drinks in French 
Speaking about drinks you should know that many French will usually have wine with their meals.
English
French
water

l'eau

sparkeling water

l'eau minerale

beer

bière

vine

du vin rouge

du vin blanc

tea

un thé

coffee

un café

orange juice

un jus d´orange

hot chocolate

un chocolat chaud

lemonade

une limonade

cider

un cidre

rum

le rhum

cognac

le cognac

champagne

le champagne

syrup

le sirop

whisky

le whisky
Ordering in a restaurant in French
When in the restaurant, first, the waiter/waitress will ask you what would you like to order. To have a proper conversation you should learn the following expressions:
| English | French |
| --- | --- |
| What would you like to drink?  | Que voulez-vous boire? |
| What would you like to order?  | Que voulez-vous commander? |
| What would you like to eat?  | Que voulez-vous manger? |
| Would you like a starter?  | Voulez-vous une entrée? |
| Have you chosen already?  | Avez-vous déjà choisi? |
| The bill, please | L'addition, s'il vous plait |
| I would like to pay, please | Je voudrais payer, s'il vous plaît |
| together | ensemble |
| separately | séparément |
| the tip | pourboire |
Example dialogue in a restaurant
French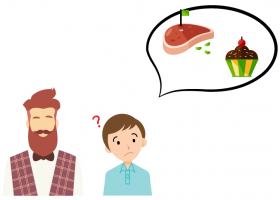 Marc: Bonsoir Monsieur, Je voudrais une table pour une personne, s'il vous plaît.
Serveur: Pas de problème. Voici une table pour 1 personne, et voici le menu.
Marc: Merci, Je voudrais le paté en entrée, pour le plat principal un steak frites bien cuit, et pour le dessert une glace au chocolat.
Serveur: Très bon choix. (...) Comment vous trouvez vos plats?
Marc: Le steak frites est délicieux. Maintenant je voudrais payer, l'addition, s'il vous plait.
Serveur: Bien Monsieur, Vous pouvez payer à la caisse.
English
Marc: Good evening Sir, I would like a table for one person, please.
Server: No problem. Here is a table for 1 person, and here is the menu.
Marc: Thank you, I would like the paté for appetizer, for the main course a steak french fries well cooked, and for the dessert a chocolate ice cream.
Server: Very good choice. (...) How do you find your dishes?
Marc: The steak is delicious. Now I'd like to pay, please.
Server: No problem Sir, You can pay at the till.     
---
Exercises
Exercise: Food in French
---
Food and drinks mixed exercise
---
Ordering in a restaurant: recap exercise
---
Practise with a private teacher on Skype!
Private Skype lessons
Learn any topic
Flexible appointments
Online
I speak:
English, Spanish, French, Italian
I teach:
Spanish, French
I'm French, currently living in the Netherlands. I lived in Paris for almost twenty years, and I know very well my country (and of course... my language, French, my mother tongue). I taught French for two years in Spain, conversation class about culture essentially. In Paris, I was Spanish teacher, I have the Agregation degree which is the highest degree for teaching in France, I'm bilingual. I've participated too in several editorial projects about Spanish teaching and DELE preparation. I have a Spanish Studies Master and I'm currently doing a research about the Spanish and Sefardi Judaism. I have a French as foreign language and a Religious Studies Masters too. I enjoy sharing what I know. I'm a very eclectic person and curious about everything. To give you an idea, my interest (and sometimes hobbies) are: philosophy, spirituality and religions in general, meditation, psychology and psychoanalysis, history, geography, literature, writing (in particular creative writing, and I'm used to write everyday), art (painting, photography), sciences (vulgarisation level) and cultural matters in general. I travel a lot (as a backpacker), sometimes by foot, and the places I know well are France, the Netherlands, Italy and Serbia. One of my qualities is my capacity of adaptation, I enjoy preparing documents to help the student to acquire autonomy, but I love speaking too, and it's the best way to learn a language. I'm waiting for your message, please when contact me, explain quickly who you are, why you want to study French and what you are looking for exactly. See you soon. Read more
Availability: Monday (9-10h), Tuesday (9-10h), Friday (18-20h), Saturday (15-21h), Sunday (15-21h). Timezone: Europe/Amsterdam (GMT+2) See in your timezone.
No free trial lesson!
Group lessons possible
Online
I speak:
English, French, German, Italian
I teach:
English, French, German
My name is Christina and I provide fun German and French language lesson for children and adult beginners or intermediate who want to... strengthen their language skills, improve the grammar knowledge, enrich the vocabulary and get into the German culture! I can teach in English or French! I had experince in teaching German, English and French to foreign people so I do have a lot of useful learning material I can provide you to make it easier! Read more
Availability: Monday (7-24h), Tuesday (7-24h), Wednesday (7-24h), Thursday (7-24h), Friday (7-24h), Saturday (7-24h), Sunday (7-24h). Timezone: Europe/Berlin (GMT+2) See in your timezone.
Very experienced teacher!
Free trial lesson!
No group lessons possible.
Online
I speak:
German, English, French, Italian, Dutch
I teach:
English, French, Italian, Dutch
Hello,I would love to help you improve your knowledge of English.I adapt the lessons following your wishes : are you a beginner and need to get... some basic knowledge with grammar and easy texts or do you want to improve your conversation skills. I can help you either way.Looking forward to meeting you ! Read more
Availability: Monday (9-14h), Tuesday (9-18h), Wednesday (9-18h), Thursday (9-18h), Friday (9-18h), Saturday (10-12h). Timezone: Europe/Paris (GMT+2) See in your timezone.
Very experienced teacher!
Free trial lesson!
Group lessons possible