You want to travel to a French speaking country and to live there for a certain period of time? Then you should at least learn the most important travel-related words and phrases in French! In this lesson you can find out how to respond and interact with others at the airport, at the bus stop, in the hotel or in the shop.
First of all, I will show you the most important vocabulary related with public transportation. Afterwards, you will find a list with some useful vocabulary about the topic accommodation and going to shopping.
Travel-related sentences
At the airport  
 "How many pieces of luggage can I take?", "When do I have to be at the gate?" are one of the common questions you ask yourself when traveling by plane. So, to be able to answer these any many other questions at the counter of an airport, you should master some related vocabulary.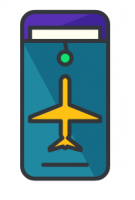 | English |  French |
| --- | --- |
| airport | l`aéroport |
| flight | le vol |
| entrance | l´entrée |
| exit | la sortie |
| departure hall | l´hall de départ |
| arrival hall | l´hall d'arrivée |
| terminal | une aérogare |
| gate | la porte |
| counter | le comptoir |
| window seat | le siège du côté hublot |
| aisle seat | le siège du côté couloir |
| boarding pass  | la carte d'embarquement |
| carry-on luggage | les bagages à main |
| check-in | l'enregistrement |
| one-way ticket | un billet simple |
| round trip ticket | un billet aller-retour |
| early | en avance |
| late | en retard |
| duty-free | une boutique hors taxes |
Example dialogue
French
Marie: Bonjour, est-ce que vous pouvez m´aider?
Paul:  Bien sûr!
Marie: J´ai oublié ma carte d'embarquement. Qu'est-ce que je dois faire maintenant?
Paul: Vous pouvez vous enregistrer aussi ici, à l´aéroport.
Marie: Donc, j´ai un vol direct vers Paris et j'ai seulement des bagages à main.
Paul: Le bagage peut avoir 20 kilos maximum. Vous devez vous présenter à la porte 15 minutes avant l'heure du départ.
Marie: Merci beaucoup.
Paul: Merci à vous et bon voyage!
English
Marie: Good morning, can you help me, please?
Paul: Of course.
Marie: I forgot my boarding pass. What can I do now?
Paul: You can check in also at the airport.
Marie: Ok, so I have a flight for Paris and carry-on luggage.
Paul: The luggage can have 20kg maximum and you need to be at gate 15 minutes before the flight.
Marie: Thank you very much.
Paul: Thank you and have a nice trip.
At the bus station
Travelling with a bus can be another option. To complete this topic, check the lesson before about Asking for directions in French.
| English  | French |
| --- | --- |
| bus station | la gare routière |
| bus stop | un arrêt |
| intercity bus | un car |
| local bus | un bus |
| traffic | la circulation |
| bus ticket | un ticket |
| book of 10 tickets | un carnet |
| ticket office | le guichet |
| platform | le quai |
| ticket prices | les tarifs |
| journey  | un trajet |
| last stop | un terminus |
| timetable | l'horaire |
| to arrive | arriver |
| to board | monter dans |
| to buy a ticket | acheter un ticket |
| to validate ticket | composter son ticket |
Example dialogue
French
Marie: Bonjour, je voudrais acheter un carnet direction Versailles.
Paul: Le prix est  de 10€, le trajet dure 2 heures.
Marie: Bien et pouvez-vous me dire l'horaire?
Paul: Donc, le car part à 10 heures et le terminus pour votre direction est le château de Versailles.
Marie: Merci beaucoup pour votre aide. Au revoir!
English
Marie: Good morning, I would like to buy a book of ten tickets for Versailles.
Paul: The price is 10 euros and the trip lasts 2 hours.
Marie: Good, and can you tell me the time?
Paul: So, the intercity bus leaves at 10 a.m. and the last stop for your direction is the castle Versailles.
Marie: Thank you very much for your help. Goodbye!
French hotel vocabulary
Regarding the hotel vocabulary. You need to know how to make hotel reservation, ask about services and amenities, pay your bill, and identify common places and items in a hotel. Pay attention that in French the meaning of hôtel is often confused with un hôtel de ville what means "city hall".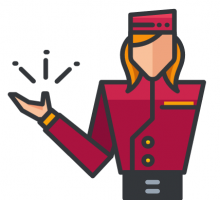 English
French
hotel

l'hôtel

reserve, book

réserver

guest

la cliente

check in

s'enregistrer

check out

régler la facture

front desk 

la réception

front desk clerck

le réceptionniste

maid

la femme de chambre

lobby

le hall

lounge

le salon

room

la chambre

pool

la piscine

vacant

no vacancy

disponible

complet

bathroom

le salle de bains

single room

la chambre simple

double room

la chambre à deux lits

twin beds

des lits jumeaux

wireless internet

lnternet sans fil

terrace

la terrasse

tip 

le pourboire

a five star hotel

un hôtel à cinq étoiles 

accommodate

loger

bellboy

le groom

amenities

les services
Example dialogue
French
Paul: Bonjour, je voudrais une chambre à deux lits, qui donne sur la mer et pour trois nuits?
Marie: Nous n'avons pas une avec la vue sur la mer, mais il y a une au quinzième étage, aussi vous avez lnternet sans fil et la terasse.
Paul: Bien, et quand je dois régler la facture?
Marie: Vous devez la régler le dernier jour de votre séjour.
Paul: Merci et à bientôt!
English
Paul: Good morning, I would like a double room, for three nights and with a sea view?
Marie: We don't have one with a sea view, but there is one at fifth floor, with wireless internet and with a terrace.
Paul: Good, and when do I need to pay?
Marie: You can pay at your last day.
Paul: Thank you and see you than!
French shopping vocabulary
When travelling we always visit some shops. It can be souvenir shop or any other store. It would be nice to speak in French to a shop assistant. Often there are many languagge barriers when it comes to this situations. Here we will help you to avoid them.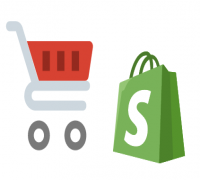 | English | French |
| --- | --- |
| supermarket | un supermarché |
| small grocery store | l'épicerie |
| farmer's market | le marché |
| bakery | la boulangerie |
| cheese shop | la fromagerie |
| pastry shop | la pâtisserie |
| pharmacy | la pharmacie |
| newsstand | le kiosque |
| bank | la banque |
| shoe shop | le magasin de chaussures |
| gift shop | le magasin de cadeaux |
| souvenir shop | le magasin de souvenirs |
| opening hours | les heures d'ouverture |
| on special offer | en promotion |
| sale | les soldes |
| open | ouvert |
| closed | fermé |
| cash desk | la caisse |
| cheap | bon marché |
| expensive | cher |
| good value for money | bon rapport qualité-prix |
| carrier bag | le sac |
| shopping cart | le chariot |
Exampe dialogue
French
Paul: Bonjour, est-ce que vous avez besoin de l'aide?
Marie: Oui, je cherche un souvenir pour ma soeur. Je voudrais acheter quelque chose d'utile.
Paul: Je vous recommande un chapeau ou un sac avec le signe de la ville.
Marie: C`est très bien, mais quelque chose bon marché s'il vous plaît.
Paul: D`accord, voilà un sac pour 10 euro.
Marie: Parfait, je l'achète.
English
Paul: Good morning, do you need help?
Marie: Yes, I am searching for a souvenir for my sister. I would like to buy something useful.
Paul: I suggest you to buy a bag with the city sign.
Marie: That's an excellent idea, but do you have something cheap?
Paul: Yes, we do, we have a bag for 10 euros.
Marie: Excellent, I am going to buy it.
Practise with a private teacher on Skype!
Private Skype lessons
Learn any topic
Flexible appointments
Italian Teacher
I speak:
English, French, Italian
I teach:
English, French, Italian
Italian is my mother tongue.I carry out different kind of lessons, aimed at those who want to live in Italy or travel; but also for... students (or PhD or Teachers) who need to learn italian to read and speak fluently (to read original manuscript, to speak at conferences, seminars etc). Read more
German lessons and learning materials included
I speak:
English, French, German
I teach:
English, French, German
My name is Christina and I provide fun German and French language lesson for children and adult beginners or intermediate who want to... strengthen their language skills, improve the grammar knowledge, enrich the vocabulary and get into the German culture! I can teach in English or French!I had experince in teaching German, English and French to foreign people so I do have a lot of useful learning material I can provide you to make it easier! Read more
French lessons for all
I speak:
English, Spanish, French, Italian
I teach:
Spanish, French
I'm French, currently living in the Netherlands. I lived in Paris for almost twenty years, and I know very well my country (and of course... my language, French, my mother tongue). I taught French for two years in Spain, conversation class about culture essentially.I have a French for foreigners Master.I enjoy sharing what I know. I'm a very eclectic person and curious about everything. To give you an idea, my interest (and sometimes hobbies) are: philosophy, spirituality and religions in general, meditation, psychology and psychoanalysis, history, geography, literature, writing (in particular creative writing, and I'm used to write everyday), art (painting, photography), sciences (vulgarisation level) and cultural matters in general. I travel a lot (as a backpacker), sometimes by foot, and the places I know well are France, the Netherlands, Italy and Serbia.One of my qualities is my capacity of adaptation, I enjoy preparing documents to help the student to acquire autonomy, but I love speaking too, and it's the best way to learn a language.I'm waiting for your message, please when contact me, explain quickly who you are, why you want to study French and what you are looking for exactly.See you soon. Read more
Free trial lesson!
Response time:
less than a few hours