Getting directions in Vietnamese
Whether you are an expat living in Vietnam or just visiting on vacation, it is always useful to know some useful phrases to ask for directions. It can help you to find the way to the main attractions. Being in an unknown city, you can easily get lost and miss the very things you hoped to see. In order to avoid this dilemma, we will not only teach you how to ask for directions in Vietnamese but also how to understand the directions given.
How to ask for directions
In this table you can find some phrases to ask and respond to questions about directions/
English
Vietnamese
Excuse me, could you please tell me the way to the airport?

Chị ơi! Chị làm ơn cho hỏi dường nào đi ra sân bay?

Where is the train station?

Ga xe lửa đi lối nào?

You go straight this way and turn right at the intersection.

Cô đi thẳng đường này, đến ngã tư rẽ tay phải.

Is the post office far away?
 

Bưu điện cách dây có xa không?

No, it's about 5 minutes by foot.

Không, đi bộ mất khoảng 5 phút.

We are lost.

Chúng tôi bị lạ đường.

I am looking for ... 

Tôi đang tìm ...

Where is the supermarket?
 

Siêu thị ở đâu ạ?
 
The particle ơi (excuse me/hey) is used after a name or a personal pronoun to call someone who is far away or to attract someone's attention: Cô ơi! Anh ơi! Hùng ơi!
To be more polite, always start with the attention grabber and then ask your question!
The compass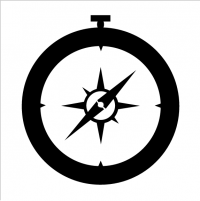 North = phía bắc
East = phía đông
South = phía nam
West = phía tây
Northeast = phía đông bắc
Southeast = phía đông nam
Southwest = phía tây nam
Northwest = phía tây bắc
Northern = miền bắc
Give directions in Vietnamese
Below you can find all the vocabulary needed to give directions.
| English | Vietnamese |
| --- | --- |
| excuse me, hey | ơi |
| please | làm ơn |
| end | hết |
| way, road | đường |
| straight | thẳng |
| go straight | đi thẳng |
| keep straight | cứ đi thẳng |
| T-intersection | ngã ba |
| intersection | ngã tư |
| opposite | đối diện |
| here | đây |
| there | đó |
| turn | rẽ |
| turn right | rẽ phải |
| turn left | rẽ trái |
| turn to the right | rẽ sang phải |
| turn to the left | rẽ sang trái |
| turn around  | quay lại |
| round about | bùng binh |
| transportation, traffic | giao thông |
| by foot | đi bộ  |
Places of interest in Vietnamese
Here we name all places of interests.
English
Vietnamese
hotel

khách sạn

airport

sân bay

pharmacy

nhà thuốc

supermarket

siêu thị

restaurant

nhà hàng

train station

nhà ga

hospital

bệnh viện

/ 

nhà thương

parking 

bãi đỗ xe

capital

thủ đô

embassy

đại sứ quán

bank

ngân hàng

temple

chùa

church

nhà thờ

museum

viện bảo tàng

bridge

cầu

post office

bưu điện
Summary
After completing this chapter, you will be able to get around in Vietnam. Let's develop your skills further with our exercises!
Practise with a private teacher on Skype!
Private Skype lessons
Learn any topic
Flexible appointments
Italian and English teacher
I speak:
English, French, Italian
I teach:
English, Italian
Buongiorno! I am an Italian native speaker with excellent English. I have lived in the UK for 4 years. I studied Languages and Literature at... University and always wanted to become a teacher. I have TEFL certification. I have taken a module "Teaching Italian as a foreign language" at the University of Reading and I have experience teaching Italian and English to children and young adults. I can help with after-school, homework, conversation, grammar, and writing in all sorts of contexts. I am highly organised and I enjoy creating lesson plans. Teaching is something I love. I don't even see it as a job! I just love helping people learn languages. Read more
No free trial lesson!
Response time:
less than 2 days
Russian language
I speak:
English, Russian
I teach:
Russian
Hello! I'm a native teacher of Russian from Moscow. I have a Master's Degree in philology (The Pushkin State Russian Language Institute)... and I'm a fully qualified teacher of Russian as a foreign language. I speak English.In my lessons I use communicative methodology with development of all language skills, based on speaking. My lessons are well-organized and structured. I can help you to cope with Russian grammar, and it won't be boring at all! During my teaching career I've made my own grammar materials as the explanations in books don't usually give you the key for the correct usage of Russian. I've been working as a tutor of Russian (for natives, for foreigners, Rus. literature) since 2008 with different age groups. I've worked as a teacher at University, language courses, correction school. While working at the Pushkin Institute, I created the program of Academic Russian, which is useful if you're going to study in Russian universities. I can also effectively prepare you for the Russian language Certificate «TRKI», needed for studying, working or getting residence permits in Russia. Currently I teach Russian as a foreign language in Moscow State University. I've taught the directors in Russian departments of such well-known companies as Mitsubishi, Renault and Mastercard. They successfully passed C-1 level Certificate in Russian as a foreign language.Are you ready to master your Russian? Welcome! Read more
Free trial lesson!
Response time:
no messages yet
English and Portuguese private lessons for Beginners, Advanced, Business English, Tourism and business travels
I speak:
English, Italian, Portuguese, International
I teach:
English, Portuguese, International
Hello, my name is Amarilis Rimoli. I am from São Paulo, Brasil. It is my pleasure to invite you to learn English and / or Brazilian... Portuguese.I have been teaching at companies, banks and regular schools at about 15 years. I teach from beginner to advanced students, including Business English and Tourism Travels. At first I ask you all your needs and how do you feel about the language you are going to learn. Next I select different kinds of materials (songs, pictures, lectures and so on) in order to help you to improve your English or Portuguese faster with dynamic classes. I think it is important to give you a feedback of your learning from time to time.Let's start right now! I am ready to receive your contact. Read more
Free trial lesson!
Response time:
less than 2 hours