Days of the week, months and seasons in Dutch
In this chapter, you will learn the days of the week, the months and the seasons in Dutch. These words are useful for when making an appointment or when telling people when you celebrate your birthday. You'll also find some information about Dutch holidays in this chapter.
Days of the week in Dutch
| Dutch | English |
| --- | --- |
| Maandag | Monday |
| Dinsdag | Tuesday |
| Woensdag | Wednesday |
| Donderdag | Thursday |
| Vrijdag | Friday |
| Zaterdag | Saturday |
| Zondag | Sunday |

Unlike the English days of the week, the days of the week in Dutch are typically not capitalized (unless they're the first word of the sentence).
De week

 (The week) 

Het weekeinde

 (The weekend)

De dagen van de week

(The days of the week)
Parts of the day
In this table you will find the translations of the parts of the day from Dutch to English.
| Dutch | English |
| --- | --- |
| Ochtend/morgen | Morning |
| Middag | Noon |
| Namiddag | Afternoon |
| Avond | Evening |
| Nacht | Night |
| Middernacht | Midnight |
Months of the year in Dutch
The table below will show you the months of the year in Dutch.
| Dutch | English |
| --- | --- |
| Januari | January |
| Februari | February |
| Maart | March |
| April | April |
| Mei | May |
| Juni | June |
| Juli | July |
| Augustus | August |
| September | September |
| Oktober | October |
| November | November |
| December | December |

 The words for the months in Dutch are similar to the English months, but as with the days, the Dutch months are not capitalized.
Seasons in Dutch
In this table you will find the translations of the seasons from Dutch to English.
| Dutch | English |
| --- | --- |
| Lente; voorjaar | Spring |
| Zomer | Summer |
| Herfst, najaar | Fall |
| Winter | Winter |
| In de lente | In spring |
| In de zomer | In summer |
| In de herfst | In fall |
| In de winter | In winter |
Dutch holidays
In the table below the Dutch translations of international, mostly Christian holidays are shown.
| Dutch | English | Date |
| --- | --- | --- |
| Nieuwjaarsdag | New Year's Day | 1 January |
| Valentijnsdag | Valentine's day | 14 February |
| Goede vrijdag | Good Friday | The Friday before Easter |
| Pasen | Easter | The first Sunday after the first full moon in spring. |
| Hemelvaartsdag | Ascension Day | 39 days after Easter |
| Pinksteren | Whitsunday | The seventh Sunday after Easter |
| Kerstmis | Christmas | 25 December |
| Tweede Kerstdag | Boxing Day | 26 December |
Dutch holidays
Beside these international holidays, there are also some holidays that only are celebrated in the Netherlands (in most cases). Some information about these holidays is provided below.
Carnaval
- 6th Sunday before Easter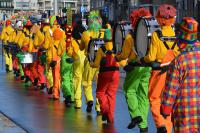 'Carnaval' is celebrated from the 6th Sunday before Easter until the Tuesday before Ash Wednesday. Carnaval is mainly celebrated in the Southern part of the Netherlands (Limburg and North-Brabant). During Carnaval, people wear a weird costume and they celebrate for 4 days. The so-called Prince Carnaval is the mayor of the city/village during these days and is in charge of the festivities. During Carnaval there are many parades with Carnaval vehicles and a lot of beer is being drunk.
Koningsdag (King's Day) - 27th of April
On 'Koningsdag' the birthday of King Willem-Alexander is celebrated. On King's Day there are a lot of music festivals, street parties, flea markets and fairs in Dutch cities. The King and his family pay a visit to one Dutch city, in 2017 they visited Tilburg. On King's Day most people wear orange clothes, the national colour of The Netherlands.
Dodenherdenking (Remembrance of the Dead) - 4th of May
On the 4th of May the 'Dodenherdenking' takes place. All victims (civilians and soldiers) who have been killed or murdered in the Kingdom of the Netherlands or anywhere in the world in war situations or during peace-keeping operations since World War II are remembered. At 8 pm, the Dutch people participate in 2 minutes of silence. The main Dodenherdenking ceremony takes place on the Dam Square in Amsterdam, the royal family and members of cabinet attend this ceremony and it is broadcasted live on national television.
Bevrijdingsdag
(Liberation Day) - 5th of May

The day after Dodenherdenking is a day to celebrate, called 'Bevrijdingsdag'. This day marks the end of the German occupation of the Netherlands during the Second World War. Liberation Day is celebrated with free music festivals in 14 cities throughout the Netherlands.
Prinsjesdag (Little Prince's Day) - 3rd Tuesday in September
On 'Prinsjesdag', the new working year of the Staten-Generaal is opened. The Staten-Generaal consists of the First Chamber (Senate) and the Second Chamber (Lower House). On Prinsjesdag, King Willem-Alexander will give the annual Troonrede in the Ridderzaal in The Hague. The most important plans of the Staten-Generaal for the upcoming year are mentioned in the 'Troonrede'. At 3.15 pm, the Minister of Finance hands over 'het koffertje' (the small suitcase) in which the 'Miljoenennota' (Budget Memorandum) and the 'Rijksbegroting' (Government Budget) are kept to Second Chamber (Lower House).
Sinterklaas - 5th of December
'Sinterklaas' is an annual celebration for children. Sinterklaas is a legendary figure based on Saint Nicholas. In mid-November Sinterklaas and his Zwarte Pieten "arrive" by steamboat in The Netherlands, saying that they come from Spain. After this, there is a parade through the town. During this parade Sinterklaas usually rides his white horse (called Amerigo) while Zwarte Piet hands out candy (kruidnoten and marsepein) to children. In the period leading up to Sinterklaasavond children place their shoe at the fireplace since the story goes that Sinterklaas rides with his horse over rooftops to deliver presents to children through the chimney. On the 5th of December it is Sinterklaasavond, during this evening presents are exchanged among families.
Train your skills by doing the exercises below!
Practise with a private teacher on Skype!
Private Skype lessons
Learn any topic
Flexible appointments
Dutch lessons for non-native speakers and (non-native) children.
I speak:
German, English, Dutch, Persian
I teach:
Dutch, Persian
As non-native parents it is certainly not easy to teach your children Dutch or to help with the fluency of the new language. Who wants some... extra exercise for his children? I can help you with that. As their vocabulary becomes more and more extensive and their sentences become increasingly fluid, your children will get more and more self-confident. To speak well the Dutch language will surely benefit them now and later. Do your children need some help with their homework, especially with their Dutch, then I can help with that. Even as non-native-speaking adults, it is sometimes difficult to have enough exercise. That is why also adults who want to make progress in speaking the Dutch language are welcome here! We can practice the everyday language together. Read more
Free trial lesson!
Response time:
less than a few hours
Hello, I offer personalized one-on-one lessons for all levels
I speak:
Dutch, English, French, German, Italian
I teach:
Dutch, English, French, Italian
Hello,I would love to help you improve your knowledge of English.I adapt the lessons following your wishes : are you a beginner and need to get... some basic knowledge with grammar and easy texts or do you want to improve your conversation skills. I can help you either way.Looking forward to meeting you ! Read more
Great choice! Students book in average more than 10 lessons!
Free trial lesson!
Response time:
less than a few hours
Dutch and Spanish teacher
I speak:
German, Spanish, Dutch, English
I teach:
Spanish, Dutch
Hi, I'm Adriaan. I have been teaching Dutch and Spanish for seven years to students of all levels, from absolute beginners to... students who only need conversation. My students are of all ages, from 9 to 76 years old and from all continents. With each student I create a Google doc in which I put all the grammatical information, exercises and homework after each class. I can help you if you want to learn the language for fun, for work, or to prepare for an exam. Languages ​​are my passion! See you soon! Read more
No free trial lesson!
Response time:
less than a few hours