​In this chapter, you will learn about the colours in Dutch. These words can be used if you want to describe an object for example. Here you will also get some information about the colours of the Dutch flag and orange, the national colour of the Netherlands.
Table with the names of colours in Dutch
| | |
| --- | --- |
| Yellow | Geel |
| Blue | Bauw |
| Turquoise | Turkoois |
| Green | Groen |
| Orange | Oranje |
| Purple | Paars |
| Brown | Bruin |
| Pink | Roze |
| Black | Zwart |
| Grey | Grijs |
| White | Wit |
| Gold | Goud |
| Silver | Zilver |
| Red | Rood |
Dark and light colours in Dutch
A primary or secondary colour can also have a lighter or a darker tone. If the colour has a lighter tone, you place the word licht (light) in front of it. If the colour has a darker tone, you place the word donker (dark) in front of it.
Lichtblauw - blauw - donkerblauw

Light blue - blue - dark blue

Lichtgroen - groen- donkergroen

Light green - green - dark green.
Colours of the Dutch flag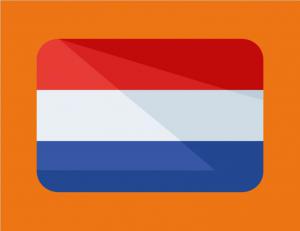 The Dutch flag consists of three horizontal colours: red, white and blue.
The red symbolises the people of the Netherlands.
The white symbolises the church.
The blue symbolises the nobility.
The current Dutch flag exists since 1572, when William of Oranje became the Stadtholder of Holland and Zeeland. In 1572, the first stroke was orange instead of red. The orange referred to the stadtholder. Although the flag was officially orange-white-blue in the 16th century, the crews of ships chose to change the orange into red since red fabric was more readily available and red was more visible at sea. Soon red-white-blue became the standard Dutch flag.
Despite the fact that orange is not in the flag anymore, it remains the national colour of The Netherlands. On King's Day and during the World and European football championship (if the Netherlands qualifies) the whole country turns orange. Orange is the national colour because it is the colour of the Dutch royal family. They are named the House of Oranje-Nassau, which dates back to William of Oranje who inherited the French city of Orange from his cousin René of Chalon in 1544.
Train your skills by doing the exercises below!
---
Exercises
Which colour has the object in Dutch?
---
Name the Dutch colours of the flag
---
Place the right colour in the right Dutch sentence
---
What our students say
Unlike in other platforms, all our teachers are manually verified by our professional team. Trust in the experiences of our students.