​In this chapter, you will learn about the colours in Dutch. These words can be used if you want to describe an object for example. Here you will also get some information about the colours of the Dutch flag and orange, the national colour of the Netherlands.
Table with the names of colours in Dutch
| | |
| --- | --- |
| Yellow | Geel |
| Blue | Bauw |
| Turquoise | Turkoois |
| Green | Groen |
| Orange | Oranje |
| Purple | Paars |
| Brown | Bruin |
| Pink | Roze |
| Black | Zwart |
| Grey | Grijs |
| White | Wit |
| Gold | Goud |
| Silver | Zilver |
| Red | Rood |
Dark and light colours in Dutch
A primary or secondary colour can also have a lighter or a darker tone. If the colour has a lighter tone, you place the word licht (light) in front of it. If the colour has a darker tone, you place the word donker (dark) in front of it.
Lichtblauw - blauw - donkerblauw

Light blue - blue - dark blue

Lichtgroen - groen- donkergroen

Light green - green - dark green.
Colours of the Dutch flag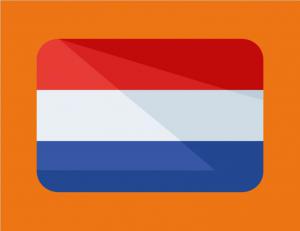 The Dutch flag consists of three horizontal colours: red, white and blue.
The red symbolises the people of the Netherlands.
The white symbolises the church.
The blue symbolises the nobility.
The current Dutch flag exists since 1572, when William of Oranje became the Stadtholder of Holland and Zeeland. In 1572, the first stroke was orange instead of red. The orange referred to the stadtholder. Although the flag was officially orange-white-blue in the 16th century, the crews of ships chose to change the orange into red since red fabric was more readily available and red was more visible at sea. Soon red-white-blue became the standard Dutch flag.
Despite the fact that orange is not in the flag anymore, it remains the national colour of The Netherlands. On King's Day and during the World and European football championship (if the Netherlands qualifies) the whole country turns orange. Orange is the national colour because it is the colour of the Dutch royal family. They are named the House of Oranje-Nassau, which dates back to William of Oranje who inherited the French city of Orange from his cousin René of Chalon in 1544.
Train your skills by doing the exercises below!
Exercises
Which colour has the object in Dutch?
Name the Dutch colours of the flag
Place the right colour in the right Dutch sentence
Practise with a private teacher on Skype!
Private Skype lessons
Learn any topic
Flexible appointments
Dutch and Spanish teacher
I speak:
German, Spanish, Dutch, English
I teach:
Spanish, Dutch
Hi, I'm Adriaan. I have been teaching Dutch and Spanish for seven years to students of all levels, from absolute beginners to... students who only need conversation. My students are of all ages, from 9 to 76 years old and from all continents. With each student I create a Google doc in which I put all the grammatical information, exercises and homework after each class. I can help you if you want to learn the language for fun, for work, or to prepare for an exam. Languages ​​are my passion! See you soon! Read more
No free trial lesson!
Group lessons possible
Response time:
less than a few hours
I speak:
Bulgarian, Dutch, English, Russian
I teach:
Bulgarian, Dutch, English, Russian
Hello! I will be glad to be your teacher in Bulgarian, Russian, Dutch and English. Level that you can cover under the EU certificate through my... training is: 1. Bulgarian and Russian - С1 2. Dutch and English - A2 An individual approach from my part and a good motivation and diligence on your part is the way to success. I'm waiting for you! Stanka Stoyanova Read more
Great choice! Students book in average more than 10 lessons!
Very experienced teacher!
Free trial lesson!
Group lessons possible
Response time:
longer than 2 days
Are you the one?
I speak:
English, Dutch, Spanish
I teach:
Dutch
Are you the one that .....? live abroad and would like to know the Dutch language and culture. in Netherlands are live and like you want to... integrate with the Dutch culture and languageinterested to find out more about Dutch culture and language. lives abroad and you want to keep Dutchlives abroad and your children would you like to learn Dutch. like to want to learn from home or from a familiar environmentdo not have access to travel individual learnslike in private time wants to learnHow can I help you?I'm Marije Platteeuw and I help people to improve them skills or to learn new skillsThese include Dutch lessons and culture lessons. In addition, I help people with their career. The language is also very important. For me it is important that you feel comfortable with me so that you can properly learn. I think it is important that you like it, because then you can learn the most off it. We look at your initial situation and where you want to go. We are going to have a personalised route. We check to see if we need to review the interim plan. I started my teaching career in 2006 and I have experience in giving lessons to children, young people and adults. From beginners to advanced. I now live in Valencia and I know what it's like to learn another language. All my experiences and knowledge I am going to share with you during the lessons. Do you think I can help you? Plan a free introduction conversation with me. I am so exciting to be your teacher Read more
No free trial lesson!
Group lessons possible
Response time:
less than a few hours
My wife is from Belgium and I decided to move to there after I met her. In the beginning it was difficult because I couldn't understand anything but with the help of a native Dutch speaker I improved and now me and my wife only speak Dutch.
Kyle W. ( 37)
Online marketing expert
I was so nervous for my exchange to the Netherlands because I couldn't speak any Dutch. After doing an online language course of 24 hours I was feeling way more secure about my stay in Europe.
Kate M. ( 21)
International politics