In this chapter you will learn words about food and drinks. We'll take a look at breakfast foods, dinner foods, drinks, fruits and vegetables in Dutch. You'll also learn the words for tableware. Last but not least, you will be introduced to some Dutch specialties!
Dutch breakfast
Het ontbijt (breakfast) is simple, but very nutritious. You will find some breakfast products in the table below.
| Breakfast product | English | Dutch |
| --- | --- | --- |
| | muesli | muesli |
| | sandwiches | boterhammen |
| | cheese | kaas |
| | cold meats | vleeswaren |
| | chocolate sprinkles | hagelslag |
| | marmalade | jam |
| | eggs | eieren |
| | yoghurt | yoghurt |
| | fruits | fruit |

The Dutch lunch (middageten) is similar to the Dutch breakfast. Many Dutch people prepare sandwiches at home to eat during lunch at school or at work.
Dutch dinner
A classic Dutch dinner (avondeten) is simple, but nutritious. A typical Dutch dinner consists of potatoes, vegetables and meat. During celebrations such as birthdays, many families choose to eat fries with snacks or pancakes.
Product
English
Dutch
soup

soep

salad

salade

potatoes

aardappelen

vegetables

groentes

meat

vlees

chips/fries

friet

/

patat

pancakes

pannenkoeken

pepper

peper

salt
zout

onion

ui
Dutch desserts
Het nagerecht / toetje (dessert), most Dutch people choose between either yoghurt or custard. For special occasions, they most often eat pie or ice cream instead.
| Product | English | Dutch |
| --- | --- | --- |
| | Custard | Pudding / Vla |
| | Yoghurt | Yoghurt |
| | Ice cream | IJs |
| | Pie | Taart |
Dutch drinks
In this table you will find the translation of drinks from English to Dutch.
| Drink | English | Dutch |
| --- | --- | --- |
| | coffee | koffie |
| | milk | melk |
| | tea | thee |
| | orange juice | sinaasappelsap |
| | beer | bier |
| | wine | wijn |
| | water | water |
| | soda | frisdrank |
Fruits in Dutch
In this tabel you will learn the names of fruits (fruit) in Dutch.
| Fruit | English | Dutch |
| --- | --- | --- |
| | pineapple | ananas |
| | apple | appel |
| | strawberry | aardbei |
| | lemon | citroen |
| | kiwi | kiwi |
| | lime | limoen |
| | mandarin | mandarijn |
| | mango | mango |
| | banana | banaan |
| | blackberry | braam |
| | grapes | druiven |
| | raspberry | framboos |
| | pomegranate | granaatappel |
| | cherry | kers |
| | melon | meloen |
| | pear | peer |
| | peach | perzik |
| | orange | sinaasappel |
Vegetables in Dutch
In this table, you can find the names of vegetables (groentes) in Dutch.
| Vegetable | English | Dutch |
| --- | --- | --- |
| | pickle | augurk |
| | cauliflower | bloemkool |
| | peas | erwten |
| | cucumber | komkommer |
| | bell pepper | paprika |
| | leek | prei |
| | Brussels sprouts | spruitjes |
| | tomato | tomaat |
| | carrot | wortel |
| | garlic | knoflook |
Dutch tableware
In this table you will learn the translations of tableware from English to Dutch:
Tableware
English
Dutch
cutlery

bestek

knife

mes

spoon

lepel

fork

vork

plate

bord

cup

beker

;

tas

glass

glas

wine glass

wijnglas
Typical Dutch food
There are many products that are typical Dutch and are not eaten elsewhere. Foreigners like some of these products, but many of them also hate them.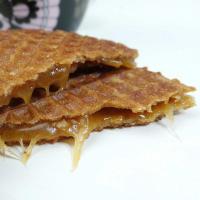 A stroopwafel (syrup waffle) is a biscuit that consists of two layers of baked dough with a caramelsyrup in between the layers. The stroopwafel was first created in the early 19th century in the city of Gouda in South-Holland.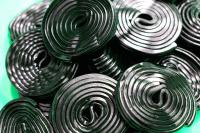 Drop (liquorice) is a typical Dutch sweet. There are many different kinds of drop that are generally divided into 2 groups: sweet and sour drop. On the picture you see the so-called 'dropveter' (liquorice lace), which tastes sweet.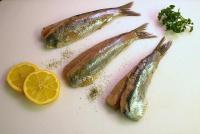 Maatjesharing (herring) is also known as Hollandse Nieuwe . People eat the fish raw, straight from the hand or on a white bun. Often raw onions are served with it.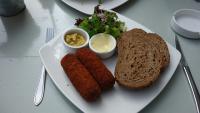 A kroket (croquet) is a typical Dutch snack. There are many different kinds of kroketten, but the vleeskroket (meatcroquet) is the most famous. It is often eaten on a white bun or with french fries.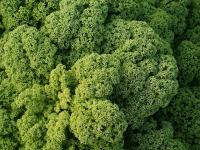 Boerenkool (Green kale) is a vegetable which is mainly used in stamppotten (hotchpots) in the Netherlands. A hotchpot is a dish that consists of mashed potatoes mixed with a certain type of vegetables such as boerenkool. Dutch people like to eat rookworst (smoked sausage) together with the stamppot.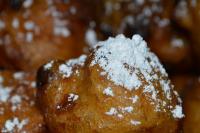 An oliebol is a fried doughball that is traditionally eaten on New Year's Eve. Oliebollen are often covered with icing sugar and there are raisins in the dough.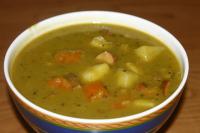 Erwtensoep ( split pea soup) is also known as snert. Erwtensoep is a thick soup made of split peas. The soup is traditionally eaten in winter with roggebrood (rye bread).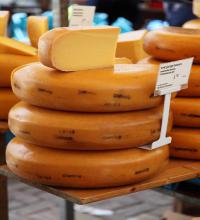 The Dutch love their cheese.There are many types of Dutch cheeses. The most famous ones are Gouda and Edam named after the towns they come from. Other famous cheeses are Maasdammer, a cheese with large holes, and Frisian Clove Cheese.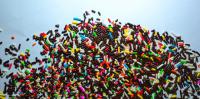 Hagelslag (chocolate sprinkles) are small pieces of chocolate sprinkles that are eaten on top of sandwiches. There are many different types of hagelslag including chocolate, anise and fruit.
Hopefully, you have gained enough knowledge about food and drinks in Dutch, now it is time to make some exercises!
Practise with a private teacher on Skype!
Private Skype lessons
Learn any topic
Flexible appointments
Dutch lessons for non-native speakers and (non-native) children.
I speak:
German, English, Dutch, Persian
I teach:
Dutch, Persian
As non-native parents it is certainly not easy to teach your children Dutch or to help with the fluency of the new language. Who wants some... extra exercise for his children? I can help you with that. As their vocabulary becomes more and more extensive and their sentences become increasingly fluid, your children will get more and more self-confident. To speak well the Dutch language will surely benefit them now and later. Do your children need some help with their homework, especially with their Dutch, then I can help with that. Even as non-native-speaking adults, it is sometimes difficult to have enough exercise. That is why also adults who want to make progress in speaking the Dutch language are welcome here! We can practice the everyday language together. Read more
Free trial lesson!
Response time:
less than a few hours
Hello, I offer personalized one-on-one lessons for all levels
I speak:
Dutch, English, French, German, Italian
I teach:
Dutch, English, French, Italian
Hello,I would love to help you improve your knowledge of English.I adapt the lessons following your wishes : are you a beginner and need to get... some basic knowledge with grammar and easy texts or do you want to improve your conversation skills. I can help you either way.Looking forward to meeting you ! Read more
Great choice! Students book in average more than 10 lessons!
Free trial lesson!
Response time:
less than a few hours
Dutch and Spanish teacher
I speak:
German, Spanish, Dutch, English
I teach:
Spanish, Dutch
Hi, I'm Adriaan. I have been teaching Dutch and Spanish for seven years to students of all levels, from absolute beginners to... students who only need conversation. My students are of all ages, from 9 to 76 years old and from all continents. With each student I create a Google doc in which I put all the grammatical information, exercises and homework after each class. I can help you if you want to learn the language for fun, for work, or to prepare for an exam. Languages ​​are my passion! See you soon! Read more
No free trial lesson!
Response time:
less than a few hours