In this chapter you will learn the translations of different family members in Dutch. Many Dutch people have a close relationship with their family and they will gather during a holiday or when a family member celebrates his/her birthday.
Family in Dutch
In Dutch, the entire family can be separated in two parts:
Het gezin

: the family you share the household with. "Het gezin" consists most often of the parents and their children.

De familie

: all other relatives: aunts, uncles, grandparents, cousins etc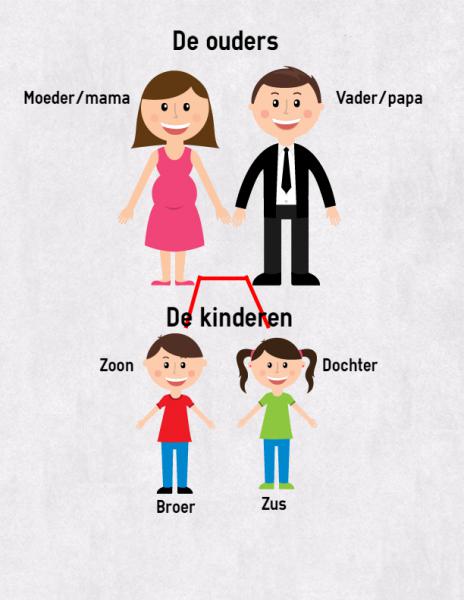 | English | Dutch |
| --- | --- |
| The parents | De ouders |
| The mother / mommy | De moeder / mama |
| The father / daddy | De vader / papa |
| The children | De kinderen |
| The son | De zoon |
| The daughter | De dochter |
| The brother | De broer |
| The sister | De zus |

A translation for 'siblings' does not exist in Dutch, the Dutch say "broers and zussen" (brothers and sisters) instead.
Dutch family tree
Besides the family members you share your household with, you also have other family members.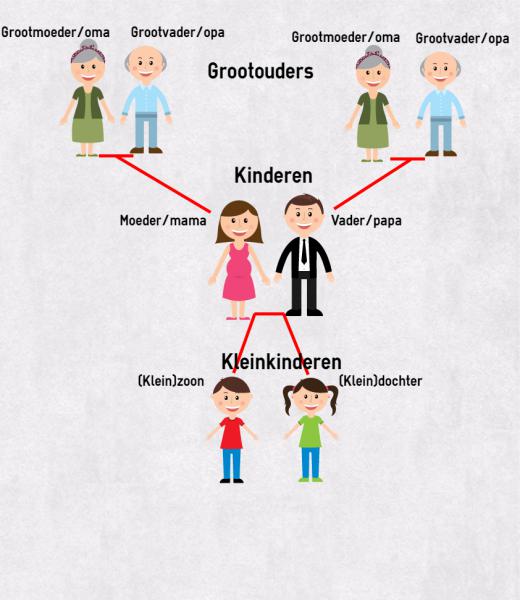 Below you will find a table explaining the other family members. 
| English | Dutch |
| --- | --- |
| The grandfather / grandpa | De grootvader / opa |
| The grandmother / granny | De grootmoeder / oma |
| The great-grandfather | De overgrootvader |
| The great-grandmother | De overgrootmoeder |
| The grandchildren | De kleinkinderen |
| The granddaughter | De kleindochter |
| The grandson | De kleinzoon |
| The uncle | De oom |
| The aunt | De tante |
| The cousin/nephew | De neef(je) |
| The cousin/niece | De nicht(je) |
In the Dutch language there is no difference made between 'niece/nephew' and 'cousin'. The word cousin does not exist, there are only translations for niece/nephew that are used for the son/daughter of your brother/sister and for the daughter/son of your uncle/aunt.
Neef

(je): The son of your brother, sister, uncle or aunt.

Nicht

(je): The daughter of your brother, sister, uncle or aunt.
In-laws

If you get married, you will get some new family members, called 'schoonfamilie' (in-laws) in Dutch. 

English
Dutch
The in-laws

De schoonfamilie

The father-in-law

De schoonvader

The mother-in-law

De schoonmoeder

The son-in-law

De schoonzoon

The daughter-in-law

De schoondochter

The sister-in-law

De schoonzus

The brother-in-law

De schoonbroer

;

de zwager
| English | Dutch |
| --- | --- |
| The divorce | De (echt)scheiding |
| The stepfather | De stiefvader |
| The stepmother | De stiefmoeder |
| The stepbrother | De stiefbroer |
| The stepsister | De stiefzus |
| The half brother | De halfbroer |
| The half sister | De halfzus |
Now it is time to do some exercises about the family members!
Exercises
Name the family members on pictures in Dutch
Translate the family members in Dutch
Translate the in-laws and stepfamily to Dutch
Practise with a private teacher on Skype!
Private Skype lessons
Learn any topic
Flexible appointments
Dutch and Spanish teacher
I speak:
German, Spanish, Dutch, English
I teach:
Spanish, Dutch
Hi, I'm Adriaan. I have been teaching Dutch and Spanish for seven years to students of all levels, from absolute beginners to... students who only need conversation. My students are of all ages, from 9 to 76 years old and from all continents. With each student I create a Google doc in which I put all the grammatical information, exercises and homework after each class. I can help you if you want to learn the language for fun, for work, or to prepare for an exam. Languages ​​are my passion! See you soon! Read more
No free trial lesson!
Group lessons possible
Are you the one?
I speak:
English, Dutch, Spanish
I teach:
Dutch
Are you the one that .....? live abroad and would like to know the Dutch language and culture. in Netherlands are live and like you want to... integrate with the Dutch culture and languageinterested to find out more about Dutch culture and language. lives abroad and you want to keep Dutchlives abroad and your children would you like to learn Dutch. like to want to learn from home or from a familiar environmentdo not have access to travel individual learnslike in private time wants to learnHow can I help you?I'm Marije Platteeuw and I help people to improve them skills or to learn new skillsThese include Dutch lessons and culture lessons. In addition, I help people with their career. The language is also very important. For me it is important that you feel comfortable with me so that you can properly learn. I think it is important that you like it, because then you can learn the most off it. We look at your initial situation and where you want to go. We are going to have a personalised route. We check to see if we need to review the interim plan. I started my teaching career in 2006 and I have experience in giving lessons to children, young people and adults. From beginners to advanced. I now live in Valencia and I know what it's like to learn another language. All my experiences and knowledge I am going to share with you during the lessons. Do you think I can help you? Plan a free introduction conversation with me. I am so exciting to be your teacher Read more
No free trial lesson!
Group lessons possible
Hello, I offer personalized one-on-one lessons for all levels
I speak:
Dutch, English, French, German, Italian
I teach:
Dutch, English, French, Italian
Hello,I would love to help you improve your knowledge of English.I adapt the lessons following your wishes : are you a beginner and need to get... some basic knowledge with grammar and easy texts or do you want to improve your conversation skills. I can help you either way.Looking forward to meeting you ! Read more
Great choice! Students book in average more than 10 lessons!
Very experienced teacher!
Free trial lesson!
Group lessons possible
My wife is from Belgium and I decided to move to there after I met her. In the beginning it was difficult because I couldn't understand anything but with the help of a native Dutch speaker I improved and now me and my wife only speak Dutch.
Kyle W. ( 37)
Online marketing expert
I was so nervous for my exchange to the Netherlands because I couldn't speak any Dutch. After doing an online language course of 24 hours I was feeling way more secure about my stay in Europe.
Kate M. ( 21)
International politics