Days, months, seasons in Croatian language
The days of the week, months of the year and seasons are always handy to know. On this page we learn the seasons in Croatian, Croatian days of the week and months of the year. 
The four seasons in Croatian
The word "season" we translate in French as two words "godišnje doba" or in plural "godišnja doba"
Four seasons will be displayed in the table below: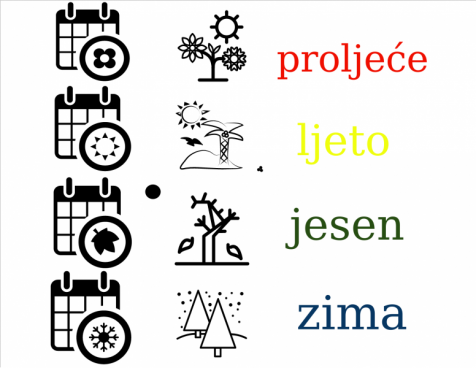 Examples
Kada sunce sja i ljudi uživaju na terasi ili na plaži tada govorimo o ljetu. = When sun shines well, people are enjoying on the terrace or at the beach - then we are talking about summer.
Kada cvijeće cvjeta i sunce ga miluje, onda smo u proljeću. = When flowers are in bloom and the sun is coming through, we are in spring. 
Kada je kišovito i otpada lišće onda smo u jeseni. = When it's rainy and the leaves fall from the tree, we are in  autumn. 
Negdje je jako hladno, a ponekad i sniježi. To je zima. = It's quite cold in some places, sometimes there is even snow. That is winter. 
Days of the week in Croatian
Comparing to English language, days in Croatian are not written in capital letters. Take a look below for the days of the week in Croatian.
Days in English

Dani na hrvatskom

 Monday
 

ponedjeljak

 Tuesday
 

utorak

 Wednesday
 

srijeda

 Thursday
 

četvrtak

 Friday
 

petak

 Saturday
 

subota

 Sunday
 

nedjelja
Examples
Hajmo se naći u petak. = Let's meet on Friday. 
Hoćemo li ići vani ovaj vikend? = Shall we go out this weekend? 
U nedjelju ću ići na izlet u Barcelonu. = At Sunday I will do a trip to Barcelona. 
Months in Croatian
Months of the year in English are written in capital letters whereas in Croatian that's not the case. If you know any Slavic language you will see that there are many similarities in the pronunciation. 
Months in English

Mjeseci na hrvatskom

 January
 

siječanj

 February
 

veljača

 March
 

ožujak

 April
 

travanj

 May
 

svibanj

 June
 

lipanj 

 July
 

srpanj

 August
 

kolovoz

 September
 

rujan

 October
 

listopad

 November
 

studeni

 December
 

prosinac
Examples
Rođen sam u ožujku, a ti? = I was born in March, what about you? 
Radujem se nadolazećim mjesecima, lipnju i srpnju, moji omiljeni. = I looking forward upcoming months; June and July, my favorites. 
Moj najbolji prijatelj je rođen u kolovozu. = My best friend was born in August. 
Exercises
Practise the days of the week and seasons in Croatian
Filling blanks with months of the year in Croatian
Practise with a private teacher on Skype!
Private Skype lessons
Learn any topic
Flexible appointments
Croatian, English & Russian conversation lessons; Business English
I speak:
Bosnian, Croatian, Dutch, English, Russian, Spanish
I teach:
Bosnian, Croatian, English, Russian
Hello everbody, I am an experienced and teaching-passionate language professional offering tailor-made Croatian (all levels), ... General English (Elementary, Beginner's, Intermediate & Upper-intermediate level) and Russian (Elementary & Intermediate level) Conversation lessons as well as Business English. The lessons are structured ccording to student's needs with a variety of interesting topics. A range of different teaching materials is used. I tend to apply mostly visual aids as, according to my experience, they help students most in memorising new words and language structures. During the lessons we are focusing on further development of communication skills but we are also exploring vocabulary, grammar and culture. We read and discuss various texts, analyze grammatical issues, listen to conversations and songs, play games and quizzes and more than anything, we TALK! That makes conversation lessons always interesting, useful and likeable. As an open and friendly person with an international family and experience of life in other countries, I enjoy meeting people of other cultures. I would be happy to get a chance to help people all over the world to learn the languages I teach. Perhaps you as well? Welcome! Dobro došli! Добро пожаловать! Welkom! Read more
Free trial lesson!
Group lessons possible
Response time:
less than a few hours
Croatian and English Lessons
I speak:
Croatian, English, French
I teach:
Croatian, English
Hi! My name is Dora, I'm 24 years old and I live in Zagreb, Croatia. My native language is Croatian and I teach Croatian and English. I... love teaching and learning languages, translating, travelling, meeting new people and cultures and sharing the knowledge I have. Lessons are focused primarily on communication, enlarging vocabulary and improving grammar and pronounciation. We will adjust our lessons according to your needs and wishes. Let's get started! :) Read more
Free trial lesson!
Group lessons possible
Response time:
less than 2 days
English and Croatian lessons/German beginner lessons
I speak:
Croatian, English, German
I teach:
Croatian, English
Hello! My name is Matea and I got my MA Degree in English and German language. However, I also teach Croatian, which is my mother tongue. I can... also teach beginners level of German language. I'm open to any topic you want to learn and explore. Lessons are focused on communication, enlarging vocabulary and improving grammar. We can adjust our lessons and teaching/learning hours according to your needs and wishes. Read more
Free trial lesson!
Group lessons possible
Response time:
longer than 2 days