Family members in Croatian
As this is a course for beginners, knowing how to say family members in Croatian is indispensable. On this page we will teach you the relatives in Croatian. First you will learn about close family members than about family-in-law members.
Parents and children
How do you actually call your trusted family? First let's talk about roditelji i djeca! You read it below.
 English
 Croatian
 the family
 

obitelj

 the mother

 mama

 the father
 

tata

 the child 
 

dijete

 the children
 

djeca

 
 the siblings
 

rodbina

 the sister
 

sestra

 the brother
 

brat

 the son
 

sin

 the daughter
 

kćer

 the wife
 

žena

 the husband
 

muž

 the half-brother
 

polubrat

 the half-sister
 

polusestra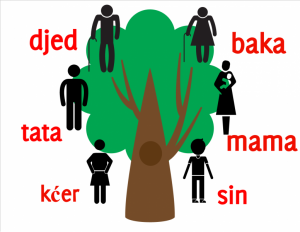 Grandparents and grandchildren
Logically the family tree continues with grandparents.
 English
 Croatian
 the grandmother
 

baka

 the grandfather
 

djed

 the grandchildren
 

unuci

 the granddaughter
 

unuka

 the grandson
 

unuk
Uncles, aunts, cousins and nephews
You should know the division between the family tree. How to say your mother's brother or sister in Croatian?
 English
 Croatian
 the uncle

 ujak

 the aunt
 

tetka

 the cousin (male)
 

rođak

 the cousin (female)

 rodica

 the nephew 
 

nećak

 the niece
 

nećakinja
Members of family-in-law
Your family in-law is formed on the one hand by the members of your spouse's family. But it can also be formed by the family members of a remarriage, for example after a divorce. Here is a detailed list of vocabulary to describe your family in-laws
| English | Croatian |
| --- | --- |
| family-in-law | obitelj po zakonu |
| stepparents | pastori |
| stepmother | maćeha |
| stepfather | oćuh |
| stepdaughter | pokćerka |
| stepson | posinak |
| mother-in-law | punica |
| father-in-law | punac |
| sister-in-law | polusestra |
| brother-in-law | polubrat |
| daughter-in-law | snaha |
| son-in-law | zet |

Pay attention that in Croatian as in English we also distinguish stepdaughter (spouse's female child) who we translate as "pokćerka" and daughter-in-law (son's wife) we translate as "zet".
Relationship-status 
Somebody might ask what is your relationship status, you should know what to reply!
 English
 Croatian
 single
 

slobodan

 married
 

oženjen

 divorced
 

rastavljen

 widow
 

udovica

 left
 

ostavljen
Talking about family in Croatian
The following list will help you to find some practical examples about how to use already written vocabulary. 
 English
 Croatian
 Do you have siblings?

 Imaš li braću ili sestre?

 I have brother.
 

Imam brata.

What's your father's name?

 Koje je ime tvog oca?

 My father's name is Mario.
 

Ime mog oca je Mario.

 I'm single.
 

Slobodan sam.

 I'm married. 
 

Oženjen sam.

 My parents are divorced.
 

Moji roditelji su rastavljeni. 
Exercises
Exercise family members in Croatian
Multiple choice exercise with the family members in Croatian.
Practise with a private teacher on Skype!
Private Skype lessons
Learn any topic
Flexible appointments
Croatian, English & Russian conversation lessons; Business English
I speak:
Bosnian, Croatian, Dutch, English, Russian, Spanish
I teach:
Bosnian, Croatian, English, Russian
Hello everbody, I am an experienced and teaching-passionate language professional offering tailor-made Croatian (all levels), ... General English (Elementary, Beginner's, Intermediate & Upper-intermediate level) and Russian (Elementary & Intermediate level) Conversation lessons as well as Business English. The lessons are structured ccording to student's needs with a variety of interesting topics. A range of different teaching materials is used. I tend to apply mostly visual aids as, according to my experience, they help students most in memorising new words and language structures. During the lessons we are focusing on further development of communication skills but we are also exploring vocabulary, grammar and culture. We read and discuss various texts, analyze grammatical issues, listen to conversations and songs, play games and quizzes and more than anything, we TALK! That makes conversation lessons always interesting, useful and likeable. As an open and friendly person with an international family and experience of life in other countries, I enjoy meeting people of other cultures. I would be happy to get a chance to help people all over the world to learn the languages I teach. Perhaps you as well? Welcome! Dobro došli! Добро пожаловать! Welkom! Read more
Free trial lesson!
Group lessons possible
Response time:
less than a few hours
Croatian and English Lessons
I speak:
Croatian, English, French
I teach:
Croatian, English
Hi! My name is Dora, I'm 24 years old and I live in Zagreb, Croatia. My native language is Croatian and I teach Croatian and English. I... love teaching and learning languages, translating, travelling, meeting new people and cultures and sharing the knowledge I have. Lessons are focused primarily on communication, enlarging vocabulary and improving grammar and pronounciation. We will adjust our lessons according to your needs and wishes. Let's get started! :) Read more
Free trial lesson!
Group lessons possible
Response time:
less than 2 days
English and Croatian lessons/German beginner lessons
I speak:
Croatian, English, German
I teach:
Croatian, English
Hello! My name is Matea and I got my MA Degree in English and German language. However, I also teach Croatian, which is my mother tongue. I can... also teach beginners level of German language. I'm open to any topic you want to learn and explore. Lessons are focused on communication, enlarging vocabulary and improving grammar. We can adjust our lessons and teaching/learning hours according to your needs and wishes. Read more
Free trial lesson!
Group lessons possible
Response time:
longer than 2 days