Can you imagine yourself being lost in some Croatian supermarket? Probably yes, new country - new rules. It would be delightful if you learn at least the basic vocabulary for grocery shopping in Croatian. Take a look at this lesson!
Croatian shopping phrases
Before learning how all the fruits and vegetables = voće i povrće are called in Croatian, try to learn some basic grocery phrases which you might find useful. 
 English
 Croatian
 the groceries
 

namirnice

 the supermarket
 

supermarket

 the bakery
 

pekarna

 the cash point
 

blagajna

 the money
 

novac

 the credit card
 

kreditna kartica

 the gram
 

gram

 the kilogram
 

kilogram

 one piece
 

jedan komad

 one dozen

 jedna doza
Examples
Can I get one kilogram of these fruits? -

Mogu li dobiti kilogram od ovog voća?

Where is the bakery? - 

Gdje je pekarna?

Can I pay by a credit card? -

Mogu li platiti kreditnom karticom?
Fruits in Croatian
First of all, we will learn how the different fruits are called in Croatian! 
 English
 Croatian
 the apple
 

jabuka

 the pear
 

kruška

 the banana
 

banana

 the orange

 naranča

 the grapefruit
 

grožđe

 the mandarin
 

mandarina

 the lemon
 

limun

 the lime

 limeta

 the strawberry
 

jagoda

 the blueberry 
 

borovnica

 the rasberry
 

malina

 the blackberry
 

kupina

 the plum 
 

šljiva

 the kiwi
 

kivi

 the watermelon
 

lubenica

 the pineapple

 ananas

 the grape

 grejp
Examples
Are these lemons fresh? -

Jesu lu ovi limuni svježi?

Do you have pineapple? -

Imate li ananas?

Can I get 2 kilos of grape?

- Možete li mi dati 2 kilograma grejpa?
Vegetables in Croatian
In the following list you will find all vegetables with their translation in Croatian!
the vegetables = povrće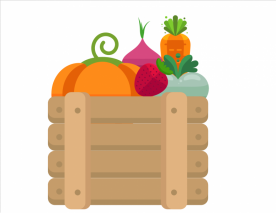 English
 Croatian
 the potato
 

krumprir

 the carrot
 

mrkva

 the tomato
 

rajčica

 the cucumber
 

krastavac

 the zucchini
 

tikvica

 the eggplant
 

patlidžan

 the pumpkin
 

tikva

 the bean
 

biži

 the brokkoli
 

brokuli

 the salad
 

salata

 the lentil
 

leća

 the onion
 

luk

 the garlic
 

ćešnjak

 the cauliflower
 

karfiol

 the spinach
 

špinat
Examples
I love eating salad. - 

Volim jesti salatu.

I do not prefer having onion in my meal. - 

Ne voli imati luka u jelu. 

I love to eat salad as I side dish.

- Volim jesti salatu kao prilog.
List of dairy products in Croatian
Below, you will find a list with the most important products in Croatiann!
 English
 Croatian
 the milk
 

mlijeko

 the youghurt
 

jogurt

 the sour cream
 

kiselo vrhnje

 the cheese
 

sir

 the butter 
 

maslac

 the cream cheese
 

krem sir
Meat, fish and seafood
Last, we will learn some vocabulary about meat and fish products!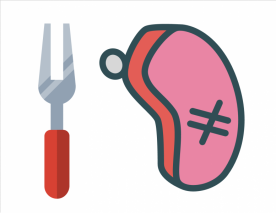 Croatian
 English
 the meat
 

meso

 the fish
 

riba

 the seafood
 

plodovi mora

 the pork

 svinjetina

 the beef
 

govedina

 the turkey
 

puretina

 the ham
 

šunka

 the bacon 
 

slanina

 the salmon
 

losos

 the shrimp
 

škamp

 the squid
 

lignje

 the tuna
 

tuna

 the lobster
 

jastog
Example dialogue in a supermarket
Croatian
Ivana: Dobar dan, možete li mi reći gdje se nalazi povrće?
Prodavačica: Idite samo ravno, vidjet ćete pored voća.
Ivana: Hvala, a meso je li ga prodajete u supermarketu?
Prodavačica: Da, imamo najsvježiju ribu, ravno iz Jadranskog mora. Ali ukoliko volite losos imamo i to.
Ivana: Odlično, obožavam sve morske plodove. Najdraže mi ih je jesti s povrćem. Hvala Vam na pomoći.
Prodavačica: Nema na čemu.
English
Ivana: Good day, can you tell me where the vegetables are?
Salesman: Just go straight, you will see them next to the fruit.
Ivana: Thanks, and do you sell the meal in the supermarket?
Salesman: Yes, we have the freshest fish, straight from the Adriatic Sea. But if you love salmon we have it too.
Ivana: Excellent, I love all the sea fruits. I like to eat them with vegetables. Thank you for your help.
Seller: You are welcome.
Practise with a private teacher on Skype!
Private Skype lessons
Learn any topic
Flexible appointments
Croatian, English & Russian conversation lessons; Business English
I speak:
Bosnian, Croatian, Dutch, English, Russian, Spanish
I teach:
Bosnian, Croatian, English, Russian
Hello everbody,I am an experienced and teaching-passionate language professional offering tailor-made Croatian (all levels), ... General English (Elementary, Beginner's, Intermediate & Upper-intermediate level) and Russian (Elementary & Intermediate level) Conversation lessons as well as Business English.The lessons are based on student's needs with a variety of interesting topics. A range of different teaching materials is used. I tend to apply mostly visual aids as, according to my experience, they helps students most to memorize the new words and language structures. During the lessons we are focusing on further development of your communication skills but we are also exploring vocabulary, grammar and culture. We read and discuss various texts, analyze grammatical issues, listen to conversations and songs, play games and quizzes and more than anything, we TALK! That makes conversation lessons always interesting, useful and likeable. As an open and friendly person with an international family and experience of life in other countries, I enjoy meeting people of other cultures. I would be happy to get a chance to help people all over the world to learn the languages I teach. Perhaps you as well? Welcome! Dobro došli! Добро пожаловать! Welkom! Read more
Croatian and English Lessons
I speak:
Croatian, English, French
I teach:
Croatian, English
Hi! My name is Dora, I'm 24 years old and I live in Zagreb, Croatia. My native language is Croatian and I teach Croatian and English. I... love teaching and learning languages, translating, travelling, meeting new people and cultures and sharing the knowledge I have. Lessons are focused primarily on communication, enlarging vocabulary and improving grammar and pronounciation. We will adjust our lessons according to your needs and wishes. Let's get started! :) Read more
Free trial lesson!
Group lessons possible
Response time:
less than 2 days
English, Italian, Croatian lessons
I speak:
Croatian, English, Italian
I teach:
Croatian, English, Italian
I would like to outline my extensive experience, qualifications, and expertise in teaching English, Italian and Croatian (native). I believe I... possess the skills, qualifications and vital experience necessary for the role, but also the passion and dedication to lead students to succeed.I have over 10 years' experience as an English teacher (including 2 years teaching in China in private training centers and a couple of months of online teaching), working with children aged 3 - 18 in schools and in a kindergarten. I taught also adults and offered private English lessons, too. In addition, I have a degree in English and Italian language and literature and am fluent in both as well as a native Croatian speaker. My previous work involved me traveling internationally, where I worked as an interpreter - in this role I worked under pressure and had to adapt to the culture of the country and I feel confident that I could apply that to this job. In my previous teaching roles, I took a resourceful and creative approach to teaching, organising competitions, field trips, and other activities in the aim of making learning a fun experience, and I believe that this approach was successful in seeing students achieving high results.I am extremely dedicated and reliable, with a strong passion for language. I have excellent interpersonal and communication skills making me a great team-player with the ability to motivate my students. Read more
Branka is a new teacher and motivated to teach you!