This lesson should be on top of your list! One of the most useful information would be division between cardinal = glavni brojevi and ordinal numbers = redni brojevi. Be focused, try to concentrate on the lesson and notice the pattern, which occurs each time the word changes its place. Don't forget to check other lessons as well! 
Cardinal numbers
Croatian numbers 1-100
Cardinal numbers will be displayed in tables below. Main usage of cardinal numbers are to convey the "how many". Besides that, they are also known as "counting numbers". Keep this in mind - when it comes to cardinal number above twenty, you should just add the conjunction "i". For instance: twenty three - dvadeset i tri - consisted of number twenty (dvadeset) + and (i) + three ( tri).
0,1, 2, 3, 4, 5, 6, 7, 8, 9. 10, 11, 12, 13, 14, 15, 16, 17, 18, 19, 20, 30, 40, 50, 60, 70, 80, 90
 Numbers in English
 Numbers in Croatian
 zero
 

nula

 one
 

jedan

 two
 

dva

 three
 

tri

 four
 

četiri

 five
 

pet

  six

 šest

 seven
 

sedam

 eight
 

osam

 nine

 devet

 ten
 

deset

 eleven
 

jedanaest

 twelve
 

dvanaest

 thirteen
 

trinaest

 fourteen

 četrnaest

 fifteen
 

petnaest

 sixteen
 

šestnaest

 seventeen
 

sedamnaest

 eighteen
 

osamnaest

 nineteen
 

devetneast

 twenty 
 

dvadeset

 twenty one
 

dvadeset i jedan

 twenty two 
 dvadeset i dva
 thirty 
 

triedeset

 thirty two
 trideset i dva
 fourty
 

četerdeset

 fifty
 

pedeset

 sixty
 

šestdeset

 seventy 

 sedamdeset

 eighty 
 

osamdeset

 ninty
 

devedeset

 hundred
 

sto
Here are a few examples: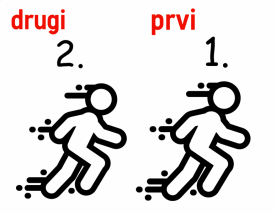 Imam dva brata

- I have two brothers. 

Jučer sam pojeo jednu jabuku!

- Yesterday, I ate one apple.

Mislio sam da je dva plus dva, četiri.

- I thought two plus two is four.
Croatian numbers 100 - 10 000
100, 200, 300, 400, 500, 600, 700, 800, 900, 1000, 2000, 10000
They are also known as "counting numbers" but less used. Keep this in mind - when it comes to numbers above one hundred - you should just add ordinal number + hundred. For instance: three hundred in Croatian would be - tri stands for three and sto stands for hundred.

Pay attention that compared to English, ordinal numbers in Croatian are written combined. 
 Numbers in English
 Numbers in Croatian
 two hundred
 

dvjesto

 three hundred

 tristo

 four hundred
 

četiristo

 five hundred
 

petsto

 six hundred
 

šeststo

 seven hundred
 

sedamsto

 eight hundred
 

osamsto

 nine hundred 
 

devetsto

 thousand
 

tisuća

 two thousand 

 tri tisuće

 ten thousand 
 

deset tisuća
Ordinal numbers
Comparing to cardinal numbers, ordinal numbers tell the order of things in a set: first, second, fifteenth. Ordinal numbers do not show the quantity, whereas cardinal do. Below they will be displayed in a table. You should memorize them in order to develop your Croatian vocabulary. It is the same rule as for cardinal numbers, they consist of a number ( dvadeset) + and (i) + i ( as an ending).

 Ordinal numbers 
 Redni brojevi
 first
 

prvi

 second
 

drugi

 third
 

treći 

 fourth
 

četvrti

 fifth
 

peti 

 sixth
 

šesti

 seventh
 

sedmi

 eighth 
 

osmi

 ninth
 

deveti

 tenth
 

deseti

 eleventh
 

jedanaesti

 twelfth
 

dvanaesti

 thirteenth
 

trinaesti

 fourteenth
 

četrnaesti

 fifteenth

 petnaesti 

 sixteenth
 

šestnaesti

 seventeenth
 

sedamnaesti

 eighteenth
 

osamnaesti

 nineteenth
 

devetnaesti

 twentieth

 dvadeseti
Examples
Bio je to prvi poljubac koji nikada neće biti zaboravljen.

- It was the my kiss, which will never be forgotten. 

To mi je bio drugi dečko ikada u životu.

- That was my second boyfriend in my whole life. 

Bila sam druga na državnom natjecanju iz matematike.

- I won the second place at the state championship in Math.
Practise with a private teacher on Skype!
Private Skype lessons
Learn any topic
Flexible appointments
Croatian, English & Russian conversation lessons; Business English
I speak:
Bosnian, Croatian, Dutch, English, Russian, Spanish
I teach:
Bosnian, Croatian, English, Russian
Hello everbody,I am an experienced and teaching-passionate language professional offering tailor-made Croatian (all levels), ... General English (Elementary, Beginner's, Intermediate & Upper-intermediate level) and Russian (Elementary & Intermediate level) Conversation lessons as well as Business English.The lessons are based on student's needs with a variety of interesting topics. A range of different teaching materials is used. I tend to apply mostly visual aids as, according to my experience, they helps students most to memorize the new words and language structures. During the lessons we are focusing on further development of your communication skills but we are also exploring vocabulary, grammar and culture. We read and discuss various texts, analyze grammatical issues, listen to conversations and songs, play games and quizzes and more than anything, we TALK! That makes conversation lessons always interesting, useful and likeable. As an open and friendly person with an international family and experience of life in other countries, I enjoy meeting people of other cultures. I would be happy to get a chance to help people all over the world to learn the languages I teach. Perhaps you as well? Welcome! Dobro došli! Добро пожаловать! Welkom! Read more
Croatian and English Lessons
I speak:
Croatian, English, French
I teach:
Croatian, English
Hi! My name is Dora, I'm 24 years old and I live in Zagreb, Croatia. My native language is Croatian and I teach Croatian and English. I... love teaching and learning languages, translating, travelling, meeting new people and cultures and sharing the knowledge I have. Lessons are focused primarily on communication, enlarging vocabulary and improving grammar and pronounciation. We will adjust our lessons according to your needs and wishes. Let's get started! :) Read more
Free trial lesson!
Group lessons possible
Response time:
less than 2 days
English, Italian, Croatian lessons
I speak:
Croatian, English, Italian
I teach:
Croatian, English, Italian
I would like to outline my extensive experience, qualifications, and expertise in teaching English, Italian and Croatian (native). I believe I... possess the skills, qualifications and vital experience necessary for the role, but also the passion and dedication to lead students to succeed.I have over 10 years' experience as an English teacher (including 2 years teaching in China in private training centers and a couple of months of online teaching), working with children aged 3 - 18 in schools and in a kindergarten. I taught also adults and offered private English lessons, too. In addition, I have a degree in English and Italian language and literature and am fluent in both as well as a native Croatian speaker. My previous work involved me traveling internationally, where I worked as an interpreter - in this role I worked under pressure and had to adapt to the culture of the country and I feel confident that I could apply that to this job. In my previous teaching roles, I took a resourceful and creative approach to teaching, organising competitions, field trips, and other activities in the aim of making learning a fun experience, and I believe that this approach was successful in seeing students achieving high results.I am extremely dedicated and reliable, with a strong passion for language. I have excellent interpersonal and communication skills making me a great team-player with the ability to motivate my students. Read more
Branka is a new teacher and motivated to teach you!