Whether you're on the market or shopping, when it comes to describing a product, colors are always important. Even with the hairdresser, it may be useful to indicate the correct color for a hair color. In following lesson, you will learn the colors in Croatian and practice them. 
List of Croatian colors (male and female)
When the color describe something about the noun, you will call it an adjective. In Croatian you have female and male nouns. Female words mostly end on "a". The rule here is that the color corresponds to the noun. Let's try with an example: I have red shirt - Imam crvenu majicu. The color red says something about the t-shirt, which is a feminine word and therefore "o" in masculine becomes an "a" in feminine. Let's try with another example: My sweater are blue - Moj džemper je plav.
 English
 Croatian - male / female
 Blue

Plavo

Plava

 Red

Crveno

Crvena

 Yellow

Žuto

Žuta

 Brown

Smeđo

Smeđa

 Black

Crno

Crna

 Rose

Rozo

Roza

 Purple

Ljubičasto

Ljubičasta

 Orange

Narančasto

Narančasta

 Green

Zeleno

Zelena

 Grey

Sivo

Siva

 Silver

Srebrno

Srebrna

 Gold

Zlatno

Zlatna
The colours in plural
How do you make a plural of Croatian colours? It's very easy, you stick an -i to masculine nouns and -e or -a to female and neuter nouns. Be really careful with the genders!
Kupio sam tri crna kompjutera

. - I bought three black computers. 

Najviše volim crvene jagode

. I love red strawberries the most. 
Dark and light
If you want to accentuate that the color is light or dark, in Croatian we just put the word dark (tamno / tamna) or light (svijetlo / svjetla) in front of the color.
In the following list you can find some examples:
| | |
| --- | --- |
| tamno plava | dark blue |
| svjetlo plava | light blue |
| svjetlo narančasta | light orange |
| tamno narančasta | dark orange |
| svjetlo ljubičasta | light purple |
| tamno ljubičasta | dark purple |
Examples:
This sofa is light red. = Ovaj kauč je svjetlo crven.
Her bag is dark green. = Njena torba je tamno zelena.
Colours of the Croatian flag
The Croatian flag consists of three horizontal lanes - ( red, white, blue) with the Croatian emblem in the middle.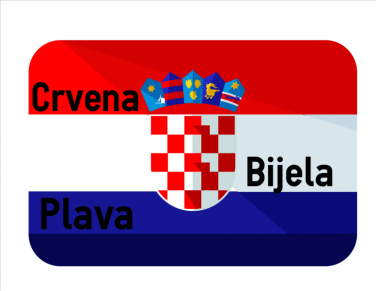 Hair colors in Croatian 
Last but not less importan vocabulary is about hair colors. Good comunication with a hairdresser while on vacation is always important. So, please check the following examples.
 English
 Croatian
 Blond hair
 

Plava kosa

 Black hair
 

Crna kosa

 Red hair
 

Crvena kosa

 Brown hair
 

Smeđa kosa

 Gray hair
 

Siva kosa

 White hair
 

Bijela kosa
Examples
Oh, you dyed your hair. Now it's red. -

Oh, obojala si kosu. Sada je crvena.

Do you have white hair? - 

Imaš li bijelu kosu?
Practise with a private teacher on Skype!
Private Skype lessons
Learn any topic
Flexible appointments
Croatian, English & Russian conversation lessons; Business English
I speak:
Bosnian, Croatian, Dutch, English, Russian, Spanish
I teach:
Bosnian, Croatian, English, Russian
Hello everbody,I am an experienced and teaching-passionate language professional offering tailor-made Croatian (all levels), ... General English (Elementary, Beginner's, Intermediate & Upper-intermediate level) and Russian (Elementary & Intermediate level) Conversation lessons as well as Business English.The lessons are based on student's needs with a variety of interesting topics. A range of different teaching materials is used. I tend to apply mostly visual aids as, according to my experience, they helps students most to memorize the new words and language structures. During the lessons we are focusing on further development of your communication skills but we are also exploring vocabulary, grammar and culture. We read and discuss various texts, analyze grammatical issues, listen to conversations and songs, play games and quizzes and more than anything, we TALK! That makes conversation lessons always interesting, useful and likeable. As an open and friendly person with an international family and experience of life in other countries, I enjoy meeting people of other cultures. I would be happy to get a chance to help people all over the world to learn the languages I teach. Perhaps you as well? Welcome! Dobro došli! Добро пожаловать! Welkom! Read more
Croatian and English Lessons
I speak:
Croatian, English, French
I teach:
Croatian, English
Hi! My name is Dora, I'm 24 years old and I live in Zagreb, Croatia. My native language is Croatian and I teach Croatian and English. I... love teaching and learning languages, translating, travelling, meeting new people and cultures and sharing the knowledge I have. Lessons are focused primarily on communication, enlarging vocabulary and improving grammar and pronounciation. We will adjust our lessons according to your needs and wishes. Let's get started! :) Read more
Free trial lesson!
Group lessons possible
Response time:
less than 2 days
English, Italian, Croatian lessons
I speak:
Croatian, English, Italian
I teach:
Croatian, English, Italian
I would like to outline my extensive experience, qualifications, and expertise in teaching English, Italian and Croatian (native). I believe I... possess the skills, qualifications and vital experience necessary for the role, but also the passion and dedication to lead students to succeed.I have over 10 years' experience as an English teacher (including 2 years teaching in China in private training centers and a couple of months of online teaching), working with children aged 3 - 18 in schools and in a kindergarten. I taught also adults and offered private English lessons, too. In addition, I have a degree in English and Italian language and literature and am fluent in both as well as a native Croatian speaker. My previous work involved me traveling internationally, where I worked as an interpreter - in this role I worked under pressure and had to adapt to the culture of the country and I feel confident that I could apply that to this job. In my previous teaching roles, I took a resourceful and creative approach to teaching, organising competitions, field trips, and other activities in the aim of making learning a fun experience, and I believe that this approach was successful in seeing students achieving high results.I am extremely dedicated and reliable, with a strong passion for language. I have excellent interpersonal and communication skills making me a great team-player with the ability to motivate my students. Read more
Branka is a new teacher and motivated to teach you!