Welcome back to a new class in Croatian for beginners. When you meet new people, the first question is often: where are you from = Odakle dolaziš? It's a good way to make contacts and get to know people better. On this page we will talk about countries and nationalities. After this lesson you will know how to say where you come from and what your nationality is!

Asia -

Azija

Africa -

Afrika

North America -

Sjeverna Amerika

South America -

Južna Amerika

Europe -

Europa

Oceania -

Oceania
In every part you will read the translation of some countries and nationalities. To ask from where somebody comes from, you can say: Odakle si? If you want indicate the conversation and reply the question, you should say: Ja sam iz.. ( which basically means I'm from..)
Asian countries in Croatian
In the table you will find some countries that are in the Asian continent = kontinent. As you can see, there are many similarities with English. 
 English
 Croatian
 Nationality
 China
 

Kina

 Kinez

 Japan
 

Japan

 Japanac

 Afghanistan
 

Afganistan

 Afganistanac

 Korea
 

Koreja

 Korejanac

 Irak
 

Irak

 Iračanin

 India
 

Indija

 Indijac

 Malesia
 

Malezija

 Malezijac

 Vietnam
 

Vijetnam

 Vijetnamac

 Iran
 

Iran

 Iranin
African countries in Croatian
In the table you will see the translation of African countries = afričkih zemalja in Croatian.
 English
 Croatian
 Nationality
 Cameroon
 

Kamerun

 Kamerunac

 Congo
 

Kongo

 Kongoanac

 Egypt
 

Egipt

 Egipćanin

 Ethiopia

 Etiopija

 Etiopljanin

 Gambia

 Gambija

 Gambijac

 Ghana
 

Gana

 Ganac

 Kenya
 

Kenija

 Kenijac

 Morocco
 

Maroko

 Marokanac

 Nigeria

 Nigerija

 Nigerijac

 Uganda
 

Uganda

 Ugandac

 Senegal
 

Senegal

 Senegalac

 Somalia
 

Somalija

 Somalac

 Tunisia
 

Tunis

 Tunišanin

 Tanzania 
 

Tanzanija

 Tanzanac
North American countries in Croatian
When you think of North America or Sjeverna Amerika, you soon think of the United States or Sjedinjene Američke Države, but there are more countries in this continent. 
 English
 Croatian
 Nationality
 Bahama's
 

Bahami

 Bahamac

 Canada
 

Kanada

 Kanađanin

 Cuba
 

Kuba

 Kubanac

 Jamaica
 

Jamajka

 Jamajkanac

 Mexico
 

Meksiko

 Meksikanac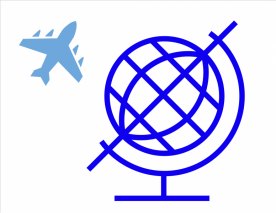 South American countries in Croatian
In South America, the official language is Spanish. Of course there are different accents per region, but one can mostly understand each other. Exceptions is Brazil where the Portuguese is spoken. 
 English
 Croatian
 Nationality
 Argentina

 Argentina

 Argentinac

 Brazil
 

Brazil

 Brazilac

 Chile
 

Čile

 Čileanac

 Columbia
 

Kolumbija

 Kolumbijac

 Peru
 

Peru

 Peruanac

 Suriname
 

Surinam

 Surinamac

 Venezuela
 

Venezuela

 Venezualac
European countries in Croatian
In this table you will find some countries that are geographically located in Europe. This does not mean that these countries are members of the European Union. For instance, Russia is not a member, but is partly in Europe = Europa and partly in Asia = Azija.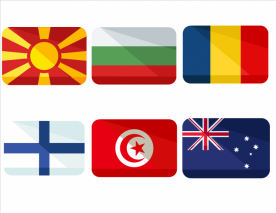 English
 Croatian
 Nationality
 Albania
 

Albanija

 Albanac

 Belgium
 

Belgija

 Belgijanac

 Bulgaria
 

Bugarska

 Bugar

 Denmark
 

Danska

 Danac

 Germany
 

Njemačka

 Njemac

 Estonia
 

Estonija

 Estonac

 Finland
 

Finska

 Finac

 Greece
 

Grčka

 Grk

 France
 

Francuska

 Francuz

 Ireland
 

Irska

 Irac

 Hungary
 

Mađarska

 Mađar

 Iceland
 

Island

 Islanđanin

 Croatia
 

Hrvatska

 Hrvat

 Serbia
 

Srbija

 Srbin

 Italy
 

Italija

 Talijan

 Malta
 

Malta

 Maltežanin

 Netherlands
 

Nizozemska

 Nizozemac

 Austria
 

Austrija

 Austrijanac

 Portugal
 

Portugal

 Portugalac

 Spain
 

Španjolska

 Španjolac

 Poland
 

Poljska

 Poljak

 Romania
 

Rumunjska

 Rumunj

 Russia
 

Rusija

 Rus

 Turkey
 

Turska

 Turak

 Macedonia
 

Makedonija

 Makedonac

 Bosnia and Herzegovina
 

Bosna i Hercegovina

 Bosanac

 Slovakia
 

Slovačka

 Slovak

 Czech republic
 

Češka republika

 Čeh

 England
 

Engleska

 Englez
Oceania in Croatian
The translation of the three most famous countries in the continent of Oceania = Oceanija. 
|  English |  Croatian |  Nationality |
| --- | --- | --- |
|  Australia |  Australija |  Australac |
|  New Zeland |  Novi Zeland |  Novozelanđanin |
|  Fiji |  Fiji |  Fijanac |
Practise with a private teacher on Skype!
Private Skype lessons
Learn any topic
Flexible appointments
Croatian and English Lessons
I speak:
Croatian, English, French
I teach:
Croatian, English
Hi! My name is Dora, I'm 24 years old and I live in Zagreb, Croatia. My native language is Croatian and I teach Croatian and English. I... love teaching and learning languages, translating, travelling, meeting new people and cultures and sharing the knowledge I have. Lessons are focused primarily on communication, enlarging vocabulary and improving grammar and pronounciation. We will adjust our lessons according to your needs and wishes. Let's get started! :) Read more
Free trial lesson!
Response time:
less than a few hours
English, Italian, Croatian lessons
I speak:
Croatian, English, Italian
I teach:
Croatian, English, Italian
I would like to outline my extensive experience, qualifications, and expertise in teaching English, Italian and Croatian (native). I believe I... possess the skills, qualifications and vital experience necessary for the role, but also the passion and dedication to lead students to succeed.I have over 10 years' experience as an English teacher (including 2 years teaching in China in private training centers and a couple of months of online teaching), working with children aged 3 - 18 in schools and in a kindergarten. I taught also adults and offered private English lessons, too. In addition, I have a degree in English and Italian language and literature and am fluent in both as well as a native Croatian speaker. My previous work involved me traveling internationally, where I worked as an interpreter - in this role I worked under pressure and had to adapt to the culture of the country and I feel confident that I could apply that to this job. In my previous teaching roles, I took a resourceful and creative approach to teaching, organising competitions, field trips, and other activities in the aim of making learning a fun experience, and I believe that this approach was successful in seeing students achieving high results.I am extremely dedicated and reliable, with a strong passion for language. I have excellent interpersonal and communication skills making me a great team-player with the ability to motivate my students. Read more
Branka is a new teacher and motivated to teach you!
Free trial lesson!
Response time:
less than a few hours
Croatian and English lessons
I speak:
Croatian, English, French
I teach:
Croatian, English
Hello everyone! My name is Maja and I am from Croatia, currently a master student in English and French translation in Zadar, one of the... beauties of Adriatic sea. I have experience in English and Croatian teaching to people of different age, interests and language competence needs.Language learning is an opportunity to see the world in different perspective, but also, it is an exchange of traditional, cultural and social experiences that enriches you in many ways.We can create a pace and style of learning depending on your needs and goals. I hope we can learn together! Read more
Free trial lesson!
Response time:
less than a few hours