Ordering in the restaurant in Croatian
How to properly order food in Croatia
Imagine yourself enjoying holidays in sunny Croatia where people are not that good in English. What would you do? Probably learn some bacis vocabulary for ordering food = "naručiti hranu i piće" and drinks in Croatian. Therefore, coLanguage team will show you in this lesson how to order food and drinks in Croatian-speaking country. Start now!
Ordering food in Croatian
There is high chance for hearing following questions from waiter/waitress: 
 English
 Croatian
 Have you chosen already?
 

Jeste li odabrali već?

 What would you like to order?
 

Što biste voljeli naručiti?

 What would you like to drink?
 

Što biste voljeli popiti?

 What would you like to eat?
 

Što biste voljeli pojesti?
If you still have no idea what would you like to eat nor drink. With following phrases you will manage to express your needs. 
 English
 Croatian
 One moment, please
 

Jedan trenutak, molim.

 I don't know yet
 

Još ne znam

 What can you recommend?
 

Što biste preporučili?

 What is the daily special?

 Koji je dnevni specijalitet?
 Are you ready to order now? You might use this options: 
 English 
 Croatian
 I would like to...

 Želio bih

 Željela bih

 I will take...
 

Uzet ću
List of food in Croatian
Croatia is a mediterranean country which means menu is mostly filled with sea-food specialties = specijalitetima od morski plodova. Besides, we will teach you most common used food products in Croatian. 
the menu -

meni

the main dish -

glavno jelo

the side dish -

prilog

the dessert -

desert
 English
 Croatian
 the fish 
 

riba

 the octopus
 

hobotnica

 the hake
 

oslić

 the salad
 

salata

 the soup
 

juha

 the vegetables
 

povrće

 the fruit
 

voće

 the potatoe
 

krumpir

 the pork
 

svinjetina

 the beef
 

govedina

 the cod fish
 

bakalar

 the sauce
 

umak

 the lamb
 

janjetina

 the chicken
 

piletina

 the salt
 

sol

 the pepper
 

papar

 the sugar
 

šećer

 the olive oil
 

maslinovo ulje

 the oil

 ulje

 the vinegar
 

ocat

 the bread  
 

kruh
Examples
Can I get more bread, please. -

Mogu li dobiti još kruha, molim Vas?

Is there any vinegar? -

Imate li octa?

Can you give me some oil?

- Možete li mi dodati malo ulja?
List of drinks in Croatian
You cannot go in the restaurant without orderings some drinks. Following words might be useful. Pay attention!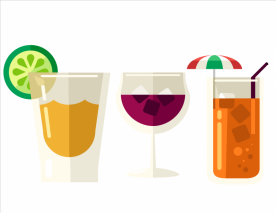 English
 Croatian
 the water
 

voda

 the sparkling water

 mineralna voda

 the beer
 

pivo

 the wine
 

vino

 the white wine
 

bijelo vino

 the red wine
 

crno vino

 the juice
 

sok

 the lemonade 
 

limunada

 the milk
 

mlijeko

 the coffee
 

kava

 the tea
 

čaj
Examples
Can I get more red wine? -

Mogu li dobiti još crnog vina?

Do you maybe have tea? -

Imate možda li čaja?

 We can go to drink a beer tonight. -

Večeras možemo ići na pivo.
Would you like to ask for the bill in Croatian? 
 English
 Croatian
 The bill, plase

 Račun, molim.

 I would like to pay. 

 Volio bih platiti.

 Together
 

Zajedno

 Seperated
 

Odvojeno

 the tip
 

Napojnica
Practise with a private teacher on Skype!
Private Skype lessons
Learn any topic
Flexible appointments
Croatian, English & Russian conversation lessons; Business English
I speak:
Bosnian, Croatian, Dutch, English, Russian, Spanish
I teach:
Bosnian, Croatian, English, Russian
Hello everbody,I am an experienced and teaching-passionate language professional offering tailor-made Croatian (all levels), ... General English (Elementary, Beginner's, Intermediate & Upper-intermediate level) and Russian (Elementary & Intermediate level) Conversation lessons as well as Business English.The lessons are based on student's needs with a variety of interesting topics. A range of different teaching materials is used. I tend to apply mostly visual aids as, according to my experience, they helps students most to memorize the new words and language structures. During the lessons we are focusing on further development of your communication skills but we are also exploring vocabulary, grammar and culture. We read and discuss various texts, analyze grammatical issues, listen to conversations and songs, play games and quizzes and more than anything, we TALK! That makes conversation lessons always interesting, useful and likeable. As an open and friendly person with an international family and experience of life in other countries, I enjoy meeting people of other cultures. I would be happy to get a chance to help people all over the world to learn the languages I teach. Perhaps you as well? Welcome! Dobro došli! Добро пожаловать! Welkom! Read more
Croatian and English Lessons
I speak:
Croatian, English, French
I teach:
Croatian, English
Hi! My name is Dora, I'm 24 years old and I live in Zagreb, Croatia. My native language is Croatian and I teach Croatian and English. I... love teaching and learning languages, translating, travelling, meeting new people and cultures and sharing the knowledge I have. Lessons are focused primarily on communication, enlarging vocabulary and improving grammar and pronounciation. We will adjust our lessons according to your needs and wishes. Let's get started! :) Read more
Free trial lesson!
Group lessons possible
Response time:
less than 2 days
English, Italian, Croatian lessons
I speak:
Croatian, English, Italian
I teach:
Croatian, English, Italian
I would like to outline my extensive experience, qualifications, and expertise in teaching English, Italian and Croatian (native). I believe I... possess the skills, qualifications and vital experience necessary for the role, but also the passion and dedication to lead students to succeed.I have over 10 years' experience as an English teacher (including 2 years teaching in China in private training centers and a couple of months of online teaching), working with children aged 3 - 18 in schools and in a kindergarten. I taught also adults and offered private English lessons, too. In addition, I have a degree in English and Italian language and literature and am fluent in both as well as a native Croatian speaker. My previous work involved me traveling internationally, where I worked as an interpreter - in this role I worked under pressure and had to adapt to the culture of the country and I feel confident that I could apply that to this job. In my previous teaching roles, I took a resourceful and creative approach to teaching, organising competitions, field trips, and other activities in the aim of making learning a fun experience, and I believe that this approach was successful in seeing students achieving high results.I am extremely dedicated and reliable, with a strong passion for language. I have excellent interpersonal and communication skills making me a great team-player with the ability to motivate my students. Read more
Branka is a new teacher and motivated to teach you!