On this page you will find some useful sentences that you can apply to different situations, such as as ordering in a restaurant "Naručiti u restoranu" or doing shopping "Ići u shopping".
Order in a Restaurant
Mostly all over the dalmatian coast, people will speak English but If you have a good will to practice your Croatian, we have prepared few useful sentences that you can use to engage in conversation with someone while traveling.
Find a table 
You enter a restaurant and the first question could easily be: Imate li slobodno mjesto - Do you have a free spot? or Imam rezervaciju! - I have a reservation. Check the table below for the example phrases, usually spoken in a restaurant.
 English
 Croatian
 I reserved a table for three people. 
 

Rezervirao sam stol za tri osobe. 

 A table for two please.
 

Stol za dvoje, molim.

 
 Is this table free?
 

Je li slobodan ovaj stol?
Order food and drinks
You can speak with the server in Croatian. Why not?  Regarding the drinks when you go toast you say uzdravlje and, of course, živjeli (both mean "cheers")! 
 English
 Croatian
 Do you want something to drink? 
 

Želite li nešto popiti?

 Do you want to eat something? 
 

Želite li nešto jesti?

 May I have the menu? 
 

Menu, molim vas.

 What do you recommend me? 
 

Što biste mi preporučili?

 Do you have vegetarian dishes?
 

Imate li vegeterijanska jela?

 Another beer please.
 

Još jedna piva, molim.
Request the bill
May I have the bill? - Račun, molim vas! The waiter will ask if everything was as requested and if you have eaten excellent, you can say: Compliments to chef - Pohvale kuharu.
 Croatian
 English
 It tasted delicious
 

Bilo je ukusno.

 Can I have the bill
 

Mogu li dobiti račun?

 We would like to pay
 

Voljeli bismo platiti

 Can we pay by card?
 

Možemo li platiti karticom?
Example dialogue
Croatian
Ivan: Dobar dan, rezervirao sam stol za 4 osobe. Ako mi možete dati jedan blizu prozora.
Marko: Da, naravno, imamo jedan s prekrasnim pogledom na more.
Ivan: Odlično. 
Marko: Što biste naručili za jesti i za piti?
Ivan: Može nešto vegetarijansko i jedan sok i volio bih platiti karticom.
Marko: Izvolite, da, naravno. 
English
Ivan: Good afternoon, I booked a table for 4 people. If you can give me one near the window.
Marko: Yes, of course, we have one with a beautiful sea view.
Ivan: Great.
Marko: What would you like to order to eat and drink?
Ivan: If there is something vegetarian and one juice,  and also  I would like to pay with a card.
Marko: Yes, yes, of course.
Useful vocabulary for public transport
Is it still far or near? Sometimes you do not know exactly which way you should be up and it's good to remember some sentences to ask for the way. Also check our lesson about giving directions.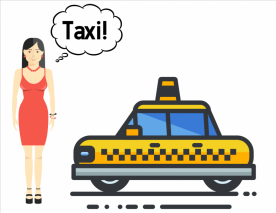 English
 Croatian
 Is it far? 
 

Je li daleko?

 I'm lost.
 

Izgubio sam se.

 Where can I find a gas station? 
 

Gdje mogu pronaći pumpnu stanicu?

 Turn left
 

Skreni lijevo

 Go straight
 

Idi ravno

 Turn right
 

Skreni desno
In the taxi
Sometimes hand gestures can be helpful for taxi drivers. The beach is always a good idea, read below the sentences that you can use during a cab ride.
 English
 Croatian
 I have to go to the beach.
 

Moram ići na plažu.

 How much does it cost?
 

Koliko će koštati?

 Are we almost there?
 

Jesmo li uskoro stigli?

 I would like to order a taxi.
 

Želio bih naručiti taksi. 
Example dialogue:
Croatian
Ivan: Dobro jutro, htio bih kupiti paket od deset karata za Zagreb.
Marko: Cijena je 10 eura i putovanje traje 2 sata.
Ivan: U redu, možete mi reći vrijeme?
Marko: Dakle, međugradski autobus ide u 10 sati ujutro, a zadnja stanica za Vaš smjer je autobusni kolodvor Zagreb.
Ivan: Hvala Vam puno na Vašoj pomoći. Doviđenja.
English
Ivan: Good morning, I would like to buy a book of ten tickets for Zagreb.
Marko: The price is 10 euros and the trip lasts 2 hours.
Ivan: Good, and can you tell me the time?
Marko: So, the intercity bus leaves at 10 a.m. and the last stop for your direction is the autobusni kolodvor Zagreb.
Ivan: Thank you very much for your help. Goodbye!
Shopping in Croatian
Everybody expects something from you when you get back from the holidays. Check useful shopping phrases: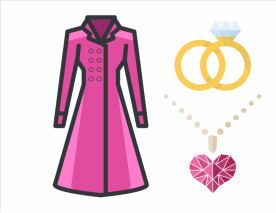 English
 Croatian
 How much does it cost?
 

Koliko košta?

 Can I pay with a credit card?
 

Mogu li platiti karticom?

 Can I have the purse?
 

Mogu li dobiti torbu?

 Can you give me the cash?
 

Možete li mi dati u novčanicama?

 I would like to return this?
 

Željela bih ovo vratiti.

 Can you pack it for me?
 

Možete li mi zapakirati?
Example dialogue
Croatian
Marija: Dobar dan, je li trebate pomoć?
Ivan: Dobar dan. Da, bilo bi dobro. Tražim neki poklon za prijateljicu, ali bi htio da bude i korisno.
Marija: Preporučujem Vam torbu.
Ivan: Koja je cijena i može li se platiti karticom?
Marija: Cijena je 200 kuna.
Ivan: U redu, uzimam, možete li mi zapakirati poklon?
Marija: Naravno.
English
Mary: Good day, do you need help?
Ivan: Good afternoon. Yes, it would be good. I'm looking for a gift for a friend, but she wants it to be useful.
Marija: I recommend your a bag.
Ivan: What is the price and can I pay with a card?
Marija: Price is 200 kuna.
John: All right, I take it, can you pack my gift?
Marija: Of course.
Practise with a private teacher on Skype!
Private Skype lessons
Learn any topic
Flexible appointments
Croatian, English & Russian conversation lessons; Business English
I speak:
Bosnian, Croatian, Dutch, English, Russian, Spanish
I teach:
Bosnian, Croatian, English, Russian
Hello everbody,I am an experienced and teaching-passionate language professional offering tailor-made Croatian (all levels), ... General English (Elementary, Beginner's, Intermediate & Upper-intermediate level) and Russian (Elementary & Intermediate level) Conversation lessons as well as Business English.The lessons are based on student's needs with a variety of interesting topics. A range of different teaching materials is used. I tend to apply mostly visual aids as, according to my experience, they helps students most to memorize the new words and language structures. During the lessons we are focusing on further development of your communication skills but we are also exploring vocabulary, grammar and culture. We read and discuss various texts, analyze grammatical issues, listen to conversations and songs, play games and quizzes and more than anything, we TALK! That makes conversation lessons always interesting, useful and likeable. As an open and friendly person with an international family and experience of life in other countries, I enjoy meeting people of other cultures. I would be happy to get a chance to help people all over the world to learn the languages I teach. Perhaps you as well? Welcome! Dobro došli! Добро пожаловать! Welkom! Read more
Croatian and English Lessons
I speak:
Croatian, English, French
I teach:
Croatian, English
Hi! My name is Dora, I'm 24 years old and I live in Zagreb, Croatia. My native language is Croatian and I teach Croatian and English. I... love teaching and learning languages, translating, travelling, meeting new people and cultures and sharing the knowledge I have. Lessons are focused primarily on communication, enlarging vocabulary and improving grammar and pronounciation. We will adjust our lessons according to your needs and wishes. Let's get started! :) Read more
Free trial lesson!
Group lessons possible
Response time:
less than 2 days
English, Italian, Croatian lessons
I speak:
Croatian, English, Italian
I teach:
Croatian, English, Italian
I would like to outline my extensive experience, qualifications, and expertise in teaching English, Italian and Croatian (native). I believe I... possess the skills, qualifications and vital experience necessary for the role, but also the passion and dedication to lead students to succeed.I have over 10 years' experience as an English teacher (including 2 years teaching in China in private training centers and a couple of months of online teaching), working with children aged 3 - 18 in schools and in a kindergarten. I taught also adults and offered private English lessons, too. In addition, I have a degree in English and Italian language and literature and am fluent in both as well as a native Croatian speaker. My previous work involved me traveling internationally, where I worked as an interpreter - in this role I worked under pressure and had to adapt to the culture of the country and I feel confident that I could apply that to this job. In my previous teaching roles, I took a resourceful and creative approach to teaching, organising competitions, field trips, and other activities in the aim of making learning a fun experience, and I believe that this approach was successful in seeing students achieving high results.I am extremely dedicated and reliable, with a strong passion for language. I have excellent interpersonal and communication skills making me a great team-player with the ability to motivate my students. Read more
Branka is a new teacher and motivated to teach you!