Spanish pronunciation rules
¡Buenos días! Let´s get started with voicing Spanish!
Theory and practice of Spanish pronunciation
Vocalization of Spanish letters might be confusing for an English speaker as they represent different sounds from their English equivalents. Let´s take a look on those letters that make a difference with regard to pronunciation. 
g pronunciation
The letter g before the vowels a, o, u, ue, ui has the English hard g sound, such as in the word "good". However, before e and i, g sounds as exaggerated English h. 
g sound
exaggerated h sound

guerra

(war)

gerente

(manager)

gastos

(expenses)

gigante

(giant)

gorro

(hat)

gente

(people)

y pronunciation
The pronunciation of Spanish letter y is the same as of Spanish i. For instance:
hoy (today)
setenta y uno (seventy one)
ida y vuelta (round trip).
ll pronunciation
Depending on the Spanish-speaking country or region this letter could be heard as [ʝ], [ʒ] or [ʃ]. Notwithstanding, the majority of Spanish speakers say it like the letter y. In other words, ll and y represent the same sound. It could be compared to the sounding of the English "yes". For instance:
lluvia (rain)

llaves

(keys)
llano (flat)
zapatillas (sneakers). 
x pronunciation
The Spanish x sounds just like the English one. Exception to the rule are the names containing x. In this cases the letter would rather sound as English h. 
x sound
h sound

xenófobo

(xenophobic)

México

xilografía

(woodcut)

Xavier
z pronunciation
In Spain it is pronounced like English th in the vocable "thanks" for example. In Latin America the same letter sounds like s. Some Z-words: 
zanahoria (carrot) 

zapato

(shoe)
zanja (ditch). 
v pronunciation
In Spanish v and b represent the same sound:
Valencia (Valencia) 
vacaciones (holidays)
viernes (Friday). 
j pronunciation
J is alike English h in "hi", but exaggerated. It is also the same as Spanish ge and gi: 
joven 

(young)
jornada (working day)
junio (June). 
u pronunciation
It's like English oo in "roof", but shorter in the majority of the words. In the variants gui, gue and qu it is silent, unless it is marked this way:
oo sound, but shorter
silent u
güe, güi

Usted

(you, polite)

guerra

(war)

pingüino

(penguin)

uno

(one)

guitarra

(guitar)

cigüeña

(stork)
c pronunciation
If it´s followed by the vowel sounds e and i, the pronunciation of the letter is like th in English (in Spain) or like s (in Latin America). If the letter is followed by the vowels a, o and u it is pronounced as k.
th sound or s sound
k sound

cerveza

(beer)

cuando

(when)

cielo

(sky)

comida

(food)
Diphthongs
Do you remember the pronunciation lesson number 1 from the alphabet lecture? Let us remind you the most important points:
Two strong vowels one next to the other = 2 separate syllables: europeo, paseo.
Strong vowel + weak vowel = 1 syllable with stress on the strong vowel: antiguo, especial.
Two weak vowels = 1 syllable with emphasis on the second vowel: suizo, influir.
How to stress the accent
 Which are the common rules?
Words that end in consonant different from N and S have stress on the last syllable:

salud, pastel, personalidad

.

Words that end in a vowel, N or S have stress on the penultimate syllable: julio, persona, joven.
The Spanish acute accent called tilde (á,é,ó,í,ú) is very important in the language. It indicates that the normal rules of the word stress are being violated. Words with accent mark have to be learnt by memory. For example:
murciélago

miércoles

sábado.
Some more words with "tilde" are:
Some words with acute accent in Spanish
énfasis

(emphasis)
politización

(politization)
canción

(song)
francés

(French)
característica

(characteristic)
según

(according)

Acute accents are also used to distinguish words written in the same way, but with divergent meanings. For instance: si (if) and sí (yes).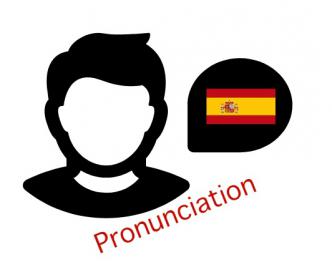 Now you can watch the video below or practice with the audio, microphone and exercises. Have fun!
---
Exercises
Spanish pronunciation exercise - single choice question
---
Spanish tilde - pronunciation exercise
---
Accute accent in Spanish exercise
---
What our students say
Unlike in other platforms, all our teachers are manually verified by our professional team. Trust in the experiences of our students.
Practise with a private teacher on Skype!
Private Skype lessons
Learn any topic
Flexible appointments
Online
I speak:
English, Spanish
I teach:
Spanish
Hello, Spanish learner! I am Isabel, your Spanish teacher. I am a professional online Spanish teacher for 3 years. I am a native speaker from... Colombia. My lessons are completely in Spanish because I want you to speak as much as possible. During my lessons, we will focus on conversation and pronunciation. But a typical lesson also contains a vocabulary topic and a grammar topic. I will focus on your needs and your mistakes to improve your Spanish as quickly as possible. In the first lesson, we will do a level test to check your current level (CEFR A1, A2, B1, B2, C1) If you would like to improve your Spanish, learn more about the South American culture, gastronomy and traditions, I am your teacher! Or if you just want to talk in Spanish, about any subject you like, I would be happy to meet you online. Send me a message and I will provide you a 30-minute free trial lesson! See you online on Skype. Your Spanish teacher, Isabel Read more
Availability:
Monday (7-23h), Tuesday (7-23h), Wednesday (7-23h), Thursday (7-23h), Friday (7-23h), Saturday (7-23h), Sunday (7-23h). Timezone: Europe/Berlin (GMT+2)
See in your timezone.
Free trial lesson!
Group lessons possible
Online
I speak:
Bosnian, Croatian, English, Italian, Portuguese, International, Russian, Serbian, Spanish, Turkish
I teach:
Bosnian, Croatian, English, Italian, Portuguese, International, Russian, Serbian, Spanish, Turkish
Me as a Teacher I am a Serbian native speaker and a language teacher. I have been teaching online for 5 years. I live in Belgrade. I've been... teaching online for 5 years (officially). I love teaching because it's a dynamic and an interesting job. You can teach your students and you can learn from them as well. The happiness and joy of the student + their progresses with their target language = my biggest prize (so my students are the ones who motivate me to work better)and I try to combine: a bit of reading, a bit of writing, a bit of conversation, a bit of grammar and a bit of listening by using different resources. About Me My favorite topics are: 1. Travelling , 2. Foreign languages, 3. TV programs, 4. Films and TV series, 5. Culture, 6. sport, 7. IT, 8. Science My hobbies are: learning foreign languages, horse- riding, reading, travelling, ... I am open-minded, flexible and very positive. If you come up with something interesting to talk about, please, don't hesitate to suggest me and I'll gladly discuss with you about that. I visited: Montenegro, Croatia, Bosnia and Herzegovina, Greece, Hungary, Italy, Slovakia and Slovenia. My Lessons & Teaching Style Firstly, I test the level of the target language... I have two parts: 1) Conversational part (here I check their vocabulary and their fluency + I find out their language goals and their needs) 2) Writing part (with that I focus much more on grammar and spelling) For each part, I take notes (I have my notebook for that). Secondly, I personalize my lessons to their goals and needs. I can cover a lot of topics: business, travelling, culture, etc. My Teaching Material Text Documents Audio Recordings Images and Visuals Video News Articles and Magazines Quizzes Example Test Templates Graphs and Charts Homework Assignments PowerPoint Presentations Read more
Availability:
Monday (7-23h), Tuesday (7-23h), Wednesday (7-23h), Thursday (7-23h), Friday (7-23h), Saturday (7-23h), Sunday (7-23h). Timezone: Europe/Belgrade (GMT+2)
See in your timezone.
Free trial lesson!
Group lessons possible
Online
I speak:
German, Spanish, Dutch, English
I teach:
Spanish, Dutch
Hi, I'm Adriaan. I have been teaching Dutch and Spanish for seven years to students of all levels, from absolute beginners to... students who only need conversation. My students are of all ages, from 9 to 76 years old and from all continents. With each student I create a Google doc in which I put all the grammatical information, exercises and homework after each class. I can help you if you want to learn the language for fun, for work, or to prepare for an exam. Languages ​​are my passion! See you soon! Read more
Availability:
Monday (8-13h), Tuesday (8-13h), Wednesday (8-13h), Thursday (8-13h), Friday (8-13h), Saturday (8-13h). Timezone: Europe/London (GMT+1)
See in your timezone.
No free trial lesson!
Group lessons possible