¡Buenos días! Let´s get started with voicing Spanish!
Theory and practice of Spanish pronunciation
Vocalization of Spanish letters might be confusing for an English speaker as they represent different sounds from their English equivalents. Let´s take a look on those letters that make a difference with regard to pronunciation. 
g pronunciation
The letter g before the vowels a, o, u, ue, ui has the English hard g sound, such as in the word "good". However, before e and i, g sounds as exaggerated English h. 
g sound
exaggerated h sound

guerra

(war)

gerente

(manager)

gastos

(expenses)

gigante

(giant)

gorro

(hat)

gente

(people)

y pronunciation
The pronunciation of Spanish letter y is the same as of Spanish i. For instance:
hoy (today)
setenta y uno (seventy one)
ida y vuelta (round trip).
ll pronunciation
Depending on the Spanish-speaking country or region this letter could be heard as [ʝ], [ʒ] or [ʃ]. Notwithstanding, the majority of Spanish speakers say it like the letter y. In other words, ll and y represent the same sound. It could be compared to the sounding of the English "yes". For instance:
lluvia (rain)

llaves

(keys)
llano (flat)
zapatillas (sneakers). 
x pronunciation
The Spanish x sounds just like the English one. Exception to the rule are the names containing x. In this cases the letter would rather sound as English h. 
x sound
h sound

xenófobo

(xenophobic)

México

xilografía

(woodcut)

Xavier
z pronunciation
In Spain it is pronounced like English th in the vocable "thanks" for example. In Latin America the same letter sounds like s. Some Z-words: 
zanahoria (carrot) 

zapato

(shoe)
zanja (ditch). 
v pronunciation
In Spanish v and b represent the same sound:
Valencia (Valencia) 
vacaciones (holidays)
viernes (Friday). 
j pronunciation
J is alike English h in "hi", but exaggerated. It is also the same as Spanish ge and gi: 
joven 

(young)
jornada (working day)
junio (June). 
u pronunciation
It's like English oo in "roof", but shorter in the majority of the words. In the variants gui, gue and qu it is silent, unless it is marked this way:
oo sound, but shorter
silent u
güe, güi

Usted

(you, polite)

guerra

(war)

pingüino

(penguin)

uno

(one)

guitarra

(guitar)

cigüeña

(stork)
c pronunciation
If it´s followed by the vowel sounds e and i, the pronunciation of the letter is like th in English (in Spain) or like s (in Latin America). If the letter is followed by the vowels a, o and u it is pronounced as k.
th sound or s sound
k sound

cerveza

(beer)

cuando

(when)

cielo

(sky)

comida

(food)
Diphthongs
Do you remember the pronunciation lesson number 1 from the alphabet lecture? Let us remind you the most important points:
Two strong vowels one next to the other = 2 separate syllables: europeo, paseo.
Strong vowel + weak vowel = 1 syllable with stress on the strong vowel: antiguo, especial.
Two weak vowels = 1 syllable with emphasis on the second vowel: suizo, influir.
How to stress the accent
 Which are the common rules?
Words that end in consonant different from N and S have stress on the last syllable:

salud, pastel, personalidad

.

Words that end in a vowel, N or S have stress on the penultimate syllable: julio, persona, joven.
The Spanish acute accent called tilde (á,é,ó,í,ú) is very important in the language. It indicates that the normal rules of the word stress are being violated. Words with accent mark have to be learnt by memory. For example:
murciélago

miércoles

sábado.
Some more words with "tilde" are:
Some words with acute accent in Spanish
énfasis

(emphasis)
politización

(politization)
canción

(song)
francés

(French)
característica

(characteristic)
según

(according)

Acute accents are also used to distinguish words written in the same way, but with divergent meanings. For instance: si (if) and sí (yes).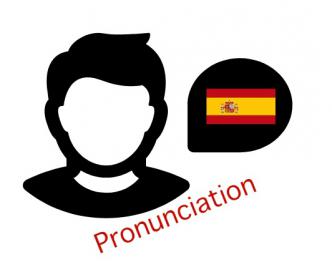 Now you can watch the video below or practice with the audio, microphone and exercises. Have fun!
Practise with a private teacher on Skype!
Private Skype lessons
Learn any topic
Flexible appointments
German native teacher for German and Spanish classes
I speak:
English, German, Spanish
I teach:
German, Spanish
I am Marcus Hartmann, 30 years old and I have been living in Cali, Colombia, for more than four years. There I work as a German teacher for... Spanish-speaking people, young and old. I love the German language and develop many modern methodologies to make the German more playful and easier to learn. I also run a blog and a Facebook page, where I present many tips and tricks that make learning German easier. I teach German for all levels and Spanish for beginners. Read more
Great choice! Students book in average more than 10 lessons!
Free trial lesson!
Response time:
less than a few hours
Parli@mo italiano! Italian classes with a certified teacher! English and Spanish classes
I speak:
Arabic, English, French, Italian, Spanish
I teach:
English, Italian, Spanish
Hi everyone!My name is Daniela and I am a qualified Italian language teacher! I teach Italian and English at school and also Spanish and... French as a freelancer. I love foreign languages, translating, reading and listening to music. Are you ready to start your language learning path with me? We are going to learn many things and to talk a lot! Don't worry if you've never studied the language before: everyone can attend my classes – from beginner to advanced students. You just need passion for what you're going to do and... a good Internet connection. Materials are provided by me!See you online! Read more
Great choice! Students book in average more than 10 lessons!
Very experienced teacher!
Free trial lesson!
Response time:
less than 2 hours
English Course - All Levels
I speak:
English, Spanish
I teach:
English, Spanish
Greetings dear student,My name is Alberto Pérez. I am an English teacher with honors at the Universidad Experimental Libertador in... Barquisimeto, Venezuela. I have ample experience (7 years) teaching hundreds of students the English language with several methods for teaching it. This has been always making learning more suitable and easy for students.I have worked in universities, high schools and academies so I have a basic experience with adults, young people and adolescents. In addition to a master's degree in "Educational Management", whose thesis on the management of technological tools to carry out a more meaningful, effective and efficient student learning in English.In addition to this, I have 3 years of experience working as an online English teacher-tutor. I teach through applications such as Skype and other online teaching platforms where student learning is concretized more effectively and actively in comparison to face-to-face classes.It's important to say that I am also in the capacity and training to teach Spanish which is my native language; I teach it by the same means as English. On the other hand, I teach my English lessons online in a particular way, not only in the teaching methods of English but also taking into account the processes that are given to carry out learning in the human being; thus attacking the most specific needs that each student needs. For this, I use practical and psychological techniques which through have been successful during last years. Read more
Great choice! Students book in average more than 10 lessons!
Free trial lesson!
Response time:
less than a few hours