The family in Spanish? The relatives? You can get confused. Unless if you take seriously some readings as the present one. In the first paragraph you can learn the close family members and to see how to speak about family relations. In the second one, you can study the family-in-law vocabulary. 
Family members and vocabulary in Spanish
The words for male relatives halt in -o, the female ones end in -a. 
Spanish
English

padres

parents

madre

mother

padre

father

hijos

children

hijo

son

hija

daughter

sobrino

nephew

sobrina

niece

hermano

brother

hermana

sister

tía

aunt

tío

uncle

abuelos

grandparents

abuela

grandmother

abuelo

grandfather

nieto

grandson

nieta

granddaughter

nietos

grandchildren
primo /

prima

cousin
Example sentences
Marilena y Angel son hijos de Olivia. Marilena and Angel are children of Olivia.
Angel es hermano de Marilena. Angel is a brother of Marilena. 
Jose y Carmina son abuelos de Marilena y Angel. Jose and Carmina are grandparents of Marilena and Angel. 
Olivia es hija de Jose y Carmina. Olivia is a daughter of Jose and Carmina. 
Family relationships in Spanish
When talking about family, we´d rather talk about relationships in this manner.
| Spanish | English |
| --- | --- |
| Son casados. | They are married. |
| Son marido y esposa. | They are husband and wife.  |
| Tienen hijos.  | They have children.  |
| Es su hijo. | He is their son.  |
| Es su hija.  | She is their daughter.  |
| Es mayor. Es el hermano mayor. | He is older. He is the big brother.  |
| Es menor. Es la hermana menor. | She is younger. She is the young sister.  |
| Son hermano y hermana.  | They are brother and sister. |
| Es su padre. | He is their father.  |
| Es su madre.  | She is their mother.  |
| Son sus padres.  | They are their parents.  |
| Son hermanos.  | They are siblings.  |
| Es su nieto.  | He is their grandson. |
| Es su tío.  | He is their uncle.  |
| Es su suegra.  | She is her mother-in-law.  |
| Es su bebé.  | She is their baby.  |
| Son relativos.  | They are relatives. |
| Es su cuñada.  | She is his sister-in-law.  |
| Son miembros de una familia.  | They are members of the same family.  |
Example sentences
Adrian es padre de Pedro. Adrian is a father of Pedro.
Marina es su hija. Marina is his daughter.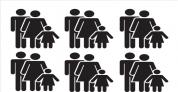 Family-in-law in Spanish 
These are the relatives with who one doesn't have a blood relationship. 
| Spanish | English |
| --- | --- |
| padrastros | stepparents |
| suegros | parents-in-law |
| padrastro | stepfather |
| madrastra | stepmother |
| suegra | mother-in-law |
| hija de paso | stepdaughter |
| nuera | daughter-in-law |
| hijo de paso | stepson |
| yerno | son-in-law |
| cuñada | sister-in-law |
| cuñado | brother-in-law |
Example sentences
Yacine es suegra de Celia. Yacine is a mother-in-law of Celia.
Julio es padrastro de Celia. Julio is a stepfather of Celia. 
Now you can try the exercises we kindly prepared for you. 
Practise with a private teacher on Skype!
Private Skype lessons
Learn any topic
Flexible appointments
English Course - All Levels
I speak:
English, Spanish
I teach:
English, Spanish
Greetings dear student,My name is Alberto Pérez. I am an English teacher with honors at the Universidad Experimental Libertador in... Barquisimeto, Venezuela. I have ample experience (7 years) teaching hundreds of students the English language with several methods for teaching it. This has been always making learning more suitable and easy for students.I have worked in universities, high schools and academies so I have a basic experience with adults, young people and adolescents. In addition to a master's degree in "Educational Management", whose thesis on the management of technological tools to carry out a more meaningful, effective and efficient student learning in English.In addition to this, I have 3 years of experience working as an online English teacher-tutor. I teach through applications such as Skype and other online teaching platforms where student learning is concretized more effectively and actively in comparison to face-to-face classes.It's important to say that I am also in the capacity and training to teach Spanish which is my native language; I teach it by the same means as English. On the other hand, I teach my English lessons online in a particular way, not only in the teaching methods of English but also taking into account the processes that are given to carry out learning in the human being; thus attacking the most specific needs that each student needs. For this, I use practical and psychological techniques which through have been successful during last years. Read more
Free trial lesson!
Response time:
less than a few hours
German for all levels!
I speak:
English, French, German, Portuguese, International, Spanish
I teach:
English, German, Spanish
So with me you can learn all the tipps to improve or learn German. I also worked as an Engineer for several years so we can as well work on your... vocabulary in a technical level. I am a great fan of new cultures and languages. Feel free to contact me for a class :) Read more
Free trial lesson!
Response time:
less than a few hours
French lessons for all
I speak:
English, Spanish, French, Italian
I teach:
Spanish, French
I'm French, currently living in the Netherlands. I lived in Paris for almost twenty years, and I know very well my country (and of course... my language, French, my mother tongue). I taught French for two years in Spain, conversation class about culture essentially.I have a French for foreigners Master.I enjoy sharing what I know. I'm a very eclectic person and curious about everything. To give you an idea, my interest (and sometimes hobbies) are: philosophy, spirituality and religions in general, meditation, psychology and psychoanalysis, history, geography, literature, writing (in particular creative writing, and I'm used to write everyday), art (painting, photography), sciences (vulgarisation level) and cultural matters in general. I travel a lot (as a backpacker), sometimes by foot, and the places I know well are France, the Netherlands, Italy and Serbia.One of my qualities is my capacity of adaptation, I enjoy preparing documents to help the student to acquire autonomy, but I love speaking too, and it's the best way to learn a language.I'm waiting for your message, please when contact me, explain quickly who you are, why you want to study French and what you are looking for exactly.See you soon. Read more
Free trial lesson!
Response time:
less than a few hours