This page is divided into 3 scraps. In the first paragraph you could learn the body parts. Next are the head and face parts. Adjectives to describe a person follow adjoining. 
Body parts in Spanish list
The nouns are given with the definite articles, because in Spanish it is important to know the gender of a noun.
| Spanish | English |
| --- | --- |
| el cuello | neck |
| el pecho | chest |
| la muñeca | wrist |
| la mano | hand |
| la rodilla | knee |
| el pie | foot |
| el hombro | shoulder |
| el codo | elbow |
| el brazo | arm |
| la barriguita | tummy |
| la pierna | leg |
| el tobillo | ankle |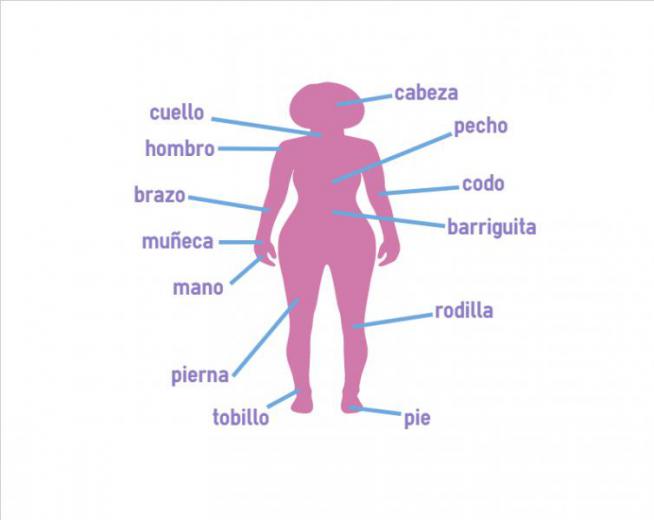 Parts of the face in Spanish
| Spanish | English |
| --- | --- |
| el pelo | hair |
| la nariz | nose |
| los oídos | ears |
| la barba | beard |
| el bigote | moustache |
| los ojos | eyes |
| la cabeza | head |
| las cejas | eyebrows |
| la boca | mouth |
| la barbilla | chin |
Describing people in Spanish
When describing a man, the adjectives end in -o. For a description of a woman, they should end in -a. As you can see the adjective "joven" makes an exception, because it doesn´t vary in gender. 
Spanish
English

alto

/

alta

tall

bajo

/

baja

short

delgado

/

delgada

slim

gordo

/

gorda

fat

jóven

young

viejo

/

vieja

old

pelo largo

long hair

pelo corto

short hair

pelo liso

straight hair

pelo rizado

curly hair

pelo oscuro

dark hair

pelo claro

light hair

lleva gafas

wears glasses

lleva barba

has a beard

Regarding description of a person we use the verbs "ser" (to be), "tener" (to have) or "llevar" (to wear, to have). 
Example description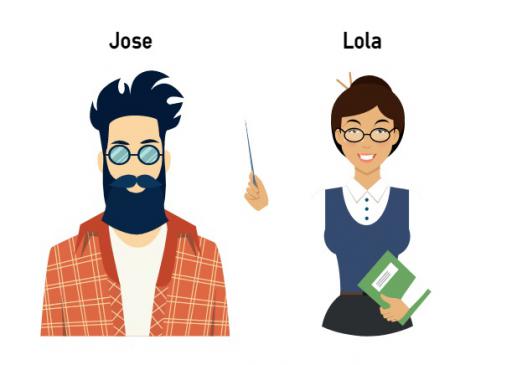 Jose y Lola tienen pelos oscuros y lisos

. Jose and Lola have dark and straight hair. 

Son jóvenes y delgados.

 They are young and slim. 

Llevan gafas.

 They wear glasses. 

Jose lleva barba y bigote.

Jose has a beard and a moustache. 
Train the body parts using exercises! Or with the help of the audio and the microphones... Que lo paséis bien!
Practise with a private teacher on Skype!
Private Skype lessons
Learn any topic
Flexible appointments
Your Spanish teacher
I speak:
English, Italian, Spanish
I teach:
Spanish
Great choice! Students book in average more than 10 lessons!
Very experienced teacher!
Free trial lesson!
Group lessons possible
Response time:
less than a few hours
Spanish teacher on line, Spanish as a Foreign Language DELE
I speak:
Spanish, French, English, Italian
I teach:
Spanish
Hello everyone, my name is Verónica Palacios, I am a Spanish teacher with a master's degree in modern languages ​​and speech studies; I... have worked as a language teacher in face-to-face and online classes for 13 years. Teaching languages ​​is an activity that I love, I enjoy teaching my mother tongue, I help my students with questions in grammar, reading, writing, speaking, listening to Spanish, in my tutorials I put a lot of emphasis on culture and different learning contexts . Spanish is a very important language at present; If you have knowledge in Spanish, you will have the opportunity to do business, study or visit abroad, in addition to knowing the culture of Spanish-speaking countries. I would like to be your Spanish tutor and work together as a team. I hope you have a beautiful day. See you. Read more
Great choice! Students book in average more than 10 lessons!
It@lian, English and Spanish with Daniela
I speak:
Arabic, English, French, Italian, Spanish
I teach:
English, Italian, Spanish
Hi everyone!My name is Daniela and I am a qualified Italian language teacher! I teach Italian and English at school, and Spanish and French... as a freelancer. I love foreign languages, translating, reading and listening to music. Are you ready to start your language learning path with me? We are going to learn many things and to talk a lot! Don't worry if you've never studied the language before: everyone can attend my classes – from beginner to advanced students. You just need passion for what you're going to do and... a good Internet connection. Materials are provided by me!See you online! Read more
Great choice! Students book in average more than 10 lessons!
Very experienced teacher!