Spanish course for beginners
How to learn Spanish fast?
Probably the answer is going to a Spanish-speaking country. But before going there it would be better for you to possess some language basics. The stronger the basics are, the easier and the faster you enjoy the advantages a language might give you. So let's get down to the heart of the matter with this course for beginners!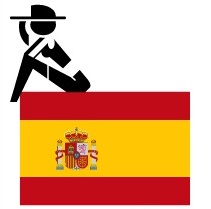 Why to learn Spanish?
Because it sounds incredibly melodic
Because it is relatively easy to learn
Because it is the second most-spoken language on the earth (approximately 414, 000, 000 people)
Because you can take delight in the so called "fiesta" as the language forms a considerable part of it
And last but not least, because a language more always suits your CV well
Free online course for beginners
It doesn't matter if you're a student, a worker, a traveler, or just a linguistics-lover. This tutorial is for all the people who wish to study the language from the very beginning and to progress quickly and easely by self-learning. The A1 course is for you if you are brave enough to begin something new from the basics!
Spanish basic words and phrases for different situations
The purpose of the course is to create a sequence of 19 articles ordered in different topics owing to highlight the most essential and necessary vocabulary for dummies. You will learn Spanish phrases and words with English translation, a lot of examples, audio, microphone for training your pronunciation and interactive exercises.
1000 words in Spanish
After finishing the online course you are supposed to be acquainted with the basic Spanish vocabulary for level A1. By completing the course you will have learnt around 1000 phrases. Don't forget that the course suggests Spanish for English speakers which means that you'll get your results even faster and easier as everything is created especially for the English speaker!
Additional Skype lessons with a native teacher
If you need additional help to improve your skills even more, you can contact one of our professional private teachers and request Skype lessons. It's fast, easy and relevant to your personal language level. Everything you need is Skype installed on your computer, headphones, internet connection and of course motivation. Or you'd better combine the self-learning course and the private lessons with a teacher for more efficiency. You decide what will be helpful for your personal goals!
Hasta la vista!
Practise with a private teacher on Skype!
Private Skype lessons
Learn any topic
Flexible appointments
Online
I speak:
English, Spanish
I teach:
Spanish
Hello, Spanish learner! I am Isabel, your Spanish teacher. I am a professional online Spanish teacher for 3 years. I am a native speaker from... Colombia. My lessons are completely in Spanish because I want you to speak as much as possible. During my lessons, we will focus on conversation and pronunciation. But a typical lesson also contains a vocabulary topic and a grammar topic. I will focus on your needs and your mistakes to improve your Spanish as quickly as possible. In the first lesson, we will do a level test to check your current level (CEFR A1, A2, B1, B2, C1) If you would like to improve your Spanish, learn more about the South American culture, gastronomy and traditions, I am your teacher! Or if you just want to talk in Spanish, about any subject you like, I would be happy to meet you online. Send me a message and I will provide you a 30-minute free trial lesson! See you online on Skype. Your Spanish teacher, Isabel Read more
Availability: Monday (7-23h), Tuesday (7-23h), Wednesday (7-23h), Thursday (7-23h), Friday (7-23h), Saturday (7-23h), Sunday (7-23h). Timezone: Europe/Berlin (GMT+2) See in your timezone.
Free trial lesson!
Group lessons possible
Online
I speak:
Bosnian, Croatian, English, Italian, Portuguese, International, Russian, Serbian, Spanish, Turkish
I teach:
Bosnian, Croatian, English, Italian, Portuguese, International, Russian, Serbian, Spanish, Turkish
Me as a Teacher I am a Serbian native speaker and a language teacher. I have been teaching online for 5 years. I live in Belgrade. I've been... teaching online for 5 years (officially). I love teaching because it's a dynamic and an interesting job. You can teach your students and you can learn from them as well. The happiness and joy of the student + their progresses with their target language = my biggest prize (so my students are the ones who motivate me to work better)and I try to combine: a bit of reading, a bit of writing, a bit of conversation, a bit of grammar and a bit of listening by using different resources. About Me My favorite topics are: 1. Travelling , 2. Foreign languages, 3. TV programs, 4. Films and TV series, 5. Culture, 6. sport, 7. IT, 8. Science My hobbies are: learning foreign languages, horse- riding, reading, travelling, ... I am open-minded, flexible and very positive. If you come up with something interesting to talk about, please, don't hesitate to suggest me and I'll gladly discuss with you about that. I visited: Montenegro, Croatia, Bosnia and Herzegovina, Greece, Hungary, Italy, Slovakia and Slovenia. My Lessons & Teaching Style Firstly, I test the level of the target language... I have two parts: 1) Conversational part (here I check their vocabulary and their fluency + I find out their language goals and their needs) 2) Writing part (with that I focus much more on grammar and spelling) For each part, I take notes (I have my notebook for that). Secondly, I personalize my lessons to their goals and needs. I can cover a lot of topics: business, travelling, culture, etc. My Teaching Material Text Documents Audio Recordings Images and Visuals Video News Articles and Magazines Quizzes Example Test Templates Graphs and Charts Homework Assignments PowerPoint Presentations Read more
Availability: Monday (7-23h), Tuesday (7-23h), Wednesday (7-23h), Thursday (7-23h), Friday (7-23h), Saturday (7-23h), Sunday (7-23h). Timezone: Europe/Belgrade (GMT+2) See in your timezone.
Free trial lesson!
Group lessons possible
Online
I speak:
German, Spanish, Dutch, English
I teach:
Spanish, Dutch
Hi, I'm Adriaan. I have been teaching Dutch and Spanish for seven years to students of all levels, from absolute beginners to... students who only need conversation. My students are of all ages, from 9 to 76 years old and from all continents. With each student I create a Google doc in which I put all the grammatical information, exercises and homework after each class. I can help you if you want to learn the language for fun, for work, or to prepare for an exam. Languages ​​are my passion! See you soon! Read more
Availability: Monday (8-13h), Tuesday (8-13h), Wednesday (8-13h), Thursday (8-13h), Friday (8-13h), Saturday (8-13h). Timezone: Europe/London (GMT+1) See in your timezone.
No free trial lesson!
Group lessons possible