Spanish course for beginners
Show all lessons
How to learn Spanish fast?
Probably the answer is going to a Spanish-speaking country. But before going there it would be better for you to possess some language basics. The stronger the basics are, the easier and the faster you enjoy the advantages a language might give you. So let's get down to the heart of the matter with this course for beginners!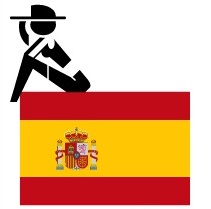 Why to learn Spanish?
Because it sounds incredibly melodic
Because it is relatively easy to learn
Because it is the second most-spoken language on the earth (approximately 414, 000, 000 people)
Because you can take delight in the so called "fiesta" as the language forms a considerable part of it
And last but not least, because a language more always suits your CV well
Free online course for beginners
It doesn't matter if you're a student, a worker, a traveler, or just a linguistics-lover. This tutorial is for all the people who wish to study the language from the very beginning and to progress quickly and easely by self-learning. The A1 course is for you if you are brave enough to begin something new from the basics!
Spanish basic words and phrases for different situations
The purpose of the course is to create a sequence of 19 articles ordered in different topics owing to highlight the most essential and necessary vocabulary for dummies. You will learn Spanish phrases and words with English translation, a lot of examples, audio, microphone for training your pronunciation and interactive exercises.
1000 words in Spanish
After finishing the online course you are supposed to be acquainted with the basic Spanish vocabulary for level A1. By completing the course you will have learnt around 1000 phrases. Don't forget that the course suggests Spanish for English speakers which means that you'll get your results even faster and easier as everything is created especially for the English speaker!
Additional Skype lessons with a native teacher
If you need additional help to improve your skills even more, you can contact one of our professional private teachers and request Skype lessons. It's fast, easy and relevant to your personal language level. Everything you need is Skype installed on your computer, headphones, internet connection and of course motivation. Or you'd better combine the self-learning course and the private lessons with a teacher for more efficiency. You decide what will be helpful for your personal goals!
Hasta la vista!
Practise with a private teacher on Skype!
Private Skype lessons
Learn any topic
Flexible appointments
French&Spanish lessons
I speak:
English, French, Italian, Spanish
I teach:
French, Spanish
I'm French, currently living in the Netherlands.I lived in Paris for almost twenty years, and I know very well my country (and of course... my language, French, my mother tongue). I taught French for two years in Spain, conversation class about culture essentially.In Paris, I was Spanish teacher, I have the Agregation degree which is the highest degree for teaching in France, I'm bilingual. I've participated too in several editorial projects about Spanish teaching and DELE preparation. I have a Spanish Studies Master and I'm currently doing a research about the Spanish and Sefardi Judaism. I have a French as foreign language and a Religious Studies Masters too. I enjoy sharing what I know. I'm a very eclectic person and curious about everything. To give you an idea, my interest (and sometimes hobbies) are: philosophy, spirituality and religions in general, meditation, psychology and psychoanalysis, history, geography, literature, writing (in particular creative writing, and I'm used to write everyday), art (painting, photography), sciences (vulgarisation level) and cultural matters in general. I travel a lot (as a backpacker), sometimes by foot, and the places I know well are France, the Netherlands, Italy and Serbia.One of my qualities is my capacity of adaptation, I enjoy preparing documents to help the student to acquire autonomy, but I love speaking too, and it's the best way to learn a language.I'm waiting for your message, please when contact me, explain quickly who you are, why you want to study French and what you are looking for exactly.See you soon. Read more
Great choice! Students book in average more than 10 lessons!
Free trial lesson!
Response time:
less than a few hours
Spanish and German for all levels!
I speak:
German, English, Spanish, French
I teach:
German, Spanish
So with me you can learn all the tipps to improve or learn German. I also worked as an Engineer for several years so we can as well work on your... vocabulary in a technical level. I am a great fan of new cultures and languages. Feel free to contact me for a class :) Read more
Great choice! Students book in average more than 10 lessons!
Very experienced teacher!
Free trial lesson!
Response time:
less than 2 days
Italian, English, Spanish Private Lessons for Everybody
I speak:
German, English, Italian, Dutch, Spanish
I teach:
English, Italian, Spanish
Dear all,Would you like to learn a new language such as Italian, English or Spanish in a smooth, accessible and fun way? Then, it would be a... great idea to embark on an exciting journey together!My big priority is to make sure that my students will learn a new language and get much more familiar with a new culture as fast as possible by doing dynamic and funny activities which suit everyone's needs and passions. Song lyrics, texts from your favourite books, literature, parts of movies, news, TV series, traditional recipes may be only some of the instruments that we can use in order to make the learning process more efficient and focused on using the new language in different fields.I have a Bachelor's degree in Languages and Literature from the University of Verona (Italy) and a Master's Degree, cum Laude, in Languages and Media from the University 'Cattolica' in Milan (Italy) and Chapman University in Orange, California (USA).If you are a proper beginner, if you already know a few words but you don't dare to speak to anyone yet, if you are already very confident with the language but you still want to get to a higher level of proficiency, if you want to know better about one of these cultures, than this is a perfect course for you.A nice introductory chat can help both of us to understand which is the starting level and which is the goal of the course in order to tailor a proper class according to your need.Join the course and you will be immediately immersed in a new culture and in a heartbeat you will speak a new language!See you soon!Maddalena Read more
Great choice! Students book in average more than 10 lessons!
No free trial lesson!
Response time:
longer than 2 days