Spanish course for beginners
Show all lessons
How to learn Spanish fast?
Probably the answer is going to a Spanish-speaking country. But before going there it would be better for you to possess some language basics. The stronger the basics are, the easier and the faster you enjoy the advantages a language might give you. So let's get down to the heart of the matter with this course for beginners!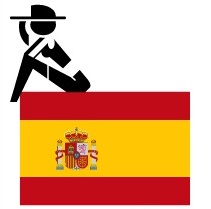 Why to learn Spanish?
Because it sounds incredibly melodic
Because it is relatively easy to learn
Because it is the second most-spoken language on the earth (approximately 414, 000, 000 people)
Because you can take delight in the so called "fiesta" as the language forms a considerable part of it
And last but not least, because a language more always suits your CV well
Free online course for beginners
It doesn't matter if you're a student, a worker, a traveler, or just a linguistics-lover. This tutorial is for all the people who wish to study the language from the very beginning and to progress quickly and easely by self-learning. The A1 course is for you if you are brave enough to begin something new from the basics!
Spanish basic words and phrases for different situations
The purpose of the course is to create a sequence of 19 articles ordered in different topics owing to highlight the most essential and necessary vocabulary for dummies. You will learn Spanish phrases and words with English translation, a lot of examples, audio, microphone for training your pronunciation and interactive exercises.
1000 words in Spanish
After finishing the online course you are supposed to be acquainted with the basic Spanish vocabulary for level A1. By completing the course you will have learnt around 1000 phrases. Don't forget that the course suggests Spanish for English speakers which means that you'll get your results even faster and easier as everything is created especially for the English speaker!
Additional Skype lessons with a native teacher
If you need additional help to improve your skills even more, you can contact one of our professional private teachers and request Skype lessons. It's fast, easy and relevant to your personal language level. Everything you need is Skype installed on your computer, headphones, internet connection and of course motivation. Or you'd better combine the self-learning course and the private lessons with a teacher for more efficiency. You decide what will be helpful for your personal goals!
Hasta la vista!
Practise with a private teacher on Skype!
Private Skype lessons
Learn any topic
Flexible appointments
English Course - All Levels
I speak:
English, Spanish
I teach:
English, Spanish
Greetings dear student,My name is Alberto Pérez. I am an English teacher with honors at the Universidad Experimental Libertador in... Barquisimeto, Venezuela. I have ample experience (7 years) teaching hundreds of students the English language with several methods for teaching it. This has been always making learning more suitable and easy for students.I have worked in universities, high schools and academies so I have a basic experience with adults, young people and adolescents. In addition to a master's degree in "Educational Management", whose thesis on the management of technological tools to carry out a more meaningful, effective and efficient student learning in English.In addition to this, I have 3 years of experience working as an online English teacher-tutor. I teach through applications such as Skype and other online teaching platforms where student learning is concretized more effectively and actively in comparison to face-to-face classes.It's important to say that I am also in the capacity and training to teach Spanish which is my native language; I teach it by the same means as English. On the other hand, I teach my English lessons online in a particular way, not only in the teaching methods of English but also taking into account the processes that are given to carry out learning in the human being; thus attacking the most specific needs that each student needs. For this, I use practical and psychological techniques which through have been successful during last years. Read more
Free trial lesson!
Response time:
less than a few hours
IELTS, TOEFL exam online preparations
I speak:
English, Italian, Spanish
I teach:
English, Italian, Spanish
Hello everyone!I have been teaching English for 17 years now. I have worked both in Primary and Secondary Schools nationwide. I am a State... teacher, I work for the Ministry of Education and I am located in Bologna, Italy. I work in a very multicultural area of my town, so I am used to deal with students with very different backgrounds and different levels of knowledge, and to customize lessons for any kind of purpose. I have a (Honour) BA in Foreign Languages and Literatures, English and Spanish. Besides, I teach Italian (level A1 and A2) to the NAI (Nuovi Arrivati in Italia) in my school.I learnt after many years of teaching that a lesson, in order to be effective, must be simple, straight to the point, very practical and it has to be reinforced several times. I have led to success too many students to count them. Many of them studied Languages themselves and now they work abroad. I have prepared many of them for exams (IELTS, Toefl, Ket, Pet). I try my best to make Grammar fun, because learning must be a joy and not a chore.So....what are you waiting for? Let's start! :-) Read more
Free trial lesson!
Response time:
less than a few hours
English lessons and translations at all levels
I speak:
English, Italian, Spanish
I teach:
English, Italian, Spanish
I can provide customized English lessons for students of elementary, middle and high school in e-learning mode. I mainly specialize in... the preparation of the Pet and First exams.As a translator, I am pleased to offer translations from English to Italian in the following fields:Legal (including contracts and patents)BusinessFinanceEngineering (technical manuals)AutomotiveCommercialHistoryLiteraturethanks to my 20-year experience in the translation field.Finally, I can provide linguistic support in the language pair English - Italian to college students Read more
Free trial lesson!
Response time:
less than a few hours