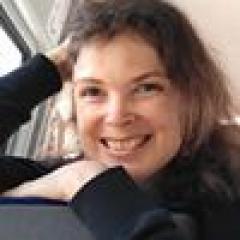 I speak:
English, Bulgarian, Spanish, French
I teach:
Bulgarian, French
Trial class:
Free trial lesson!
Specialized topics:
Advanced, Beginners, Communication, Courses for children, Culture, Grammar, Pronunciation
Plamena is a new teacher and motivated to teach you!
Country of residence:
Bulgaria
Native speaker from:
Bulgaria
Learn Bulgarian and French online
My name is Plamena, i'm a French teacher. I speak also english and little spanish. My native language is bulgarian and i propose lessons in bulgarian for foreigners. If you want to be my student i will be happy to teach you!
Teacher statistics
Contacted by:
1 student
Active students:
0
Lessons:
0
Last access:
4 weeks ago
Registered:
11 months ago
General availability
All times below are displayed in your timezone.
| | Mon | Tue | Wed | Thu | Fri | Sat | Sun |
| --- | --- | --- | --- | --- | --- | --- | --- |
| 7.00 | | | | | | | |
| 8.00 | | | | | | | |
| 9.00 | | | | | | | |
| 10.00 | | | | | | | |
| 11.00 | | | | | | | |
| 12.00 | | | | | | | |
| 13.00 | | | | | | | |
| 14.00 | | | | | | | |
| 15.00 | | | | | | | |
| 16.00 | | | | | | | |
| 17.00 | | | | | | | |
| 18.00 | | | | | | | |
| 19.00 | | | | | | | |
| 20.00 | | | | | | | |
| 21.00 | | | | | | | |
| 22.00 | | | | | | | |
| 23.00 | | | | | | | |
Teacher's timezone
Europe/Sofia: GMT+3 hours
Your timezone
UTC: GMT+0 hours
Education:
High-school " Yoan Exarh"
University" episkop Konstantin Preslavsky"
Special pedagogy- bachelor
Master - management of tourisme
University " Anguel Kunchev"
Education of nulgarian and french languages
Work experience:
4th langage highschool " Frederic Joliot Curie"
ABC perfect langages centre
Assistant receptionist. with french
Sofarma- Hotel Kaliakra Palas
Golden sand, Varna Bulgaria
Special school for disability children " Ivan Shishman"
Similar teachers
Welcome to my class!
I speak:
Bulgarian, English
I teach:
Bulgarian, English
Hi there,I am glad to meet you.First of all, let me congratulate you on the decision to learn or improve a new language. In your case this is... Bulgarian.My country, Bulgaria, is a beautiful country with nice and hospitable people. It is an ancient land with a great history and rich culture. Having learned our language you will be able to get in touch freely with our good people and country.I come from the town of Vidin, Bulgaria. I am a qualified English and Bulgarian teacher. I graduated back in 1972 from Sofia University with an MA in English Philology and Bulgarian Philology as a second subject. Since then I have spent most of my professional career teaching Bulgarian students.First of all, we will have a 20-30-minute trial lesson during which we can get to know each other, set expectations towards the lessons and schedule the timetable. The next step is simple - we start learning the language of your choice!Cannot wait to meet you and help you on your journey to learn Bulgarian. Read more
Great choice! Students book in average more than 10 lessons!
No free trial lesson!
Response time:
less than 2 hours
I speak:
Bulgarian, Dutch, English, Russian
I teach:
Bulgarian, Dutch, English, Russian
Hello! I will be glad to be your teacher in Bulgarian, Russian, Dutch and English. Level that you can cover under the EU certificate through my... training is: 1. Bulgarian and Russian - С1 2. Dutch and English - A2 An individual approach from my part and a good motivation and diligence on your part is the way to success. I'm waiting for you! Stanka Stoyanova Read more
Great choice! Students book in average more than 10 lessons!
Free trial lesson!
Response time:
less than a few hours
Ready to take on the challenge to learn Bulgarian?
I speak:
Bulgarian, English, French
I teach:
Bulgarian, English, French
Hello,My name is Zlatko. I believe that learning Bulgarian online with me gives you the best of both worlds: fast progress and enjoyment.Taking... on the challenge to learn a new language is impressive. The reasons might be different. Some people give it a go because they just like new things. Others need to learn a new language because they are moving to a country where the language is spoken. Remember that whatever your reason is, it is your motivation that is the key to successful learning.Who am I and why to pick me up:online and face-to-face teaching experience: over 15 years helping hundreds of students achieve their language goalsflexibility: willing to tailor my techniques to both your interests and specific needspatience and excellent listening skillshonesty and collaboration: let's build trust and consider our work as a partnershipnative Bulgarian speaker with oustanding educational backgroundsence of humourIn general, my teaching style includes, but is not limited to:speaking practice through role-play activities, stotytelling and discussionsgap filling excerciseslistening comprehensionvocabulary developmentaccent reductionHow does that grab you? If interested, drop me a line and we'll discuss your language goals and expectations.Hope to see you soon.Here are a few tips on how to get the most out of every lesson:• Review what you covered in your previous lesson. Focus on things you had difficulty with. I'll definitely go over them.• It is always a great idea to take notes during your lessons. It helps you stay more focused on what you're learning.• Feel free to ask me if anything has come up since your last lesson that you want clarification on. Your questions do not have to be prior lesson related, maybe you are just curious about how to say something.• Be sure you have completed your homework assignments. If you were not able to complete them, make notes about what stumped you. Were the instructions not clear enough, was the vocabulary beyond your level of comprehension, were the grammar rules too overwhelming, was there too much homework for the time you had planned to spend on it, etc.• Contact me prior to your next lesson if there are any issues or changes you would like to make me aware of so I can have a chance to make changes to your learning plan.Hope this helps. Read more
Free trial lesson!
Response time:
less than a few hours