Private lessons, group classes, tutoring and language courses (A1, A2, B1, B2, C1, C2)
Take lessons with a teacher you can trust! We screen every teacher on their education and work experience.
Find language teachers in Catania. Nearby or online.
Learn whenever and wherever you want.
Trial lesson possible.
Lessons on Skype, Zoom, Facetime or a software of your choice.
What is the average price for language lessons in Catania?
The average cost of a language lesson in Catania is 12€/h.
The experience and education level of the teacher and the location of the course (online or at home) can influence the cost of the lesson.
Discover coLanguage
Quality guaranteed: only certified teachers
We screen the educational background and work experience of all our teachers
Computing
Kiefa H.
Location: Sheffield, UK
university
Diana L.
Ditals level II
Location: Siena - Italia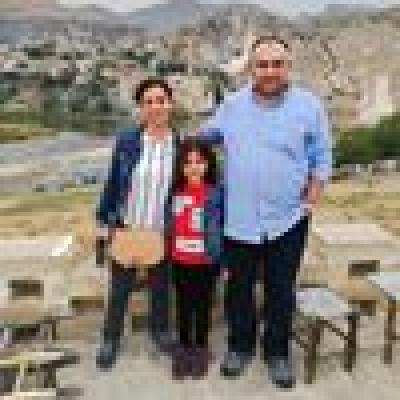 English Teacher (2001-still going on)
Emre Mahir K.
Location: Ankara
What our teachers offer
French with a flexible pedagogical approach
French with a flexible pedagogical approach
Sophie C.
Online
Modern Greek classes with a touch of culture, history, etymology
Modern Greek language private classes for individuals or groups. Given by a native speaker.
Bespoke classes according to the needs of the students.
Classes with a touch of culture, history, etymology. You will realize how many words come from the Greek that you could not have imagined.
Classes given either in Spanish or English. The teacher also speaks Portuguese.
Extend your mind by learning a language whose origin comes from 3 thousand years ago, which provides a high interest in culture and history.
The teacher has work experience both in professional education and in language teaching. In total a work experience of more than 10 years.
Digital material is available to be provided for the classes.
Theo B.
Online
What our students say
Unlike in other platforms, all our teachers are manually verified by our professional team. Trust in the experiences of our students.
Language
Catania
City districts: Centro, Ognina, Librino , San Berillo , Villaggio Paradiso degli Aranci , Barriera del Bosco , Borgo Sanzio , Villaggio Sant'Agata , Ognina-Picanello, Zia Lisa , San Leone, Torregalliera , Carrubella