Directions, (north - south) in Turkish
Asking for directions in Turkey is rather fun thing to do, because Turkish people never deny that they do not know the way wherever you asked and they always would want to help you. On this page we will learn about asking, giving directions and cardinal - ordinal directions in Turkish with playable examples.
Asking directions in Turkish
To get directions first we should ask for directions. In turkish language it is asked as "How can I get to ____? or How do I go to ____?" and its translated as seen on the table below.
English
Turkish
How do I get to ___?
_____'a

nasıl giderim

?
How can I go to ____?
_____'a

nasıl gidilir?

 
Giving directions in Turkish
Giving directions are rather simple in Turkish langauge and it goes as it is written on table.
| Direction | English | Turkish |
| --- | --- | --- |
| | Go right | Sağa dön |
| | Go left | Sola dön |
| | Go straight ahead | Düz git / İleri git |
| | Turn/go back | Geri git / Geri dön |
| | Turn right  | İlerden sağa dön |
| | Turn left | İlerden sola dön |
Example dialogue:
Excuse me, how do I go to train station?
Bakar mısınız, tren istasyonuna nasıl giderim?
After that?
Sonra?
Great, thank you.
Harika, teşekkür ederim.
Cardinal and ordinal directions in Turkish (North, south, east, west)
Cardinal and ordinal directions do not have special names in Turkish, they are exactly same as in English. You can see on the compass below and check the examples afterwards.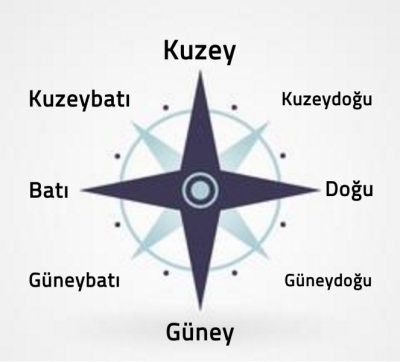 | English | Turkish |
| --- | --- |
| North | Kuzey |
| South | Güney |
| East | Doğu |
| West | West |
| Northeast | Kuzeydoğu |
| Northwest | Kuzeybatı |
| Southeast | Güneydoğu |
| Southwest | Güneybatı |
Example:
Tomorrow wind will come from south. - Yarın rüzgar güneyden esecek.
Summer has already started in southeast. - Güneydoğuda yaz başladı.
Summary:
On this page we learned asking, giving directions and cardinal - ordinal directions in Turkish with the help of playable examples and pronunciation trainer.  Doing exercises will be helpful to understand the topic better.
Practise with a private teacher on Skype!
Private Skype lessons
Learn any topic
Flexible appointments
TÖMER Qualified Polyglot Teacher - Prof Expérimenté - المعلم التركي من ذوي الخبرة
I speak:
Arabic, English, French
I teach:
English, French, Turkish
Merhaba, hi, salut, مرحبا Turkish lessons with a ''Teaching Turkish as a Foreign Language''(TÖMER) certified teacher... who has 8 years of experience. Cours de Turc, Français et Anglais avec un professeur turc agréé de TÖMER ayant 8 and d'expérience Yabancı Dil Olarak Türkçe Öğretimi sertifikalı 8 yıl tecrübeli öğretmenden Türkçe dersleri. المعلم التركي من ذوي الخبرة Cours de français avec un professeur de français ayant 8 and d'expérience. French lessons with a professional FLE certified teacher who has 8 years of experience.. 8 yıl tecrübeli fransızca öğretmeniyle Fransızca ve İngilizce dersleri. I am a native Turkish speaker and also a certified Turkish-French, French-Turkish interpreter.I'm a graduate of Marmara University , one of the best of Turkey, 2010. I have worked as a Turkish, French and English teacher in Turkey and abroad. I think that it's a very important plus to be graduated from a Language Teaching Department to teach Turkish or other languages because i have already learned ''how to teach''.I have a lot of experience in teaching Turkish to my foreign students in some language teaching centers and many online tutoring websites. I have been teaching to adults and young learners Turkish, English and French online and face to face lessons for all levels more than five years. In my opinion, each Turkish language ,instructor must be very good at explaining Target language's grammar rules because each language has a different form from other languages. I can speak fluently French and English and make comparisons between Turkish, English, French and Arabic also and this enables me an effective teaching style. My lessons are firstly based around making the student understand perfectly the grammar rules secondly the pronunciation and thirdly the speaking , because the learners can't speak correctly without learning the grammar rules and the pronunciation.If learners demand me, i can make a lesson for just to develop listening, speaking or reading skills. I also encourage my students to practice what they learned by giving homework tasks to complete and evaluate these homeworks. I have always been fond of interacting with different people from all over the world and discovering different cultures. I know that I learn a lot while teaching as well.Teaching Languages is my biggest passion.I'm looking forward to meet with you arkadaşlar. Don't hesitate to cantact me. See you soon. Görüşürüz Qualifications & Experience 2000 - 2004 English and French Language Learning Based High School 2004 - 2010 Marmara University Teaching French Second Language 2010 - 2013 Attendence to Master Degree Lessons in Tunisia in French Litterature Department , at the same time working as a Turkish Language Teacher in Some Language Centers and Interpreter In Many Commercial Meetings. 2013-2014 Military Service as a French Language Teacher in Turkish Military Academy 2014-2016 French and English Teacher at Anemon College in capital city Ankara. 2015 - Pressent Online ( Turkish/English/French) in many internatonal websites and Face-to-Face Tutoring 2017 - University of Ankara, TÖMER ( Teaching Turkish as a Foreign Languge) certification Certificates : University of Ankara, TÖMER ( Teaching Turkish as a Foreign Languge) certification YDS ENGLISH 2016 : 83 / 100 ( NATIONAL FOREIGN LANGUAGE EXAM IN TURKEY - MY SCORE EQUALS 100 IN TOEFL-IBT EXAM) YDS FRENCH 2010 : 79 / 100 (NATIONAL FOREIGN LANGUAGE EXAM IN TURKEY - MY SCORE EQUALS TO B2 IN Common European Framework of Reference for Languages ) Read more
This teacher is one of our premium members. A premium teacher is very motivated to provide an excellent learning experience.
Free trial lesson!
Response time:
less than 2 hours
TÖMER LECTURER ***Turkish lessons with a native speaker
I speak:
English, Turkish
I teach:
English, Turkish
Hello Turkish Learners! I am a professional Turkish Teacher and a translator with a master degree.I have visited so many countries to research... cultures and Turkish Dialects. Since I was a child, my dream was to travel to Asia and learn all the other Turkish Languages such as Kyrgyz Turkish, Kazak Turkish, Tatar Turkish, Tuva Turkish) as well as to research the similarities and differences between Modern Turkish and other Turkish languages. In the past, I worked as a lecturer in the School of Foreign Languages of Turkish Education at Kyrgyzstan Turkey Manas University for 3 years. During my appointment, I have taught all levels of Modern Turkish to the students who are from different nationalities such as Americans, Russians, English, German, Kazaks, Kyrgyz, Tatars, Mongol, Tuvas, Uighur Turk. I am also very fluent in Kyrgyz Turkish and Kazak Turkish. Currently, I am living in Turkey.I believe that with my experiences and love for languages, I can surely help you to speak up. As a patient and concise teacher, I: - develop and implement individual lesson plans for structured and conversational sessions. - use a variety of written and audio materials, primarily Elementary Turkish in 2 Volumes by Kurtuluş Öztopçu.- assign homework and provide regular feedback to students. - clarify complex grammar questions through examples from everyday conversations-make the language learning process less theoretical and more practical. Let me know your motivations and needs, and I will prepare an individual lesson plan for you.Just dream,you can learn language easily!Aysegul Read more
Free trial lesson!
Response time:
longer than 2 days
Native Turkish speaker and Turkish and English Tutor
I speak:
Bosnian, English, Turkish
I teach:
English, Turkish
Hi Guys! I'm Barış . I'm 25 years old and a native speaker of Turkish language.I live in Istanbul. I m passionate at sport and... spiritual subjects. I would like to help you improve your Turkish skills ! I will try my best to take your Turkish level forward whatever your level is . ım looking forward to helping you.. best regards!! Read more
Free trial lesson!
Response time:
34.83 minutes